There be SPOILERS here!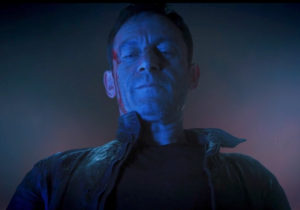 And now we know.  Well, lots of us already knew.  I've written about it repeatedly here and elsewhere.  I and others have debated with those in the fan base who believed that Captain Lorca was simply a tough-as-nails leader who would always put Starfleet first.  In this time of war with the Klingons, we needed someone like Lorca to make the United Federation of Planets great again!
But now we have all, er, discovered that Lorca has been playing us this whole time.  He's really from the Mirror Universe, and he's a bad dude.  For those fans who supported Lorca, stood up to defend his disturbing behavior and his dark methods—guess what!—you've placed your loyalty in someone who is just out for personal gain and doesn't care about the UFP or anyone in our Prime Universe.  In fact, he doesn't seem to care about people from his Mirror Universe either…certainly not women.  "Her name was Ava, and I liked her," Lorca tells the brother of a woman he'd killed years before.  "But you know how it is.  Somebody better came along."
Sure, he can be charming and talk crew members like Stamets into doing almost anything.  But Lorca's been keeping a lot of secrets from all of us, including from the people he leads.  As far as I'm concerned, Lorca's lust for power trumps anything that might have made him seem admirable in any way…and he's fooled at least 37% of us all along.
Okay, enough of the fun double entendres.  Let's start doin' some reviewin'!
Maybe I just have Discovery fatigue from all the darkness in this episode (pass the Kelpian, please!), but I found most of this 12th episode of STAR TREK: DISCOVERY, "Vaulting Ambition," to be mostly meh.  I was much more invested in last week's 11th episode.  And that's somewhat disappointing on a personal level, as one of the parents at my son's school works for the director of this episode, Hanelle M. Culpepper, and I was hoping to tell him later on this week how much I enjoyed her (Hanelle's) episode.  But I can't do that.
I can't say I hated it either, though.  For me, Discovery doesn't suck, but it does have some serious flaws.  And that's why I feel such consternation about this show…I can't decide whether or not I like it!!!
So rather than take a look at all the little things about this episode that were either good or bad (or meh), I want to pause for a moment, take a step back, and look at the series as a whole.  And I want to ask an interesting question:
IS DISCOVERY TOO DARK TO STILL BE STAR TREK?
I read in another review that writer saying something like, if you're worried about what Quentin Tarantino is gonna do to Star Trek, just take a look at Discovery, 'cause this is pretty much it.
And I already know what proponents of the new series are going to say: this is a dark Star Trek for a dark world of 2017 and 2018.  And like all the best sci-fi, Star Trek always provided a critical reflection of the harsher realities of the time.  But is today's world really THAT much darker?  I mean, 1968 was pretty dark, too—Vietnam, political assassinations, race riots, the threat of nuclear war with the Soviet Union—and somehow Star Trek still managed to be a beacon of hope to light the way for the world to dream of a brighter future.
The future depicted in Star Trek: Discovery, however…not quite so bright (at least, not so far).  Remember when Deep Space Nine was considered "dark"?  Compared to now, though?  HA!  How naive we were!!  Then when the third season of Enterprise brought in the whole Xindi arc, that was considered "dark," too.  Yeah, Archer threatened to toss a prisoner out an airlock…big deal!
Now we have a show where Klingons eat starship captains.  Tartigrades eat security chiefs and then the creature is tortured in the name of "science."  The racist Vulcans make Sarek choose between futures for his two children.  Harry Mudd is now a sociopathic serial murderer (with style and flair, of course).  Saru has inner demons causing him to resent Burnham's very existence.  Dr. Culber's neck is snapped by a deeply-planted Klingon sleeper agent.  And as if that isn't bad enough, things get a hundred times worse when we're forced to watch the denizens of the Mirror Universe try their darnedest to outdo any sick and twisted depravities we've seen in previous Mirror Trek episodes.
Look, I understand the argument.  Television has evolved.  This ain't the 1960s anymore…or even the 80s or 90s.  In this Game of Thrones/Walking Dead/Breaking Bad world of ours, more than just random extras and nameless redshirts die.  It's 2018, and sometimes you've just gotta show your main character eating a Kelpian.  Who cares if I can't watch Discovery with my 7-year-old because I don't want him hearing the F-word or trying to use his fidget spinner like a Japanese throwing star to slit my throat?
Here's my issue…
If a dark show like Discovery is now considered the "new normal" of Star Trek, then what's next?  In another fifteen or twenty years, what will our kids and grandkids be watching that's called "Star Trek"?  Will this once noble and beloved franchise really descend to the level of Tarantino's Pulp Fiction or Inglorious Bastards?  Will teasers begin looking like the opening fifteen minutes of Saving Private Ryan?
In that way, I think Seth MacFarlane has it right in thinking the world needs a return to lighter sci-fi like The Orville that goes back to the roots of Next Generation-style BRIGHT Star Trek.
Not that good sci-fi can't be dark, as well.  The rebooted Battlestar Galactica was one of my favorite sci-fi epics, and I love The Expanse.  Even The Orville has its darker moments.  Heck, Star Trek had some pretty dark moments, as well, over the past 52 years.
But how dark is TOO dark?
To me, Discovery has overshot that mark.  The show, as good as it is—and it IS a good sci-fi saga—has simply gone too far into the realm of gritty and disturbing realism that reflects the worst of our current world.  Maybe today's reality has simply descended too far and so Discovery can't exist and be relevant without also dropping  into that same heart of darkness.
In my heart, I can't accept that.  Seth MacFarlane is demonstrating that yes, it is still possible to show us a reflection of our world without losing that sense of hopeful sci-fi we all used to take for granted on television not so long ago.
But if we can no longer count on Star Trek to provide that beacon of hope, and if The Orville is only making 13 episodes a year, then where does that leave us fans? Where is that Star Trek beacon that used to light our way?   Are we fans destined for eternally bleak darkness in the world of sci-fi and a race to the bottom of ever more difficult-to-watch Star Trek?  As a long-time loyal fan, I shudder and weep at such a future!
But maybe, just maybe, there's still some hope for Discovery…
On the AfterTrek broadcast this past Sunday night, Jonathan Frakes, Anthony Rapp, and episode 12 writer Jordon Nardino discussed how Lorca was never intended to feel "right" as a Starfleet captain.  He was always meant to feel dissonant and out of place.  The writers knew what they were doing with him all along.  And that's why I still have some hope for this show.
The writers are aware of how dark and disturbing their episodes have been.  And remember that the writers knew all of this would happen from the beginning.  Bryan Fuller—ironically the biggest and most experienced Trekkie of them all—constrained the storyline early on to the Klingon War and, later, the Mirror Universe.  There wouldn't be time to "explore strange new worlds" in this new series (at least for season one).  The exploration, the "discovery" in this show, would be internal for the characters themselves.  We discover Lorca's true identity.  Tyler discovers his inner Voq.  Saru explores his own fears and insecurities as a leader.  Tilly discovers her confidence and inner strength.  L'Rell discovers her willingness to release Voq from his Tyler prison.  And Burnham—wait for it (and, man, have we been waiting!)—discovers her humanity.  And to do all of this, many of these characters needed to start from or journey to some very dark places.  I get it.
But now that many of these people have made this journey, perhaps season two can move forward to discoveries that don't require such dark places as war, torture, imprisonment, and the horrors of the Mirror Universe.  Maybe the writers themselves can make their OWN discovery of lighter and more noble places/characters in season two.  It's already being hinted at, and the crew seems much less dysfunctional and bitchy than where they started.
I don't expect the last three episodes of season one to make any transition from dark and intense.  We're still in the Mirror Universe for at least one more episode, and then we return to an all-out war.  But there's still hope for, well, hope in season two.
For me, Star Trek has always been about hope, about light, about the better angels of human nature triumphing over our demons.  Without it, Discovery is fine science fiction—well produced, mostly well written, well acted, and well directed.  But at least right now, at least for me, it's still too dark and bleak way too often to feel like Star Trek.
But I haven't given up hope for Discovery, and that's why I still watch it.  "There are always possibilities…" Spock said.