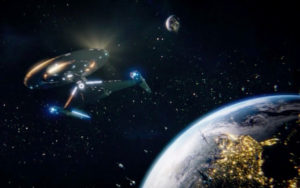 As STAR TREK: DISCOVERY  completes its initial season, I have one final chance to kvetch about the new series before what looks to be a year or more hiatus while production proceeds on season two.
I know it seems like all I ever do (or most of what I do) is criticize this show…and many have asked why I've even bothered watching it in the first place.  It's a fair question, and the answers I can come up with are: 1) it's not that the show sucks, and 2) I'm a 50-year Trekkie…how could I not watch this show?  Even if I'm choosing to be critical of it (as I am of the rebooted Star Trek films, as well), I want to know what it is that I'm criticizing.
But as I said, folks, the show doesn't suck!  It's well acted, well produced, well edited, has great music, mostly great pacing, looks visually stunning, and is obvious the result of a team of very dedicated individuals working very hard to produce a quality television series.
So why the heck don't I like this show more?  Why don't I LOVE it???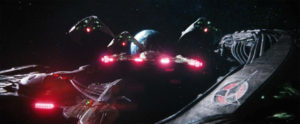 It's not simply that I don't like the bling-shiny uniforms or that I wasn't thrilled with the new-fangled Klingons and their crazy ship designs that look more like bats  and the Federation technology that looks like 25th century rather than 23rd.  I moved past all the cosmetic issues I had with the series early on.  So their USS Enterprise NCC-1701 doesn't match the original.  My head canon can just shift this entire series into an alternative reality, and all is good.
So again, why don't I like this show more?
I know I've sounded like a disgruntled broken record in my editorial reviews.  But that's just me trying to figure out the answer to this question in my head (and sharing those thoughts with all of you).
And as the first season brought with it what I considered to be a very unsatisfying end to the Klingon war, I finally put my finger on what's been bothering me the most…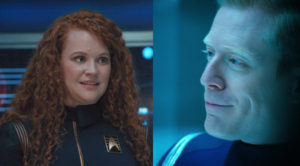 No it's not the fact that there's little-to-no banter, as I blogged about back in December.  Although that led to me not becoming invested much in the characters (other than Tilly and Stamets…mainly 'cause they're the only ones getting any decent banter), it didn't feel like the main thing that was bugging me.  But as I watched the finale, I realized that banter isn't the only thing the writers are leaving out!
In short, the show-runners have likely told the writers to hit certain stepping stones, or "beats" as they are called in the entertainment industry.  These are moments when there is a big reveal—yeah, a discovery!—that changes a character significantly in some way.  Michael mutinies against Georgiou and later kills T'Kuvma.  Stamets becomes the spore driver.  L'Rell tell VoQ that he needs to give up everything he is in order to win.  The Discovery winds up in the Mirror Universe.  Lorca is revealed as Mirror-Lorca.  Tyler is revealed as VoQ and tries to kill Burnham.  The list goes on, and the paths to these "beats" are all too often fill with a whole bunch of contrived set-ups.  However, that's not the main problem.
When it comes to Discovery, the beats seem to be the tail wagging the dog (or the targ?), as we get there and—DING!—it's suddenly time to move on to setting the table for the next beat.  No time for the audience (or the characters) to sit with and process the beat…only a frenetic sprint to the next beat.  It's like a "connect-the-dots" of storytelling with the writers checking a box "DONE!" so they can move onto the next dot on the picture they're drawing.
There's nothing inherently wrong with this approach.  It certainly makes Discovery a fast-paced show where you can easily say "this happened then this happened and then later on that happened."  But that's kinda all it is.  Way too often, when the writers had a chance to truly explore the ramifications of any one of these major beats, it was already time to move on to the set-up for the next one.
I could write a super-long blog listing examples going back to the earliest episodes, but to save you from that (hey, stop cheering!), I'm going to focus on just a few of the most recent examples from the last half of the season.
LORCA'S LEGACY
What we got – The big "surprise" that Lorca is (gasp!) really from the Mirror Universe.  And once he's revealed, this deeply complex character turns into a 2-dimensional caricature of a sadistic, power-hungry arch-villain, full of sound and fury, who ultimately falls into the so-often-overused "pit of hell" and is heard from no more (until the writers bring him back next season through some mycelial network "somethin'-somethin'").
What we did NOT get – How this realization impacted the Discovery crew.  For months and months, they blindly and loyally followed a man who turned out to be a would-be tyrant…a man who then turned around and tried to obliterate his former crew without so much as a second thought.  What does that do to the officers Lorca betrayed?  Do they question the actions they took under his command?  Do they have regrets?  I'd imagine that some of them might feel like many Germans did after the end of World War II.  But alas, I can only imagine…because the writers needed to move the plot along quickly, and the characters seems to "get over it" so quickly that you'd think Lorca had never betrayed anyone.  In fact, the only real reaction we got from anyone was the disintegration of a perfectly good bowl of fortune cookies!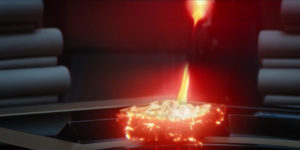 MICHAEL'S MANY MUTINIES
What we got – Michael Burnham just seems to be drawn to mutinies and insubordination.  In the first episode, she mutinied without the backing of her crew.  In the episode "Choose Your Pain," she disobeys a direct order from Saru to stand down.  In the last episode, Burnham almost mutinied yet again (this time with the backing of her crew) when she challenged Admiral Cornwell.  It's a quick scene—only 87 seconds (yeah, I timed it)—and Cornwell abruptly backs down.  Later on, Burnham gets her commission back for challenging the chain of command yet again because, this time, she got lucky (see below).
What we did NOT get – Any real challenge BACK to Burnham's challenge.  Cornwell was not acting alone.  Sarek was in on the plan to annihilate Qo'noS, and likely the full Starfleet Admiralty, as well.  They had their reasons…and they are in charge, after all.  And frankly, I don't really blame them.  Ruthless enemies like this version of the Klingons are irresistible forces stopping at nothing, and they present the Federation with two possibilities: defeat them or be obliterated by them.  That was the choice Starfleet was facing, and with the full Kingon attack forces bearing down on Earth, Starfleet ideals would mean nothing if Starfleet isn't around anymore to provide the positive example!
Sure, the writers allow Cornwell a half-sentence to explain her side, "We do not have the luxury of principles—" before Burnham cuts her off and says, "That is ALL we have, Admiral!"  And that's it!  No more arguments from Cornwell.  To me, this is a HUGE debate that needed to happen.  Sure, Burnham could ultimately have come out on top, but…half a sentence?  That's all the other side gets before receiving the inspirational "We are Starfleet!" speech?
But hey, we needed to get to the next scene…time's a'wastin'!
Oh, and I'd just like to point out that Cornwell, Sarek, and the Admiralty were right: the bomb DID end the war.  Sure, they didn't need to explode it and actually destroy Qo'noS, but they did need to at least plant it, which was Emperor Georgiou's idea.  So let's hear it for the Terrans 'cause they saved the Federation!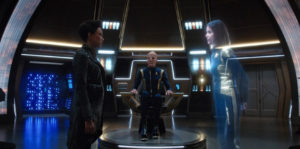 L'RELL'S LAMENT
What we got – The bomb is planted, and Burnham gives L'Rell control of the detonator and yet another inspirational speech.  And then suddenly, for some STUPID reason, L'Rell, says she'll stop the war.  Remember, she's a Klingon, and from those many scenes of her in her cell, she doesn't much like the Federation.  Her people are minutes away from eliminating their sworn enemy completely.  All she needs to do is let it happen and then she takes over the Klingon Empire, using the bomb threat to grab and hold power.  Once in charge, she can unite the houses and expand into Federation space.  Everybody wins…well, everybody who happens to be Klingon.
What we did NOT get – Why is blazes would L'Rell call off the Klingons' final attack on Earth???  Oh, I get what the writers were trying to do: conquering an enemy wasn't uniting the houses, only dividing them further, and L'Rell wanted them uinited.  So war wasn't the answer.  Therefore, she stopped the war.
But, but, but…
L'Rell pretty much hates humans and the Federation.  She's been a prisoner for weeks, possibly months, sitting in a cell with nothing to do aside from wonder that the heck "black alert" means.  It's not like anyone has been sitting down with her for some friendly "get to know us better" conversations.  And even if they had, her first instinct would probably have been to spit in their face.  As it was, Georgiou ended up beating her to a bloody pulp.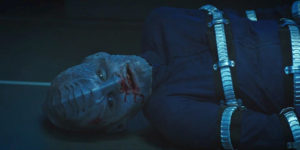 L'Rell has every reason to say, "Hey thanks for the detonator…suckas!"  So why does she NOT say that?  Did something happen to L'Rell while she was in the cell?  Did the loss of VoQ affect her that deeply?  If so, nobody on the production team saw fit to show that to us viewers.  Or maybe it's just another one of those "magic speeches."  This time, the discussion lasts 49 seconds (yep, timed it again!).  Burnham says something, L'Rell answers, then Tyler/VoQ says something else.  Done.  War over.
Sure, I love a happy ending as much as the next guy.  But in this case, I just didn't see how we got there in just 49 seconds.
---
In some ways, I feel cheated by the ending of this war.  In fact, I almost feel like… "What war?"  Did we really see a war?  Blink, and you'll miss it, folks.
But then again, I realize that the writers weren't presenting a show about a war with the Klingons.  They were presenting a show about people.  I get it, and I don't inherently have a problem with that approach.  But if you're truly interested in telling a story about people, then go ALL IN with that!  Don't just write to the beats, moving on to the next "big scene" as quickly as possible.  Don't be afraid to sit with these characters for a little longer and really explore who they are and how they react to what happens to them.  Life is more than just the beats…it's actually made up mostly of moments BETWEEN the beats.  Show us more of those!
Otherwise, the tail is indeed wagging the dog, and we're simply watching a show that's rushing to check off boxes to move things along.  If you feel exhausted after watching the first season of Discovery, that's probably the reason: you were never allowed time to process anything along with the characters themselves.
And if you feel exhausted after reading my editorial review blogs about Discovery, rejoice!  You're about to get at least a year to recuperate.  (Well, I actually have one more blog to write, but then I'm done till season 2…)