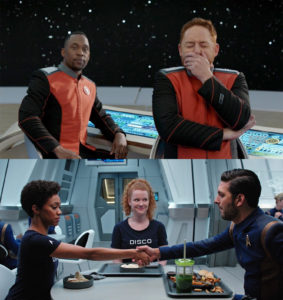 I already miss The Orville.  I know it's only been gone for a week, but I just faced a Thursday night without that curious combination of sci-fi, quirkiness, high production values, and low-brow humor.  It'll be nine long months until I see Bortus and Yaphit again…three-quarters of a year before I find out what new practical jokes Gordon and John play on Isaac, whether Alara has to open another "jar of pickles," and what else Ed and Kelly can find to argue about.  I feel totally invested in these characters, and I can't wait to watch more of their adventures together.
And then there's Star Trek: Discovery.
It's been on hiatus for nearly a month, and as I lament my now-Orvilless Thursday nights, I realize that I haven't really thought much about Discovery in the past five weeks.  I honestly don't miss it.
It's not that Discovery is a bad show.  As I've said many times, I enjoy the series and appreciate the work and attention to detail that has gone into it.  I'll still be watching the final six episodes of season one when the series returns on January 7, but it's mainly because I want to learn if I'm right about Lorca being from the Mirror Universe and whether Ash Tyler is really a genetically-altered Voq the Klingon.  And frankly, I don't much care who wins the Federation/Klingon war because—I'm sorry to say—I just don't feel invested in the whole storyline or the characters.
Why is that?
I mean, I'm a Trekkie!  Why wouldn't I care about who wins a war with the Klingons that could destroy the United Federation of Planets???  Sure, you can say it's because they don't look like "real" Klingons or those don't really look like Starfleet vessels or 23rd century uniforms.  But it's still a war.  If there were a war in the Orville universe, you'd better believe I'd be rooting for the Planetary Union over the Krill.  And I've only known this Orville universe for three and a half months, nearly as long as I've known the Disco-verse (whether or not I consider it canon).
So why do I just not care about what happens on Discovery?  Why am I not invested in the characters and their fates the way I am for The Orville?
Banter.
Pure and simple banter.  It helps to define the characters in so many ways.  What do they talk about when the ship isn't in danger, when there's no spatial anomaly or red alert or Klingon attack?  What do they do when it's not time for highly dramatic scenes that advance the plot?  What do they say when it's only the B-story…or even the C-story?
Think back to the very first episode of TOS that aired: "The Man Trap."  Kirk teases McCoy about being called "plum" by Nancy.  Uhura playfully flirts with Spock on the bridge (see?  JJ Abrams was right after all!).  Rand and Sulu have a friendly back-and-forth about naming plants.  None of these interactions help advance the main plot…this banter is essentially meaningless.  Except it isn't.  It helps to flesh out what kind of a crew this is, who these people are, what's important to them, etc.  It's a whole bunch of little things that add up to big things.
Over the course of TOS, we had countless examples of these playful (and sometime serious) interactions between characters:
Spock and McCoy bickering
Chekov making his comments about Russia
Sulu and Riley discussing fencing
Scotty espousing the benefits of scotch
Sulu and Chekov confounded by the continual course changes between Vulcan and Altair in "Amok Time"
Spock's complaints about "stone knives and bearskins"
(and for a serious one) McCoy's "Don't destroy the one named Kirk" speech in "Balance of Terror."
The list goes on and on…and it continued into TNG.  All of those scenes between Data and Geordi showed us the android trying to be more human and how having a friend was essential to that.  Picard, Riker, Troi, even Worf…all had their banter scenes.  (And don't get me started on Guinan!)  On DS9, we got even more banter—between Sisko and Dax, Bashir and O'Brien, Quark and Odo, Kira and Odo, Kira and Dax, Sisko and Kira, Jake and Nog, Nog and Rom, Rom and Quark, Bashir and Garak…man, the combinations for banter on that show were nearly infinite!  (Can you imagine that many casual character interactions on Discovery?)  Voyager gave us scenes with Tom and Harry, Tuvok and Neelix, Janeway and Chakotay, Seven and the Doctor.  Enterprise had it, too.
Banter, banter, banter!
Babylon 5 had banter…lots of it—Garibaldi and Londo, Londo and G'Kar, G'Kar and Sheridan, Sheridan and Delenn, Delenn and Lennier, Ivanova and, well, Ivanova sometimes even bantered with herself!  And don't forget Zathras!  (Actually, everyone forget Zathras.  Very sad life for Zathras.  Probably have very sad death.  But…at least there is symmetry.)
Battlestar Galactica had banter.  Granted, the banter in the original was much more lighthearted.  But even the darker reboot had interlude scenes that weren't simply "slaves to the plot" (that's when it's not really banter but instead just dialog to help advance the story).
Firefly?  Banter.  Farscape?  Banter.  Stargate?  Banter.  Game of Thrones?  Banter.  Think of your favorite show on TV.  Is there banter?
And of course, The Orville is FULL of banter.  Sure, at least a third of it involves various references to some kind of genitalia, but it's still banter and serves to make our characters fuller, more colorful, better defined, and ultimately more relatable to the us viewers.
And then there's Star Trek: Discovery.
It's not that the show features no banter whatsoever.  There was the opening scene on the desert planet in the pilot episode between Captain Georgiou and Commander Burnham.  There's the banter between Burnham and Tilly.  There are even a couple of tender moments between Stamets and his doctor boyfriend.  Oh, and remember that Burnham and Tyler are beginning to develop a "thing" for each other (a bit of flirtatious banter there, too).
But how much of that Discovery banter is simply "slave-to-the-plot dialog" meant to advance the storyline?  A good example was Lorca's intimate scene(s) with Admiral Cornwell.  While some of their conversation initially felt like comfortable chit-chat between old friends and helped to better define their characters' relationship, things evolved into a major and disturbing plot point when Cornwell discovered those scars on Lorca's back and then he pulled a phaser from under his pillow and pointed it at her.
Think hard.  Aside from Burnham and Tilly, do you recall any true banter between the other characters on Discovery?  (Okay, there was the brief Lorca/Tyler phaser target practice scene.  But that was a rare exception and certainly not the rule.)
Is this lack of banter because all roads on Discovery (or most of them) lead to Michael Burnham, and Burnham doesn't seem to "do" banter…except with Tilly?   And because Burnham only opens up to Tilly and the show revolves around Brunham (or at least it's supposed to), that seems to be the only banter we regularly get.  But that combinationeventually becomes as repetitive as having cheeseburgers for every meal.
And hey, just because Burnham is the central character doesn't mean that other characters can only be defined by how they interact with her.  Sure, Seth MacFarlane is the star of The Orville, but interactions with him aren't the only scenes that flesh out the other characters.  Just the opposite, in fact!  Look at Bortus.  He's had scenes, both serious and comical, with every cast member—scenes that have helped viewers learn who this stoic and intense alien is on the inside.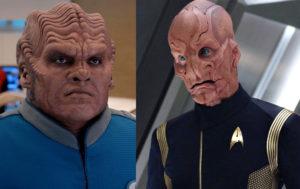 But compare that to another stoic and intense alien on Discovery.  How much do we really know about Saru?   His people can sense death, he likes blueberries, he runs fast, he doesn't trust Burnham, and he doubts himself.  That's pretty much it.  As a character, Bortus (and his culture) is much more fleshed out and relatable, even though he's never once cracked a single joke on this somewhat-comedic show (maybe especially because of that).
What about Saru?  Does he hang out socially with anyone on the ship?  I haven't seen it; have you?   Who gets to share his blueberries?  Does he even have a sense of humor?  Do they tell "knock, knock" jokes on his planet?  "Knock, knock!"  "Who's there?"  "Death."  "RUN!!!!!" Maybe his people find that hilarious.
I've been hearing through the grapevine that the second season of Discovery will be vastly different than the first.  Alex Kurtzman has already indicated that season one will wrap up the Klingon war and that season two will deal with the aftermath.  Maybe that will give the crew of the USS Discovery a chance to, y'know, DISCOVER things.  And maybe that will open up the door to more opportunities for banter…because if I'm going to watch the series, I really do want to care about these characters.
In my opinion, Star Trek should be mainly about the characters, and banter is a big part of that.  All the previous Star Trek series have lovingly defined their characters using (among other things) banter, and so does The Orville.  Perhaps that's the reason The Orville feels so much more like Star Trek than Discovery…