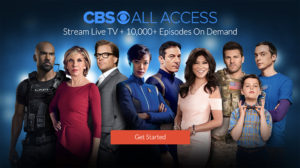 Yesterday, I began by noting that there were a number of Trek fans who believed that CBS was somehow in a "panic" about the poor performance of Star Trek: Discovery, and that there was some kind of pressure being put onto the production team to retool the series, possibly bringing in the USS Enterprise to somehow replace the USS Discovery…or some nonsense like that.
It's true that, at best, Star Trek: Discovery is just about breaking even for CBS…or possibly losing a few million dollars.  I didn't do all the math yesterday as I ran out of space, but I'll do it quickly here for you.
Since last September when Discovery premiered, CBS All Access has added approximately 500,000 new subscribers (going from 2 million to 2.5 million).  I learned that the majority of those subscribers were actually tuning into the NFL on All Access and not Discovery, but let's assume that they all joined because CBS added a new Star Trek show.
All Access allows subscribers to watch with commercials for $6/month or without for $10/month.  Let's average that to $8/month.  Discovery was on for five months:
 [  5 months x $8/month x 500,000 subscribers = $20 million   ]
As I mentioned yesterday, Discovery cost CBS about $30 million to produce (the portion not covered by Netflix licensing).
So how does Discovery break even if it's losing $10 million?  Advertising.  Also, not all of those subscribers canceled after 5 months, so the revenue continues.  In other words, Discovery is doing just fine as far as CBS is concerned.
On the other hand, the license to stream the NFL on All Access likely cost CBS upwards of $250 million…and there's no way they didn't lose money on that deal!  So why keep throwing major bucks into All Access if you're CBS?  Hasn't this experiment essentially failed?
And to make matters worse, this is how All Access looks when measured up against Netflix and Hulu subscribers (and this is only in the U.S. alone)…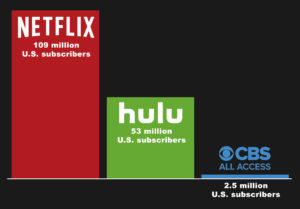 YEESH!  Sucks to be CBS, right?  So why not put All Access out of its misery?  Why bother keeping Star Trek: Discovery on the air and losing money on the NFL?
There's a very simple reason…
"PARDON OUR DUST"
CBS knows that All Access is still essentially "under construction."  The pie isn't finished baking yet.  Few businesses launch into the stratosphere in their first year or two…or even five.  It takes time to find, attract, and build an audience.
Also, CBS is far ahead of ABC, NBC, FOX, and all of the smaller networks like the CW, AMC, TNT, USA, etc.  Yes, NBC and FOX were the ones who started Hulu, but that's a jointly-owned venture, with Disney and TimeWarner having later bought ownership stakes, as well.  CBS owns and controls All Access outright…and they get to keep 100% of the subscription revenue (which is likely somewhere between about $150-$250 million per year plus advertising).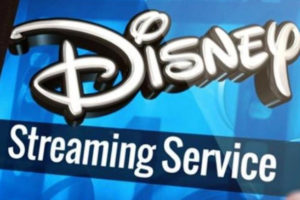 So even though Netflix and Hulu and Amazon Prime were first out of the starting gate and CBS is playing catch-up, the other networks are playing catch-up with CBS!  Even Disney is still only in the set-up stages for its streaming-video-on-demand service (scheduled to launch next near).  The other networks…even farther behind.
Of course, nearly everyone expects Disney's streaming service to blow away All Access simply because of the content.  Disney will have its 80-year library of classic children's films from Snow White through Lion King through Coco…plus all of the Marvel movies and, of course, everything Star Wars related.  In comparison, CBS All Access has stuff like The Brady Bunch, CSI, Big Brother, The Twilight Zone, The Price Is Right, I Love Lucy, 60 Minutes, Scorpion, Frasier, The Young and the Restless, Superior Donuts, and The Big Bang Theory…plus the Grammys, Tonys, and Emmys and, of course the NFL.  Oh, and they have Star Trek (all television series).
Now CBS isn't under any delusion that their service has a chance against Disney's at the moment.  But that's why CBS is trying to grow and expand their variety of offerings…especially when it comes to unique content that is available exclusively to All Access subscribers (and possibly Netflix subscribers in other countries).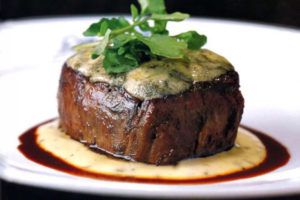 And Star Trek: Discovery is part of that plan.  That's why CBS is NOT panicking about its performance.  Star Trek: Discovery is doing exactly what it always needed to to: carry the name Star Trek and look like a good show.  It didn't need to BE a good show (although that would certainly be preferable), but it did need to LOOK good…like the photo of the steak on the ad for the restaurant.
Granted, CBS would have loved for Discovery to become a huge hit and generate surprisingly strong new subscription numbers, but they always knew they were facing a fierce headwind in trying to create a new customer behavior: subscribing to a service with no major movies to offer, mostly reruns and only limited original content, AND having to watch commercials in exchange for a slight discount.  Oh, and no binge-watching of new series; their new episodes would get released weekly, not all at once.  Such an idea was going to likely take a while to catch on (if it catches on at all).
IT'S ALL ABOUT THE NAME
But while the idea of All Access was catching on, CBS knew it needed to actually be offering original content on the service…otherwise, all it had would be 50 years of reruns (old and recent) plus the Grammys, Tonys, and Emmys (not even the Oscars!).  That's why the NFL was such an important license to get…even if CBS lost money on it.  And that's also why Star Trek was always vital, as well.
In this way, yes, Star Trek is a giant.  Compared to the other original All Access scripted programming, there's not much else with such established name recognition.  Big Brother: Over the Top (which is simply the 24/7 version of Big Brother), that's not exactly "scripted" programming.  Neither is AfterTrek.  The Good Fight is a scripted drama and serves as a spin-off of The Good Wife, but that series doesn't have the 50-year pedigree of Star Trek.
What else is there on All Access?  Not much!  Ironically, their only other established scripted drama at the moment is called (wait for it, wait for it) No Activity. Then a new series called Living Biblically premieres this week.  CBS will also be releasing new series Strange Angel and $1 at some point "soon."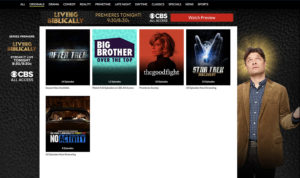 So, yeah, if you look at the above screen capture from the All Access website, the original offerings look pretty sparse…hardly worth six or ten bucks a month (unless you want the NFL and lots of reruns, too…or unless you're a die-hard Trekkie or a super-fan of Big Brother or The Good Wife).  And CBS knows this.  They're building a library, and these are just the first books on the shelves.
That's why Star Trek: Discovery was going to get renewed no matter how it did—from rocketing success to abysmal failure.  CBS needs original content on All Access, and canceling Star Trek: Discovery after only one season would have accomplished the exact opposite…AND lost them the most recognizably branded name on their roster.
STEADY AS SHE GOES
So yeah, some Trekkers are imagining (fantasizing?) that executives at CBS are pacing the floor, panicking about whether or not the Star Trek fans want the series to feel more like traditional TOS, or whether the producers brought in the USS Enterprise at the very end as a way to "transition" the series away from the USS Discovery and/or change the design back to something closer to what came before.  Predictions about how CBS is going to retool this series abound on social media, in blog posts, and on video podcasts like Midnight's Edge.
While networks do, on rare occasions, retool a struggling series, there's two reasons NOT to do so:
It costs money (for new sets, new costumes, finding new main actors—all of which can also take up valuable time).
It often creates a feeling of instability for both the production team and for the viewers.
While the Discovery producers and CBS haven't revealed the per-episode budget for next year, it's doubtful to be much higher than this year, and likely a bit lower.  Discovery already has a lot of capital invested in sets, costumes, and actors (and their characters), and it would be a poor business decision by anyone at CBS to choose to re-spend many of those start-up dollars all over again on re-inventing the wheel.
As for instability, that's the last thing CBS wants to introduce into All Access.  The ship needs to be steering a steady, confident course forward.  Any signs of weakness or uncertainty (like suddenly shifting the entire focus of an established series that's getting a lot of press) presents the wrong image to the current and potential subscribers.  They want to know what to expect for their subscription dollars.
---
Look, folks, I've been as critical of Discovery as anyone, and I would certainly love to see some changes to the show.  And actually, I do expect a few.  I suspect we'll see a slightly less frenetic pace to the stories in season two and more focus on really exploring the characters now that they've been introduced and put through the wringer.
But I don't for one second expect the series to suddenly jump into hewing more closely to traditional TOS or to see the Enterprise replace the Discovery or even join her for more than a few short episodes (and then perhaps return later in the season for another limited story arc).  I'm sure we'll love seeing Captain Pike and members of his crew (maybe Spock?), but I think it's extremely long odds that the series will suddenly shift to focusing on an entirely new crew.  Sure, we might get a new prominent character or two (the ship could sure use another doctor), but that's the nature of second seasons.  I highly doubt any of the established characters (Burnham, Saru, Stamets, Tilly, and the bridge officers whose names you can never remember…except Detmer; people remember that one) will be tossed out the airlock any time soon.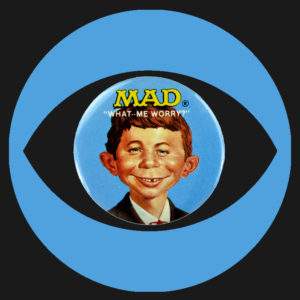 Look, CBS knows All Access is a work-in-progress.  But they fully expect their subscriber base to keep growing steadily over the next few years.  And rather than mucking about trying to overhaul any of their current offerings, CBS is much more likely working to keep things consistent and let these series strengthen as they build their audiences.  Twenty-five percent subscriber growth in All Access in less than a year is just fine to start with.  Could it have been better?  Yeah.  But as that CBS employee said, the executives are VERY satisfied with Discovery right now…and I have no doubt whatsoever that that is true.