WARNING: there will be some spoilers LATER,
but I will give you ample advance notice.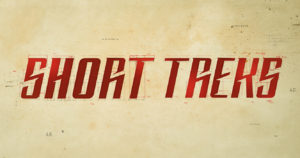 Going in, I wasn't certain what to make of the first of CBS All Access' SHORT TREKS, four "mini-episodes" of Star Trek to be released once a month leading up to the January premiere of season two of the Discovery series.
I'll be honest, part of me was ready to hate it.  It's no secret that I was mostly disappointed and frustrated with nearly every episode of Star Trek: Discovery's first season.  And these Short Treks seemed to be just a way to "lure" fans into paying extra money to CBS not for 4 or 5 hours of new Trek episodes each month but for only 10 or 15 MINUTES of these brief vignettes.
Adding insult to injury for Trek fans outside of the U.S. and Canada (which are getting to see these four short films on the subscription services All Access and Space, respectively), Netflix has decided NOT to offer Short Treks…at least for now.  TrekMovie has some theories as to why (which you can read here), but basically, CBS offered and Netflix passed, as the latter service is more geared toward binge-watching behavior and accepts short films in batched packages, not one at a time.
So Short Treks was carrying a lot of baggage right out of the starting gate, for me and others.  Some fans have even been suggesting recently that CBS ripped off the concept of a short stand-alone vignette from fan films themselves.  To them, I say: so did Battlestar Galactica with "The Resistance" in 2006, "The Face of the Enemy" in 2008, and "Blood and Chrome" in 2011.  The Walking Dead has done numerous short-film webisodes also.  In other words, just because CBS had the idea to make mini-episodes, that doesn't mean they "stole" the idea from fans…or from Syfy or AMC.  Sometimes a good idea is just a good idea.
But to me, at least, the first Short Trek, an episode entitled "Runaway" which debuted October 4, felt a lot like a fan film…especially now that CBS's guidelines are limiting the run-time of Trek fan films to no more than 15 minutes.
The question is, though, is that a good thing or a bad thing?
Continue reading "CBS ALL ACCESS releases its version of a fan film: SHORT TREKS (editorial review)"