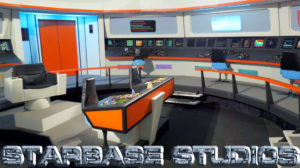 Sometimes no good deed goes unpunished.  When last I reported on STARBASE STUDIOS, things looked like they would finally work out.  An agreement that had been in negotiation for three arduous months had finally been agreed to and signed by all parties. The Starbase Studios lawsuit filed by Glen Wolfe was dropped, and it seemed like things could return to normal.
The new owners of the sets would be GLEN WOLFE (50%), SCOTT JOHNSON (25%), and GLENN MILLER (25%).  KENT EDWARDS would no longer own any part of the sets but would continue to be involved with Starbase Studios, LLC, and working with fan filmmakers.
Although the sets would remain in their current location in Marble Falls, Arkansas until the end of this year, after that, plans were that they would be moved into a fantastic new building with heat, A/C, electrical, and best of all, bathrooms!  Free rent would be provided by the building's owners, Glen Wolfe and his wife, and fan productions going through Starbase Studios would be able to continue using the sets essentially for free.  It was looking like Starbase Studios had gotten through the rough waters and emerged safely on the other side of the river.
Yeah, well, don't get out of the boat just yet, folks…
I woke up last Sunday morning to a series of IMs from VANCE MAJOR.  Although Vance has decided to step away from fan films right now, he still seems to be stuck in orbit around the gravity well that is Starbase Studios.  Vance had been contacted the previous evening by an irate Scott Johnson.  Scott was furious because he had discovered that certain fan film projects and producers would be banned from using the sets.  Here's the conversation that Vance sent me (he's the king of screen caps)…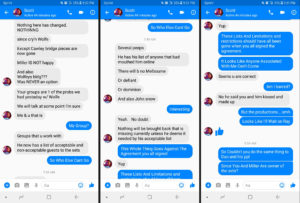 I know nothing of John Snow, but I am familiar with Defiant, Dominion, and Melbourne…and I knew that at least two of them are planning crowd-funding campaigns soon to finance filming new projects specifically on the Starbase Studios sets.  So this was certainly not good…if true.
However, knowing how often the stories change depending on whom I'm speaking to, I decided to go straight to the source and ask Glen Wolfe directly what the deal was with fan projects being banned from the sets.  His brief and to-the-point answer:
I do not know anything about this.
(Glen Wolfe is a man of few words, folks.)
After explaining in more detail what I had read from Scott's IMs with Vance, Glen added some additional commentary on the situation:
Oh, well this is the first I have heard of it.
(I love those quick and direct posts!)
---
Now, I'd seen this movie many times before over the past few months—he said/he said moments where the stories coming from Scott and Glen were so divergent that I didn't know what to believe!
Fortunately, we'd been able to navigate these rapids before by using a group chat that had been setup in the final weeks of negotiations on the contract.  So with the approval of Scott, who also seemed to want to get to the bottom of all of this, I posted the following message to the group chat (which included Scott, Glen, Kent Edwards, Glenn Miller, and Vance Major)…with the following responses: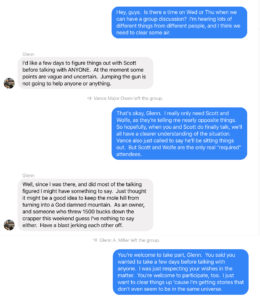 You'll notice a couple of interesting things in that exchange.  First, Vance Major left the chat group almost immediately.  He called me, though, to explain why.  His nerves are frazzled from having to deal with all of this consternation and bickering, and to be honest, I didn't blame him.  Frankly, it's been exhausting for me, as well, trying my best to keep everyone talking civilly to try to move forward and save Starbase Studios.  Vance earned his rest, though, as he's been at this much longer than I have.
Second, you might have noticed that Glenn Miller left the conversation before I could post my response.  This might even be the first he's seeing that I was actually following his wishes by leaving him out of the conversation with Scott and Glen Wolfe.  In the past, getting those two together has yielded the best results.  Glenn Miller might not be aware of that, as was never a part of the conversations I'd had with Scott, Kent, or Glen Wolfe.
Anyway, things rapidly went from bad to worse when I woke up Wednesday morning to find these additional two messages…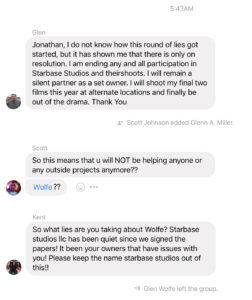 Oy vey…
As the father of a 7-year-old, I recognize temper tantrums when I see them coming.  Glen Wolfe's comment sounded like he was planning to back out of his contractual commitments, although perhaps I was misunderstanding his meaning.  As for Kent, it's kind of hard to keep the name of Starbase Studios out of discussions about the sets and their use by Starbase Studios, LLC (and productions working through them).
I decided that some stern words and tough love were in order.  Maybe that was the wrong call on my part, but I felt that someone needed to stand up and try to inject some civility into this…and remind everyone that 1) there is now a signed contract in play among the parties, and 2) there is financial incentive on both sides to make this work rather than try to blow it to pieces with righteous indignation.  So I posted this to the group chat…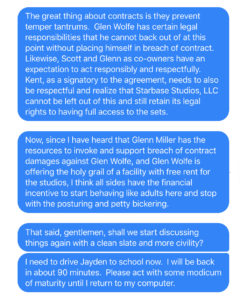 Ready to pat myself on the back for that literary masterpiece, Scott Johnson informed me that I had failed to notice that Glen Wolfe had long since left the group chat.  Well, poo!
I needed to reach out to Glen directly to try to bring him back to the virtual discussion table.  But before I could do that, Glenn Miller posted the following blitzkrieg that, I have to say, pretty much stopped me in my tracks.  I'll let all of you decide if I'd earned this shellacking: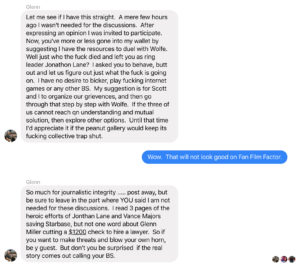 So, yeah, that happened.
Some people have asked me why I got involved in this whole mess in the first place.  The answer is simple: I offered to help, and that offer was accepted.  It didn't take much time for people on both sides to come to me as they had also been coming to Vance Major to help with negotiations and getting their desires down clearly in revised versions of the settlement agreement.  So in short, I was involved because I was asked to be.
Now I'd been told, in no uncertain terms, NOT to be involved anymore.  That's fine.  I won't force an outside mediator on folks who don't want one.  It certainly wasn't the nicest way to get "fired," of course, but I'd get over it.
---
It only took about 17 hours for Scott and Glenn to contact me again.  They'd been reaching out to Glen Wolfe with threats to "go public" (whatever that means), and they messaged me on Thursday afternoon asking to talk on Friday (today) to "…bring you up to speed, and get your thoughts."
I messaged back and forth with them for an hour or so before having to take my son home from the playground.  Scott and Glenn certainly have a whole bunch of grievances, and from what I've heard from Glen Wolfe, he really doesn't want to deal with them any more in any way.
The question for me now is: do I want to deal with them anymore either?
It was a really exhausting three months of negotiations to get that settlement signed to drop the lawsuit and move forward.  The whole situation actually caused Vance to have some medical stress issues.  As for me, well, I didn't have to deal with things for as long as Vance did.  But that final rant from Glenn Miller (the one I just included above) really left a bad taste in my mouth.
When Scott and Glenn asked me to come back and advise them, I copy-pasted Glenn's harsh comments saying that he'd sent a pretty clear message.  Glenn's response was:
"Fair enough, I was harsh on you Jonathan. But, you bruised me by first saying I wasn't needed, and then later volunteering my resources. It was also you inquiring about information and I pretty much told you we ourselves were not clear on the situation.  I asked for a day or two to get things straight amongst ourselves before we talked to you."
In other words, no actual apology from Glenn but rather a quick lead-in before explaining, once again, why Glenn was so pissed off at me.  Was it worth it to dive back into this raging water?  Truth to tell, I was actually close to deciding to do just that because I really care about Starbase Studios and want to help find a way for it to continue.
Then Vance called me.
I'd e-mailed a draft of this blog to him to ask for his advice.  Then I read him the more recent conversation with Scott and Glenn from Thursday afternoon.  Vance hadn't been aware of Glenn's rant, and Vance certainly didn't feel that what Glenn wrote later was anything even close to the heartfelt apology that was called for.
In Vance's opinion, he felt that my stepping away from this madness was not only totally justified but something I should do to keep my own sanity and self-respect.  Vance is stepping away completely, as well.  "Scott's kerosene and Miller's the match," Vance told me over the phone.  "And Wolfe's not entirely blameless either."
Vance and I did what we could to bring the various sides together and settle their differences.  It was exhausting.  But in the end, if these three people—Scott, Glenn, and Glen—can't learn on their own to put their egos aside, trust each other, be nice to each other, and work toward a common goal, then maybe they shouldn't be in business together.
After hanging up the phone with Vance, I posted one final message to Scott and Glenn Miller before finishing up this blog and going to bed (which I'm about to do)…
"I wish you both luck trying to find a way to work things out with Glen. I truly do. I just can't stay on board this shuttlecraft any longer."
With luck, Starbase Studios will survive, live long, and prosper.  But this time, I'll only be watching from a distance.  Sorry, folks.