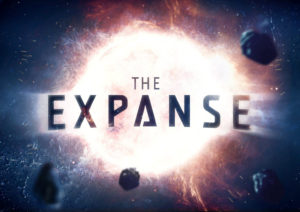 Okay, you can officially stop trying to save THE EXPANSE because Amazon has just saved it…in rather dramatic fashion!
Barely two weeks after The Expanse was canceled by Syfy, and after concerted efforts by fans, cast, and crew to try to rally support and revive the series, Amazon Studios and Alcon Entertainment announced that yes, there WILL be a fourth season of this critically-acclaimed, fan-favorite space sci-fi series.  It will appear on Amazon Prime.
The news became official during a break for dinner at the International Space Development Conference (ISDC) in Los Angeles this past Friday night.  Amazon CEO Jeff Bezos announced to people at the gathering:
"I was talking to the cast half an hour ago, before the break for dinner started. I was telling them that we are working hard at Amazon to save The Expanse, but it wasn't a done deal yet. During dinner, ten minutes ago, I just got word that The Expanse is saved!"
The room—which included many fans of the show since it features a very realistic portrayal of life in our solar system in the next two hundred years or so—burst into enthusiastic applause.  Bezos then added:
"The show is extraordinary, and these guys are unbelievably talented," as he pointed to The Expanse table.
The grass-roots effort to rescue the show reminded me of other fan attempts to save beloved series like Star Trek: Enterprise, Farscape, Firefly, and others…all with mixed results.  What is amazing to me is that now, with so many subscription services like Amazon Prime, Netflix, Hulu and others—all looking for popular content (and often flush with cash!)—network cancelation isn't nearly as certain or permanent a fate as it used to be.  Imagine if Fox had canceled Firefly today.  If Netflix had a streaming deal for the series, might they have tried to pick up the show the same way that Amazon just picked up The Expanse?  One wonders.
Anyway, three cheers for Jeff Bezos and Amazon Studios!  It's nice to see the fans win every so often.  Now, if only there might be some way to resurrect Lucifer from cancellation, as well…