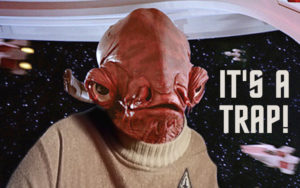 Guys, I am really sorry for giving this topic so much attention, but it is quickly turning into a possible "detractorgate" story, and I feel it's important to share what just happened.
As I covered on Saturday in this editorial blog, AXANAR detractor MICHAEL ILASI created a series of "mockery" videos of ALEC PETERS and Axanar using previously unreleased blooper footage from Prelude to Axanar without the consent of Alec or any of the cast members who appeared in the 2014 fan film.  This sparked quite a tempest both here and over on the Fan Film Forum Facebook group (and probably elsewhere).
When I woke up this morning, the following e-mail was waiting for me.  It had been sent anonymously via the "Contact Us" form here on Fan Film Factor at 3:43am.  Here's a screen cap of the message…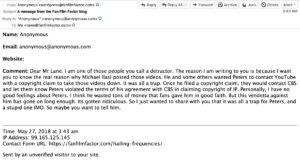 I have no way to verify that this was, in fact, from a detractor and not just someone pretending to be a detractor.  However, I did have an interesting IM exchange with Michael Ilasi via Facebook…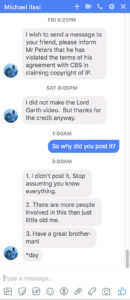 It's not necessarily a smoking gun, but the gun barrel still feels a little warm.  The fact that Michael messaged me mere minutes after Alec contacted YouTube to ask that the videos be taken down leads me to believe that yes, this was all planned out as an elaborate (is that the right adjective?) "trap" for Alec.  And of course, Michael later says, "There are more people involved in this…" implying, if I may use a word that I loathe, a conspiracy.
Needless to say, I contacted Alec himself (as Michael requested), but I also included a forward of the anonymous message I'd just received and asked for any response on the record.  Here's what Alec wrote back…
The settlement agreement with CBS is confidential and no one but the parties knows what's in it. That being said, nothing in it prevents me from asserting my ownership rights or protecting the image rights of the actors.
I can't claim any copyright to Star Trek or Star Trek-related content, but as you said in your last blog, the content I filmed belongs to me and Axanar Productions.
To clarify what Alec was referring to on this blog, it was a quote from one of my legal eagles about ownership of original footage that includes elements that are someone else's intellectual property…
Jon, let's say you and Wendy take Jayden to Disneyland.  Jayden is wearing a Mickey Mouse T-shirt and mouse ears, and you go to see Mickey Mouse.  You then film Jayden with Mickey Mouse.  Does Disney own your video footage or do you?
You own it.  Even though you've got all that Disney IP in the video, it's still your video.  Disney can't stop you from posting it, and they can't use it for their own purposes without your permission.  And certainly, no one else can use your footage without your permission.
Just because Alec is wearing a Star Trek shirt, that doesn't mean he gives up any rights to that raw footage of him wearing it.  Same if any of you Trekkies go to a convention in your uniforms and take videos of each other.  CBS/Paramount don't own your videos.  You do.
---
Obviously, there are other questions that could be asked at this point…questions I don't really have answers to…
1. What are the detractors hoping to accomplish with these shenanigans?
Even if CBS Legal contacts Alec's lawyers and complains, all Alec has to do is explain what happened, and the studios won't be touching this with a ten-foot tribble.  Fans trying to "trap" other fans?  Who needs to wander into THAT mess?
I'm certain that CBS and Paramount won't appreciate being manipulated by a few detractors like that.  And of course, even if the studio lawyers do drag Alec into arbitration (which is expensive and time-consuming), CBS and Paramount would need to demonstrate that Alec's actions carry some measurable harm for the studios.  It's not enough to simply "violate the terms of the agreement"—an agreement that none of us on the "outside" have even seen.  CBS and Paramount need to show tangible damages from those actions so that the judge can know how to make the studios whole again.
In this case, Alec contacted YouTube to take down a handful of short videos with a few hundred views at most.  He didn't assert copyright ownership over Star Trek (since these bloopers weren't even vaguely Star Trek except for the tunics and use of the word "Klingon).  He asserted ownership of raw cosplay footage and some VFX that he paid for.  There's no financial harm to CBS or Paramount in any of that, and the studios know this.
In other words, it's a nothing burger—a stupid one at that—and the fact that it's now out there that a bunch of obsessed Trekkie pranksters did it only to manipulate CBS Legal means that any move against Alec in this situation is a public relations nightmare waiting to happen.
Look, folks, if CBS moves against Alec, it will be for a much more tangible and measurable harm reason than this.  And that's why Alec is being so careful to follow the settlement agreement to the letter….a settlement agreement that both he and CBS legal are very familiar with (unlike the rest of us).
2. What's wrong with these people?
I mean, really.  The detractors try to claim some kind of "nobility" in what they do.  They like to claim that they are simply trying to "protect the fans" from the "evils" of Alec Peters.
How does "trapping" him and then reporting him to CBS accomplish this exactly?
Look, to everyone but the detractors themselves (and even to some of them), this looks like simple hatred run amok.  The snarky memes, the confrontational arguments that still go on 16 months after the legal settlement, the Facebook groups, the monitoring websites, the videos, the posts on blogs and social media, and now this "trap"…why can't they just let this all go and get on with their lives?
It's not like Alec is going off the rails with plans to violate his settlement agreement.  No, he's quietly setting about to make the last two installments of Axanar.  He gives some updates from time to time, but not many…unlike the glory days of 2014 and 2015 when he'd post and boast constantly.  And following the terms of the settlement, Alec is not using any public crowdfunding campaigns to pay for the production of the remaining two fan films.
3. So what exactly is Alec doing wrong then?
I suspect, if you asked some detractors, they'd say, "Well, he's still breathing, isn't he?"  Perhaps that's a little extreme on my part, but they'd probably argue that he's still making Axanar, so they have to keep fighting him until he gives up and slinks away.
But again, why?
CBS and Paramount are ALLOWING Alec to make the final two installments of Axanar.  The studios are fine with it…so why aren't the detractors?  Why try to trap Alec and ruin it for everyone (or at least those of us who want to see these last two fan films)?  How is that "protecting" anyone?
I have no answers to any of these questions that don't involve the words "obsession" and "hate."