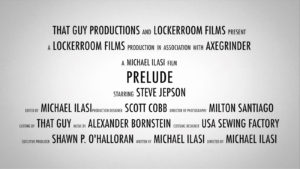 MICHAEL ILASI, a dedicated AXANAR detractor, announced last month that he was planning to create a "parody" of Prelude to Axanar using actual footage from the fan film…re-edited to be "funny."
But what Michael released wasn't a parody so much as a mockery.  It belittled ALEC PETERS and the other cast members of Prelude by showing their bloopers, adding banjo music, crickets, laughter, etc…and making it look like these were bungling idiots rather than actors trying to put in solid performances while flubbing the occasional line.
Michael called it a "fan film," but I don't think it qualifies.  A fan film should celebrate and honor something a fan loves—Star Trek, Star Wars, Doctor Who, Harry Potter—not try to tear it down or cheapen it in some way.  In fact, that's sorta the OPPOSITE of a fan film.
Michael was using Axanar blooper footage released without permission last year by former Axanar marketing director turned vitriolic detractor TERRY McINTOSH, violating his non-disclosure agreement with Alec and Axanar Productions and releasing footage that was not legally his to release.
The arguments being employed currently by Michael and other detractors justifying the creation and release of this mockery film can best be summed up as follows:
Alec can't own the Prelude footage because it's all Star Trek, and Alec doesn't own the Star Trek intellectual property.
Parody is protected speech under fair use.  Alec can't do anything to prevent Michael from enjoying his First Amendment rights.
Axanar is"open source."  Alec even said so himself.
Get over yourselves and laugh, fer cryin' out loud!  They're bloopers, not KFC's secret recipe of 11 herbs and spices.  Lighten up.
You probably won't be surprised to hear that I've got an answer to each of these attempts to justify and excuse what Michael did.
Does Alec Peters Own the Axanar Footage?
For this question, I shot an e-mail to one of my legal eagles.  His/her response (yep, they still want to remain anonymous because they don't want a bunch of detractors trolling their law firm) was this…
Jon, let's say you and Wendy take Jayden to Disneyland.  Jayden is wearing a Mickey Mouse T-shirt and mouse ears, and you go to see Mickey Mouse.  You then film Jayden with Mickey Mouse.  Does Disney own your video footage or do you?
You own it.  Even though you've got all that Disney IP in the video, it's still your video.  Disney can't stop you from posting it, and they can't use it for their own purposes without your permission.  And certainly, no one else can use your footage without your permission.
Just because Alec is wearing a Star Trek shirt, that doesn't mean he gives up any rights to that raw footage of him wearing it.  Same if any of you Trekkies go to a convention in your uniforms and take videos of each other.  CBS/Paramount don't own your videos.  You do.
So make no mistake, folks: the Axanar footage—all the takes, outtakes, bloopers, VFX, behind-the-scenes, all of it—is the property of Alec Peters and Axanar Productions.  People who worked on it were paid, which makes their participation work-for-hire.  In other words, neither Christian Gossett nor Robert Meyer Burnett nor Tobias Richter nor Terry McIntosh nor any of the paid actors owns anything unless such rights were specifically granted in a contract.
CBS and Paramount can keep Alec from claiming copyright ownership over the finished fan films Prelude to Axanar, the Vulcan Scene, or the other two installments of the Axanar trilogy.  But the raw footage belongs to Alec and his production company, just as my video of Jayden with Mickey Mouse belongs to me.  I can't claim ownership of Mickey, but I do own my video.
Parody, Freedom of Speech, and Fair Use
Freedom of speech is a great thing.  You can say anything you want in America!  Well, not anything.  If you yell "Fire!" in the middle of a crowded theater, expect to be arrested for disturbing the peace, Bill of Rights or no Bill of Rights.  And that's because freedom of speech is not absolute.  It has consequences if abused.
Yes, parody is protected speech.  It's not clear whether a judge would consider what Michael produced and released to be a parody or not.  But as I'll explain, the idea of copyright infringement is actually irrelevant in this instance.  What Michael did was illegal in a different way…just as if he'd yelled "Fire!" in a theater.
There is a legal statute in most states known as Unlawful Use of Name or Likeness.  (Here's a long article that does a deep-dive into the concept.)  In short, this law says that you can't use someone else's name or likeness without their permission.  And the use doesn't necessarily need to be commercial, it can simply be exploitive (done for a benefit to the person using the likeness without permission).  In Michael's case, he benefits from presenting Alec Peters in a bad or embarrassing light, getting laughs from his friends.  Exploitive gain can be something as simple as that.
Now, there is an exception for purposes of news or critical commentary on a major world issue or event.  But a fan film probably doesn't rise to the threshold being newsworthy (despite this awesome blog site!).  Also, it's hard to see a collection of hastily edited bloopers conveying a carefully-considered critical or social commentary.
So basically, any of the actors whose faces and/or bloopers were shown in Michael Ilasi's video could, if they chose, take legal action against him for Unlawful Use of Name or Likeness.  I'm not saying they'd win or get much in a legal judgment award, but it's unlikely the complaints would simply be dismissed as frivolous…meaning that Michael would probably have to pay a lawyer at least a retainer, if not significantly more.  Is it worth it for a few hundred views on YouTube?  I wouldn't think so, but maybe Michael is rich and doesn't care.
Axanar is "Open Source," right?
Michael released his videos in a YouTube account named "Open Source Axanar – 30 Days Out!"  Others have pointed out to me that Alec Peters himself said that Axanar was now "Open Source" in this blog post from last year.
Nice try, guys.
Here's what Alec actually said:
One of the big changes we are making, in order to keep Axanar alive and thriving into the future, is to turn over as much of it as we can to fans.  This includes the running of the Axanar Fan Group on Facebook, which has been turned over to a group of fans now running that group.
Fans are developing comic books, doing animation art and more, all celebrating Axanar.  We love it, and are eternally grateful for all of your support.  You all are what is keeping the Star Trek we know and love alive and well.
At no point did Alec say that anyone could use and re-edit the existing Axanar footage (in any of its versions…used or unused) and release videos of their own.  He specifically said that Axanar was turning over the operation of the Axanar fan group on Facebook to fans (rather than running it internally), and also that he and the Axanar team welcomed the creation of original fan content based on Axanar—like comic books, art and animations, and short stories.
In case there is any doubt, Alec Peters is making it clear that the use of any footage from any of the Axanar fan film projects is not allowed without getting his permission.
Oh, Lighten Up Already!
Over on Fan Film Forum on Facebook, shortly after Michael released his video and began stirring up a tempest, one of our members posted the bloopers from Star Trek: Horizon, which are very funny.  Another member chimed in, "The best part of Star Trek are the bloopers."  And then CARLOS PEDRAZA added, "You should see the old Hidden Frontier bloopers. They were classic. If you can't laugh at yourself you're not worth taking seriously."
Okay, I get it.  I get it.
And you don't have to convince me.  I've covered the hilarious Star Trek Continues bloopers on this very blog site.  I love bloopers!
But the important thing to remember here is that TOMMY KRAFT was the one who released the Star Trek: Horizon bloopers for his fan film.  VIC MIGNOGNA released the Star Trek Continues blooper reels, edited exactly how he wanted them to be, using the best blooper footage and allowing the fans to laugh with the actors, not at them.
Alec Peters is actually planning to release Axanar bloopers on the Special Edition DVD that will be distributed to donors after the trilogy is completed.  Like STC and Horizon, these bloopers are going to be carefully and lovingly edited together to be funny but also respectful…using only those clips that the cast members would approve Alec using.  If Gary Graham or Kate Vernon didn't want to see a particular line flub, then it wouldn't be shown.  Respect.
Michael Ilasi, of course, didn't bother to ask any of the actors what they did and didn't want to include.  Just like he didn't ask any of them for their permission.  One of the cornerstones of Unlawful Use of Name or Likeness is the assumption that an individual has a right to privacy and a right to control their own publicity, even professional actors.  Michael is violating both of those rights for Alec and the other Axanar cast members.
Alec should be allowed to edit and present those bloopers as he and the cast see fit…not to mock but to celebrate and remember the fun they all had filming.  Instead, Michael Ilasi is trying to steal that privilege away from both the Axanar cast and from their fans.
Shame on him!