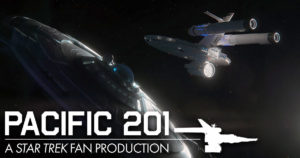 Yesterday, I shared the exciting news that the long-awaited PACIFIC 201 may not be awaited much longer.  A new teaser promises a release in the spring of 2019!
Pacific 201 was initially crowd-funded with a Kickstarter back in 2015, with an Indiegogo campaign the following year, giving show-runner ERIC HENRY more than $50,000 to make his fan film.  The principle photography wrapped up last year, and Eric has been deep into post production since then.
During that time, Eric has released some very nice-looking still imagery of his cast (the crew of the starship Pacific NCC-201), his sets, green screen, uniforms, patches, ship designs, and even a few visual FX.  In some of the images, you can even see ways in which Eric has digitally "extended" the sets with things like adding ceilings (which were not initially part of the sets that were constructed).
Yesterday I told you about Pacific 201.  Today, I'm gonna show you.
Click on any image below to enlarge it….