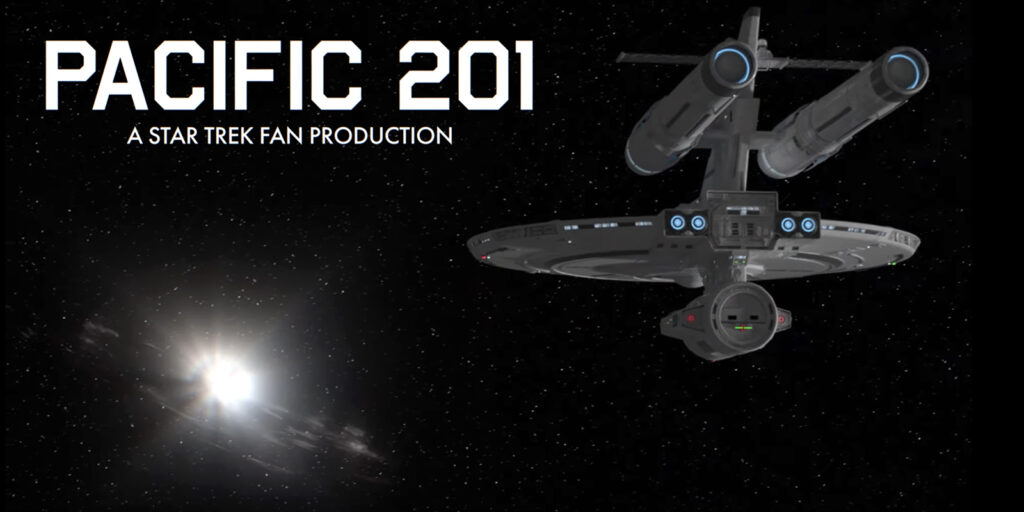 PACIFIC 201 was initially crowd-funded with a $26K Kickstarter way back in September of 2015. The following year, an Indiegogo campaign raised about $32K more. So armed with more than $58K, Harrisburg, PA-based show-runner ERIC HENRY set off to make a fan film…and not just any fan film.
Eric was building actual sets (and paying monthly rent for a warehouse), creating costumes, refining new starship designs, doing his own VFX, and treating this project very professionally. The images looked amazing, and the story very intriguing.
Pacific 201 is set in the year 2200, four decades after the Romulan War, and Earth is still hesitant to trust the galaxy. The desire to explore space faded after the first few years of the NX program—helped along by the Xindi and Romulans—and was replaced with a fear that seeking out new life and new civilizations would result in them shooting at us.
But now Earth is just beginning to shake off its post-traumatic stress, and the starship Pacific NCC-201 is the first vessel in decades to head out with UESPA scientists aboard alongside Starfleet military. Can humanity conquer its fears and truly embrace its destiny among the stars?
This push/pull of paranoia vs. positivity is put on display in one of my all-time favorite fan vignettes, which Eric released back in late 2016. (You can watch it here.) In this short film, the first officer of the USS Pacific is grilled by a talk show host who is anything but fair and balanced when it comes to restarting the exploration of space. The following summer, another Pacific 201 short vignette was released, featuring the new captain. (You can watch that here.)
All this time, the "coming soon" dates were coming and going with no Pacific 201. Most recently, in 2018, a series of images were released along with a promised release date of spring 2019. We're now a year beyond that, and still no fan film. BUT!!! For the first time since 2018, new content from Pacific 201 has been released in the form of this intriguing new trailer…
So…August 2020 it is, then! Fingers crossed.
In the meantime, I thought it might be a good time to check in with Eric Henry on what's been taking so long, what still needs to be done, and whether there will be any sequels to Pacific 201 (once the first film comes out, that is!). Let's hear what Eric has to say…
Continue reading

"PACIFIC 201 releases a brand new TRAILER! (interview with ERIC HENRY)"