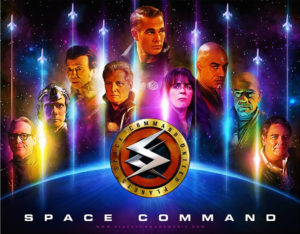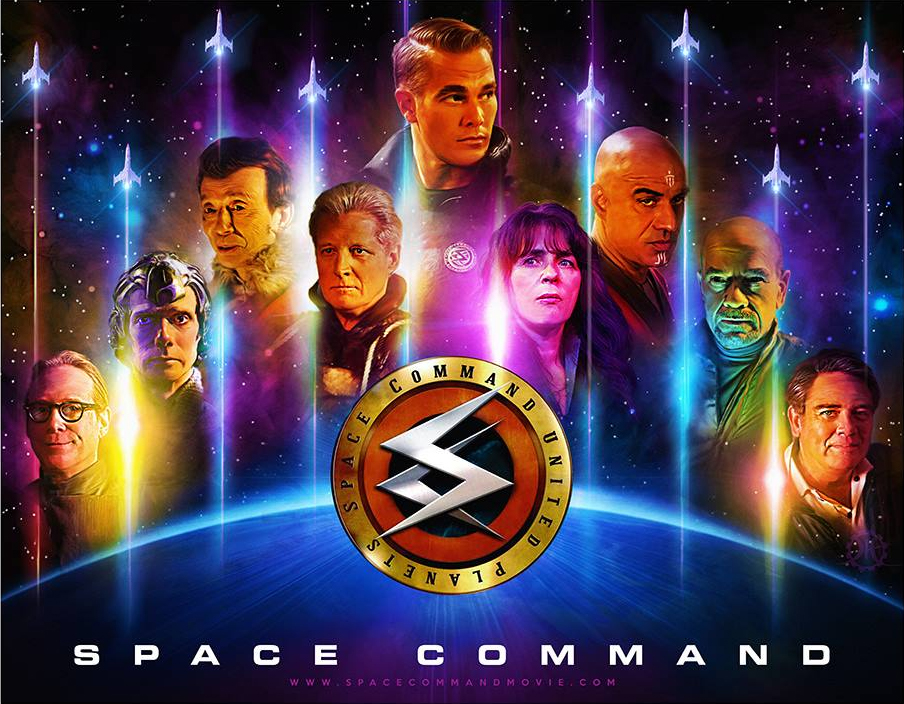 Fan film supporters are no strangers to waiting—sometimes for years!—to see their donations finally reach fruition in the form of a finished release.
Take a look at this list of fan films (both Star Trek and sci-fi genre featuring Trek actors) that were successfully funded (either publicly or privately) and still have not been released…in order from earliest to most recent campaign:
Axanar (funded in 2014 and 2015)
Star Trek: First Frontier (unfunded in 2015 then privately financed)
Star Trek: New Voyages "Torment of Destiny" (funded in 2015)
Pacific 201 (funded in 2015 and 2016)
Captain Pike (funded in 2015 and 2016)
Starship Farragut "Homecoming" (funded in late 2015)
Blade of Honor (funded in 2016 and 2017)
The Circuit: Urbiessa (funded in 2017)
All of these fan projects have taken in at least five-figures in crowd-funding and often six-figures or more.  And fans have been waiting for some of these films to be released for over three years!
But that's nothing compared to SPACE COMMAND!
One of the earliest sci-fi Kickstarters to crack into six-figures, Space Command took in $221,267 way back in July of 2012!  Then, five years later, Space Command pulled in another $108,671 in December of 2017!
Written and directed by MARK SCOTT ZICREE (who wrote episodes for ST:TNG and DS9 and wrote and directed the acclaimed Star Trek: New Voyages fan film "World Enough and Time" with George Takei) the Space Command pilot episode would feature an impressive cast of sci-fi notables—DOUG JONES, ROBERT PICARDO, BILL MUMY, and MIRA FURLAN—high production values, and what looked to be breathtaking VFX.  It's no wonder that fans contributed nearly a third of a million dollars to turn that homage to classic 1950s sci-fi into a fan film reality.
But, dude…it's been six frickin' years!!!
However, the wait looks like it is finally over for Space Command fans and donors.  Marc Zicree has just announced that the first half hour of the 2-hour pilot episode will debut in just a few weeks at Comic-Con International in San Diego!
But that's not all he announced!  Let's turn the microphone over to Marc…
Hi, guys,
Well, it's been an amazing time for Space Command!
I haven't checked in for a while because I've been working so actively on Space Command (although I have been posting regularly on my Facebook page, Twitter account and Mr. Sci-Fi YouTube Channel, so subscribe to those for the latest news).
Here's a video that gives you the latest —
And if you'd like to buy Space Command shares, they're still $7,500 each and give you a percentage of my Producer's Net Profits in the first four hours of Space Command – and it speeds the plow of post-production, shooting more and selling the show.
For more info, email me at marczicree@gmail.com.
Or you can donate lesser sums via our Patreon page at: www.patreon.com/MarcZicree
My post production and VFX team is busy at work every day, generating the 1,900 visual effects shots in the two hour pilot, composing the score, designing the sound landscape and more.
And if you haven't seen our long trailer with scenes from the first six hours of the forthcoming twelve hour first season of Space Command, you can check it out here —
As some of you know, the legendary designer Ron Cobb (Alien, Aliens, Star Wars, Back to the Future) has come aboard Space Command to design our Shrikes. Here's his concept sketch and the rendered and textured version built by modeler extraordinaire Sasha Burrow!
Here's a marvelous image designed and generated by our VFX Supervisor Joseph Lawson:
And here's some spectacular images of the Y'maa city and ship interior from Nicolas Alanis of Italy:
We'll be premiering the first half-hour of the two-hour pilot at San Diego Comic-Con, where we'll also have a booth between the BBC and Nickelodeon on the convention floor to have signings, free giveaways, etc. – so come see us!
At that point, we'll also be sending the finished half-hour to all our backers and investors, while continuing to finish the VFX and post for the rest of the first hour, and then on to the second hour!
We're currently in talks to screen the first hour of the pilot at the C21 Drama Summit in London in November and possibly also the Independent TV Festival in Long Island.
Beyond this, we've shot and edited forty minutes of the second two-hour story and are now in pre-production to shoot the rest of that, as I continue to write and revise the scripts of the entire twelve hour first season.
Recently, we got together with our stars Robert Picardo, Mira Furlan and Doug Jones to tell them where their characters are going in the upcoming Space Command storyline – very exciting stuff! (And Doug's been having an amazing year, what with The Shape of Water and Star Trek: Discovery…)
And here's the poster for our third two-hour story in the Space Command saga: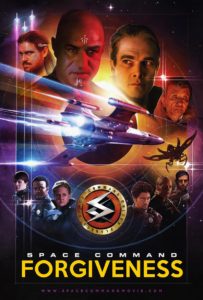 And speaking of Space Command: Forgiveness, here's a first peek at someone you'll be getting to know…
I'm now actively pitching the Space Command series and am in active conversation with executives at such major entities as BBC Studios and StudioCanal, among many others.
At the same time, we're manufacturing the Paladin models and the wristwatches, which we'll be sending out to our backers soon. Plus we'll have the signed posters ready to ship in the near future.
Additionally, we're about to open the Space Command Store, where you'll be able to order T-shirts, jackets, posters, lobby cards, trading cards and more!
And very soon we'll be officially announcing the amazing Space Command Spacesuit Contest, where you can build spacesuits from designs by Star Wars' Iain McCaig and Fernando Lopez, as well as creating your own design (including a Steampunk category)!
Finally, the new edition of my book The Twilight Zone Companion is out, with over 100 new pages of material, 500 new photographs and audio and video links to rarities and new interviews with Rod Serling's daughter Jodi and George Takei!
More Space Command wonders to come soon – thanks for making this all possible!
All good thoughts your way,
Marc