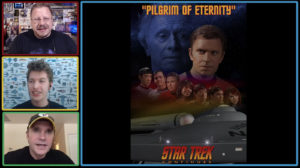 TREKYARDS is a force of nature in Star Trek fandom.  So is STAR TREK CONTINUES.  Put the two of them together, and there's something really special in store for Trekkers!
Trekyards, for those who don't know, is the brainchild of STUART FOLEY and SAMUEL COCKINGS.  Together, these two uber-fans have produced more than 500 webshow videos spotlighting ships from Trek and other sci-fi franchises, interviewing actors and production people from Star Trek, doing video podcasts, and filling the Internet with enough smart, funny, and fascinating content to eat up as much of your free time as you desire!
Star Trek Continues, as you undoubtedly know, was a cutting edge fan series that presented the final two years of the USS Enterprise's 5-year mission under James T. Kirk.  Using professional actors and technical crew, featuring noted sci-fi celebrities as guest stars, and displaying industry-level production quality on exact recreations of the TOS sets, STC set a standard of excellence seldom if ever matched in the realm of Trek fan films.
Although STC has completed its 11-episode run, fans still cherish this labor of love and the careful attention to detail that went into it.  And while STC has released a few special features here and there focussing on things like the music scoring, editing, and VFX—and Fan Film Factor published this exhaustively-researched complete history of STC—there hasn't been a real "deep dive" into all of the  behind-the-scenes production secrets of this amazing series.
Until now, that is!
Trekyards is introducing a new webshow series spotlighting Star Trek Continues, hoping to cover EVERY fascinating detail of this beloved fan project with insight from those who produced it.  Up first, in a 20-minute interview about their first episode, "Pilgrim of Eternity," Captain Kirk himself, VIC MIGNOGANA, talks about finding and convincing retired actor Michael Forest to reprise his role of Apollo, Vic's feelings about other Trek fan series, and what gravity has to do with the color of the walls on the set!
Here's the first installment of this new MUST-SEE Trekyards series…
I spoke to Trekyards co-host and editor Samuel Cockings about this new offering and learned some very interesting things—including why fans really need to tune in and support it…
JONATHAN – So Samuel, when I think of Trekyards and fan films, I picture you guys mainly spotlighting the ships that appear in these productions.  But this seems to be a new kind of focus for you, looking at all aspects of this particular fan production.  How did this idea come to be?
SAMUEL -We've actually wanted to work with Vic Mignogna on something more elaborate for some time!  No other fan film series in history achieved what STC did, and as such, they hold a special interest for Stuart and me. STC does not include a variety of new ship designs, so it doesn't necessarily fit into our established format.  But the pure professionalism and the fact that so much quality content was created meant there were many other avenues to discuss.
At Trekyards, we value getting the best guests and exclusive info, and therefore, getting Vic as the regular was essential to making this retrospective series a reality.  Vic loved our pitch, and fans saw the first part of our lead-in video in the series this past weekend.
JONATHAN – So what's the main reason why should fans tune in and watch this new series?
SAMUEL – For Star Trek Continues, these videos will be the equivalent of the behind-the-scenes extras that were never made for the series during its run. They focused on the episodes themselves and producing the best shows possible, not on doing elaborate documentary pieces at the time. This is where Trekyards steps in and will be working with STC to do the next best thing: a behind-the-scenes retrospective look at the show with Vic…and perhaps others!
If you love hearing about how productions are made, then this series WILL be for you.
JONATHAN – Have you interviewed anyone other than Vic so far?
SAMUEL – Not yet.  It's still early in the new series.  But Vic knows how much time we wanted to invest in this unique series of videos, and he responded in kind.  So he gave us many video interviews that we'll be posting in the upcoming weeks.
JONATHAN – But you are planning to have other STC actors and production people appear appear down the line?
SAMUEL – We're not sure yet.  It all depends on the fan reaction to the series, the interest level, and the number of views.  If you want to see more episodes of this series, watch it often…and tell your friends to do the same!
JONATHAN – Hmmmm, that might indirectly answer my final question, as well.
SAMUEL – Which is?
JONATHAN – Are you planning to follow up this STC series with behind-the-scenes retrospectives on other Trek fan projects like New Voyages, Renegades, Horizon, Axanar, Farragut, Intrepid, etc.?
SAMUEL – STC is our focus at the moment, but remember that we have already done one or two dozen shows highlighting other fan film series/movies over the past three years. We have looked at many Renegades and Pacific 201 ships, and we even have a yet-to-be released Of Gods And Men interview in the bank.
But STC is unique, and as such has, it's being given a unique retrospective series to focus on her.
And yes, what videos we do in the future will totally depend on the views we get, since these videos take quite a bit of prep/filming and editing time. We need the views to show us that this is what fans want.  We cant justify the time spent if you want to see more.
So tune in!
---
You can watch literally HUNDREDS of hours more great content on the Trekyards Youtube channel.  Warning: it's quite addictive!