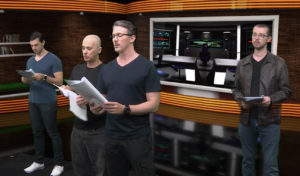 What do you do if you want to make a Star Trek fan film and you can't afford costumes, sets, make-up, lighting, and all of the other bells and whistles?  This was the challenge facing Australia's MATT MILLER, who had previously tried on multiple attempts to create Trek fan films with limited resources.  Matt explains his frustrations and the shortcomings of those productions in this heartfelt video.
So "Once More with Feeling" works as a title on various levels.  Matt's latest attempt at a Trek fan film is, of course, his own attempt to do it better, once more, with feeling.  The "feeling" comes from what is a hybrid, of sorts, of a traditional Star Trek fan film and what would be a dramatic table reading for an audio production.  The actors provide very passionate performances, even though they are reading directly from scripts in the visuals.
Table readings are, of course, fairly standard in the theater, which is where Once More with Feeling! was originally performed as a stage play (written by Harry Kurnitz) in 1958, starring Joseph Cotten, Arlene Francis, and Walter Matthau (who won a best actor Tony award for it).  Two years later, it would be made into a film starring Kay Kendall and Yul Brynner.  (And yes, in 2001, "Once More with Feeling" was also the title of an all-musical episode of Buffy, The Vampire Slayer.)
For this Star Trek fan film, the title also appears to harken to the structure of the story, as a disgraced Starfleet captain describes his tragic, final battle for a young woman who has come to his home, she tells him, as part of a college research project.  However, if you watch until the very end of the film, you will discover yet another reason for the title.
This is undoubtedly a different kind of fan film, and somewhat jarring in places due to its basic structure.  The outer space starship CGI visual effects, created by Trekyards' SAMUEL COCKINGS, are outstanding and take the viewer deep into the fan film narrative.  But cuts to the actors, standing in a virtual "lounge" of some kind, wearing normal clothes, reading from scripts, jolts the viewer out of the imaginary Star Trek universe back into reality.
Reaction online has been generally very positive (with the expected outliers, of course).  I believe that all fan films should be given respect and viewed with an open mind—this one being no exception.  So take a look at what can be produced on a low budget, with few resources, when the writer/director thinks outside the box…