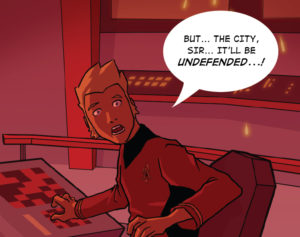 The latest comic book story based on the fan film PRELUDE TO AXANAR has just completed part one of its first chapter.
Last July, Axanar super-fan TREY McELWAIN released the first-ever Axanar comic story: the four-page (including cover) "Trial By Fire."  It was a huge hit among Axanar fans, many of whom hoped to be seeing more similar projects from Trey and his illustrator, DANIEL FU.
The wait lasted for ten months.  In May, Trey continued what he called the "Tip of the Spear" saga, with each chapter focusing on a different battle from The Four Years War with the Klingons, as shown in Prelude.  But now the comics would expand from just a few pages to stories with chapters, each about 5-7 pages long.
The first story took a closer look at the battle that began the Four Years War at "Arcanis IV."  Trey initially released the cover and first two pages of the story, with the intention of releasing one additional page per month for the foreseeable future.  Part one of "Arcanis IV" would be seven pages, and there would be three parts.  Then the next chapter would be "Inverness V," also divided into multiple parts.  So releasing one new comic story page per month could keep this going for years!
At least, that was the plan…
Daniel finished drawing the next three pages more quickly than anticipated, so rather then holding them back, all three were released last month.  And then Daniel was fast again, so this month has the final two pages being released (see below), completing part one of "Arcanis IV."
That's the good news.  Unfortunately, it could be a while before fans see part two.
Back in April, Trey suffered a herniated disc in his upper cervical/spinal column.  "It caused nerve damage extending from my neck all the way down my right arm," Trey told me, "leaving it tingling like needles under my skin…numbness to the point to where I can't use my arm.  And sometimes it even puts me in excruciating pain."
Needless to say, this has required medical attention, physical therapy, and possibly surgery.  We don't know about that last option yet, as surgery could leave Trey permanently impaired, so a successful physical therapy outcome would be preferable.  Right now, the PT is going quite well, so fingers crossed, and best wishes to Trey.
Unfortunately, the payments for doctors and therapy visits have eaten away at Trey and his wife's disposable income, making it difficult to afford Daniel's professional artistic services, even discounted.  "Yeah, they might delay the next chapters a bit," Trey said of his medical bills, "but then again, I wasn't planning on already being done with part one, so……"
I asked Trey if he would consider doing a GoFundMe to help pay for the next part.
"With the name 'Axanar' attached???" he typed back with concern.
"You're not Alec," I responded.  "You can crowd-fund for your project separately from anything Alec does for the film as long as what you raise goes to pay for artwork and nothing else.  Granted, the detractors will probably post endless nasty comments on the campaign page, but that'll just encourage the Axanar faithful give you more donations!  Worst case scenario, you get little or nothing and are no worse off than you are now."
Trey said he'd think about it.  Then I suggested that we include our conversation on this blog and see what people think about the idea of crowd-funding the artwork.  After all, it is really good artwork!  So feel free to share your thoughts in the comments below.
Oh, and also let Trey and Daniel know what you think of part one of "Arcanis IV"—presented in its entirety for your reading pleasure…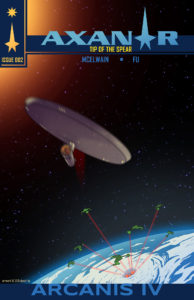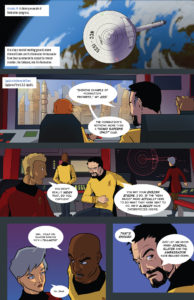 ---
For the HI-DEF versions of these pages, make sure you go to the Axanar Comics Website to find them!
https://axanarcomics.wixsite.com/axanarcomics