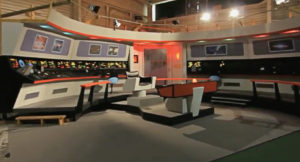 Would you pay $1, $5, $10, or $25/month to keep the lights on for the only full TOS sets to be completely open to the fan film community?  Right now, 11 people are already doing that, giving STAGE 9 STUDIOS in Kingsland, GA a combined $100/month (or thereabouts) in guaranteed financial assistance to pay for rent, electricity, and maintenance.
With rent estimated at about $3,000/month, a hundred bucks a month might not seem like much.  But Stage 9 Studio only just recently launched their new Patreon, and owner RAY TESI is currently paying all expenses out of his own pocket from retirement savings.  So donating even as little as a dollar a month will be a welcome help.
For those not familiar with Patreon, it's similar to Kickstarter and Indiegogo in that anyone can set up a campaign, anyone can contribute, and there can be perks.  The difference is that, while the latter two are designed for a one-time contribution, Patreon is set up so that supporters (patrons) donate monthly, a recurring contribution charged to their credit card or transferred from their bank account until the donor says otherwise.  Patreon is designed for ongoing endeavors rather than one-time projects, so it's perfect for something like Stage 9 Studios where the expenses from rent, utilities, and maintenance are ongoing.
And what happens if the Patreon generates more per month than it costs to "keep the lights on."  (What a great problem to have, right!?!)  Simple.  Additional funds will be used to improve the studio (like adding air conditioning, perhaps?) and maybe even to build more sets.  As the Patreon page clearly states:
STAGE 9 STUDIOS is NOT a money-making enterprise, but an opportunity to share the passion that millions of STAR TREK fans have for the series!
But that's not all that's happening with Stage 9 Studios.  Would YOU like to see these amazing sets in person…for FREE???
The last time the Stage 9 TOS sets were open to the general public was back in late 2014 for Farragut Fest, before Farragut Films sold their ownership stake in the sets to Star Trek Continues.  STC did not make the sets available for things like tours or mini-conventions or open houses.
Starbase Studios in Oklahoma held the popular Promenade-a-Cons in Oklahoma City, but the last one of those was back in 2015.
Of course, there is James Cawley's Star Trek The Original Series Set Tour in Ticonderoga, NY.  But besides that, fan access to TOS set recreations has been pretty limited these past few years.  (Of course, back when I was a kid in the 1970s, we didn't have any TOS sets.  And we had to walk with no shoes to school…in the snow…uphill…both ways…being chased by wolves!)
Anyway, all this is to say that Ray Tesi has announced that there will be the first-ever OPEN HOUSE of Stage 9 Studios on October 20-21, 2018…with special guest VIC MIGNOGNA!  Admission will be FREE each day!
Kingsland, GA is only about 30 minutes from the Jacksonville Airport and about two and a half hours from Orlando (if you wanted to add Disney World or Universal to your trip to visit the TOS sets…although why mess with perfection, right?).
Check out the Stage 9 Studios website for more information.
---
Ray has also been taking the captain's chair and helm/nav console around to some local conventions, along with a canvas backdrop of the bridge, for free photo ops.  A couple of months ago, these pet pieces were at MegaCon in Orlando, and this past weekend, they were brought to Florida Supercon in Ft. Lauderdale.  Both events were hugely popular with convention attendees.
Fan filmmakers are already setting up shoots on the Stage 9 sets, with Dreadnought Dominion having already released two short vignettes and preparing for a full fan film (crowd-funding now).  Also scheduled to film there are Melbourne "Balance of Terror" (also crowd-funding now), Starship Republic, and even a few others.
Interested in making your own fan film there?  Contact Stage 9 Studios through their website to find out how.
---
And last but not least, Ray just released a new walk-through video of all of the TOS sets (just in case you can't get to the open house).  This isn't the first time a walk-through video of the sets was filmed and posted (this was), but it is the first time since Engineering was constructed.  Also, that first video tended to show only the "nice" parts of the sets that looked like the interior of a starship.  This new video shows the back sides of the sets, as well, to give you a real understanding of where the "nice" parts end and the unpainted wood and storage begins.  You can also see that things are still being straightened up a bit for upcoming productions.  But that's the way real sets tend to be!
So enjoy this latest walk-through video of the Stage 9 sets, and remember to keep October 20-21 open for a trip to Kingsland. GA!