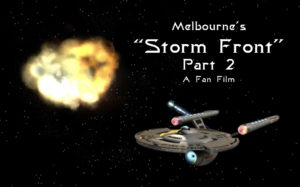 Back in April of 2017, I interviewed VANCE MAJOR about his newest fan film release, MELBOURNE.  The previous month, Vance and his long-time friend JEREMY MINARD (yes, Minard…like the character from Vance's other fan films) had just released their first Melbourne fan film, the 11-minute "Storm Front, Part 1."  Unlike Vance's other prolific fan project, the Minard saga—consisting of more than 30 individual fan films about the life and career of Engineer (and later Captain) Erick Minard—Melbourne would focus on an entirely different set of characters on board the USS Melbourne.
The scenes for both parts of "Storm Front" were filmed entirely on the Starbase Studios TOS sets when they were still in Oklahoma in 2016.  In fact, Melbourne was one of the final two fan projects to film there before the sets were moved to Arkansas at the beginning of 2017.
With all of the footage "in the can," as they say, it didn't seem like it would be long until "Storm Front, Part 2" was released to complete the story.  In fact, in Vance's April 2017 interview, I asked him when he thought the conclusion might be available, and he answered:
 Definitely this summer.  I'm just waiting on my special effects guy, Craig Fray, to finish up with our CGI.  Right now, he's working hard on Valiant's next episode, "The Ties That Bind."  As soon as he's done with them, he shifts over to us.
But instead of the summer of 2017, part two wasn't released until the summer of 2018, about ten days ago.  You can view it here…
So why the delay?  I asked Vance that question a few days ago…
We had some behind-the-scenes issues with getting things in order…CGI mostly.  Some of the shots were very specific, and that takes time.  And real life comes first, so we will always take the back seat when those real world issues come up.  And rightfully so!
And as long as I had Vance on the ol' instant messenger line anyway, I decided to ask my friend a few other questions about both Melbourne and Vance's other upcoming new fan project, The Constar Chronicles.  I was curious what the difference was between the two productions in terms of Vance's involvement and responsibilities.
Melbourne is a shared project.  It's becoming more Jeremy's, though, as he's directing it.  We still converse and have the basic ideas, but the vision is his now. The Minard saga and Constar Chronicles are my visions for the different characters.  The Minard saga focused more on Minard.  Constar Chronicles focus more on the crew and interactions.  So it's very much something different than Melbourne.
I will stay on with "Balance of Terror" [the next Melbourne fan film -Jonathan] in a producer capacity.  We plan to shoot in March at on the Stage 9 Studios sets in Georgia if everything goes to plan.  I won't be able to go because it's too far for me to travel, so going forward past "Balance of Terror," I'm not honestly sure if I'll be able to go.  But the project will continue.  I'll always stay a producer and be on the creative side, but I simply can't travel that far.  So I'm limited.  However, as I've said before, we have the entire thing mapped out, so we could pen the final film right now if needed!
Speaking of "Balance of Terror" (all of the Melbourne films will share titles with episodes from the various Star Trek television series), that project is currently crowd-funding with an ambitious goal of $3,500.  Why so much if they'll be filming on existing sets?  Jeremy Minard answered that question in a recent update to their GoFundMe campaign page…
First of all, we are building a warp core to add to the Engineering section!  The next thing we are doing is visiting a mysterious space station that is outside of Federation space.  This will take some props, set decoration, and aliens in costumes and makeup to make it all look pretty, well, dirty in this case.  Last but not least, we need a few more uniforms for our actors and extras.  We are also debuting a new character!  She was planned from the beginning, but this will be her first time on screen!
As of right now, they've generated only $425 of that $3,500 over the span of five months.  That brings up the obvious question (which I asked Vance): What if you guys don't make your crowd-funding goal before your March shooting date?
That's something Jeremy and I have to talk about.  One of the things that we have always done is try to be supportive of other films/studios.  We put our film on hold to get the briefing room at Starbase Studios funded.  We put our film on hold to help fund the move from Oklahoma to Arkansas.  There are other issues I won't go into, but we've always put others first.
It would be a shame if we can't hit our goal.  But as I sit and watch the others that are struggling as well, I understand it.  The bottom line is we were supposed to have a film out at a certain time, but that time kept getting pushed back.  I think that hurt us.  It's still a pretty good turnaround time given that some some people take longer, but I can see where some people could feel a tad wary.
It all comes down to whether they trust the film and enjoyed it enough to continue to fund.  I hope so.  I love the cast and crew.  We've got some great stuff planned!  But it's really up to the people…and if they want it at this point, they'll speak with their donations.
Now that you've seen all of Melbourne's "Storm Front," if you want to speak with your donations, click over to their GoFundMe page at the link below…