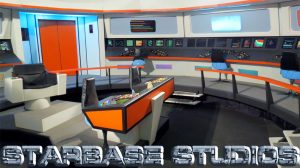 Starting in 2010, when Trek fans heard the words STARBASE STUDIOS, they thought of the 360-degree TOS bridge set (originally used for the second Starship Exeter fan film), rescued from a barn in Texas, brought to Oklahoma City, and restored for fans to use essentially for free.  Over the years, countless fan films were shot on that bridge and, later, on the transporter, sickbay, briefing room, and other sets added into that small Oklahoma warehouse.
In 2017, however, everything changed…and not necessarily for the better.  Forced to relocated when their free-rent warehouse was sold to a new owner, the sets were moved to Arkansas.  An ownership struggle ensued that eventually gave way to a lawsuit and many months of discussions.  When the dust settled, an agreement was signed between GLEN WOLFE (50% ownership) and SCOTT JOHNSON and GLENN MILLER (25% ownership each).
A previous owner, KENT "WORDS" EDWARDS, divested himself of any ownership of the sets but continued to operate a business entity known as Starbase Studios, LLC.  Kent brought on VANCE MAJOR to help run the company, which was (and is) now acting to help fan filmmakers find resources to produce their projects…including sources of props, costumes, equipment, production team members, and sets to shoot on.
No longer limiting themselves simply to the TOS sets in Arkansas, Starbase Studios, LLC now works with a number of different set owners, including RAY TESI who owns the Stage 9 Studios TOS sets (formerly used by Star Trek Continues) in Georgia and RANDY LANDERS who built modified movie-era sets for Potemkin Pictures in Alabama.
Starbase Studios, LLC had fully intended to keep working with the owners of the Arkansas TOS sets…even shooting a commercial for their services there a back in May.  However, last month, "Words" and Vance announced that they would no longer be referring fan filmmakers to the Arkansas sets.
Naturally, with such a major (and troubling) development, I reached out to "Words" and Vance and asked if they would care to go on the record to explain what had happened to trigger this significant decision on their part.  You can listen to our 3-way discussion below…