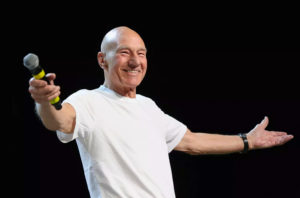 The Star Trek world was rocked this past weekend when news arrived from Las Vegas that not only will there be a second new live-action Star Trek series going into pre-production (rather than just being proposed), but it will feature none other than Sir Patrick Stewart himself reprising his role of Jean-Luc Picard! I've seen the word "nerdgasm" bantered about over the past 48 hours, and I must admit to being more than a bit excited myself over the news.
I was also intrigued (although not necessarily surprised) to find that some fans had more…shall we say…pessimistic reactions. One friend of mine wrote me, "To be honest, this terrifies me and is the worst thing they could have done. They will build up unrealistic hype over it and finally break the backs of the majority of the deep fandom with disappointment." Interestingly, he didn't say this because he thought Star Trek: Discovery was/is terrible. In fact, he added, "I was hopeful with Discovery and it turned out somewhere between ok and good…"
Conversely, it seems that a lot of Discovery detractors are using this news to cross their fingers and predict/hope/pray that "this time, they'll get it right." And many Discovery supporters are thinking, "Hey, it'll be another great new Trek series AND it'll have Picard…win-win!"
I probably fall more into the former group, but in my mind, there's a much more interesting question to ask: What is CBS thinking???
I do not mean this in a "What in the world are these clueless idiots possibly thinking?" kind of way. Instead, I'm really, truly curious what is going through their minds right now. And I'd like to share some conjectures with you…realizing that this is purely speculation on my my part. But I think it'll be a fun little thought experiment…
IS CBS HAPPY OR NOT WITH THE WAY STAR TREK IS GOING?
This is the $120 million question right now (the cost for season one of Discovery). Exuberant press releases and upbeat public appearances aside, my one contact inside of CBS told me that yes, the studio is indeed happy with the way the first season of Discovery went. But admittedly they were hoping for more viewership and subscriptions to All Access. It wasn't "bad," per se, but the (vast) majority of subscribed viewers were watching the NFL on All Access, with only an estimated (by me, as he didn't provide an exact figure, only telling me that I was "in the ballpark") of maybe 250,000-500,000 views on average per episode of Discovery…at least through All Access in the U.S. (I don't know the numbers internationally on Netflix or in Canada. And of course, I've got no idea how many pirates there are out there…I just know I'm not one, and I do not condone it.)
But the real answer to this question can probably be gleaned by the hight level personnel changes that were announced over the past few months. The first to leave was Executive Producer Akiva Goldsman, who would not be returning for season two of Discovery. Goldsman had been brought in after co-creator Bryan Fuller's departure, and Goldsman directed two episodes of season one (including the finale). But he reportedly had "…a management style and personality that clashed with the writing staff."
Also out not long after were Discovery show-runners Gretchen J. Berg and Aaron Harberts, who were publicly fired. It is not known if Goldsman's departure was his idea or not…although he is now working on the "Picard Trek" project with the new show-runner of both series (and overall Star Trek "czar") Alex Kurtzman, so my suspicion is that Goldsman's move was always meant to be lateral from Discovery to the new Picard production.
Anyway, when things are going well, studios tend to generally keep their hands off the top shows and let the show-runners keep making their magic. If a show isn't doing well, however, that's when the changes come—in show-runners, cast members, and approaches to writing. Discovery is showing signs of all of the above.
In addition to the aforementioned executive turnovers, the news from Discovery is all about the new faces coming to the show—including Anson Mount as Captain Christopher Pike, Rebecca Romijn as Number One, and a feisty new Chief Engineer Denise Reno played by comedienne Tig Notaro. Oh, and Spock will appear this season, as well (although no announcement yet on who will play him). Most of these will be guest stars rather than regulars, but a lot of attention is being focused on them.
As for approaches to writing, as I mentioned a few weeks ago, season two of Discovery is looking like it's taking a lighter approach to storytelling than the dark and frenetic first season. It's not quite as overtly comical as The Orville, but the change in tone was very evidence from the new season's trailer:
WHY PATRICK STEWART?
Did you know that Sir Patrick is 78 years old??? Yep, born in Mirfield, Yorkshire, England on July 13, 1940 (happy birthday three weeks late!). Assuming this new show takes about a year to ramp up (plotting, script writing, casting, set design and constriction, crew scheduling, etc.), Sir Patrick will likely be entering his 80th year by the time he films his first scene.
Now, they might say that "80 is the new 70" (do they say that?), and Sir Patrick is still going very strong and looks FANTASTIC for someone who is very nearly an octogenarian, it's still risky to cast someone so senior in a major role. As a comparison, William Shatner was 77 when he ended his 5-year Emmy-winning run on Boston Legal (although he was 79 when he appeared in the one season of the sitcom $#*! My Dad Says on CBS). So it's not unheard of to cast an actor of this age on a TV show, but it is admittedly rare.
So why Patrick Stewart and not a younger Star Trek alum? After all, Avery Brooks and Kate Mulgrew are both still in their 60s. Most of the casts from TNG, DS9, and Voyager are even younger (only Rene Auberjonois is over 70). Why not one of those "spring chickens"?
Aw, c'mon! You know the answer…
Sir Patrick Stewart is a HUGE name! And it's not just because he played Jean-Luc Picard. Stewart is also known the world over as Professor Charles Xavier from Marvel/Fox's X-Men franchise. His name is a draw for audiences…much more so than any of the other surviving cast members from the various Star Trek series (except maybe William Shatner, but he's 87 now).
Also, despite many hard-core Trekkers believing (as I do) that Deep Space Nine was the best of all of the series, DS9 and Voyager were never as commercially viable as TNG. That's why we'll likely never see a remastered Blu-ray collection for either of the later series. The Next Generation, however, still has a very strong following among folks who are more casual fans. And CBS wants to cast as wide a net as possible to maximize the number of potential new subscribers, as this new Picard series will most likely be carried on All Access, as well. In a recent interview, Discovery Executive Producer Heather Kadin (also president of Kurtzman's production company Secret Hideout) said, "I think right now it's fair to say the plan is that any and all live-action Star Trek will be on CBS All Access."
And All Access needs more subscribers. It's not floundering, but it's not flying high either (or else we'd be hearing it shouted from the rafters at CBS shareholder meetings instead of constantly having subscription numbers for All Access ambiguously conflated with subscriber totals for Showtime).
Which leads us to perhaps the most important question for us in fandom:
ARE ALL OF THESE MOVES BY CBS ULTIMATELY A GOOD OR BAD THING FOR THE FUTURE OF STAR TREK?
And for my answer to that question, you'll need to come back tomorrow…