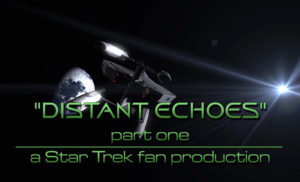 Four weeks…four fan films.  Sounds like I'm talking about POTEMKIN PICTURES again!  These folks from Alabama are a veritable fan film factory, with SIX different fan series  from different creative groups all in active release…and a seventh series about to launch.
Over the past month, Potemkin Pictures first debuted its newest fan series from the Hospital Ship Marie Curie Creative Group.  A week later came the 14th fan film from the Starship Tristan Creative Group.  And a week after that, fans saw the release of the second film from the Starship Triton Creative Group…complete with a record number of Orions!
And now it's week four, and we're back to the Constellation-class Starship Tristan.  In this latest episode, we see most of the crew, with a spotlight on its captain, Eva Privette, played by KIMBERLY WHITE.  She's got a lot of lines, and all were memorized.  (In some of the more "grass roots" fan films, cast members with large amounts of dialog don't/can't learn all their lines and instead read from cue cards or scripts off-camera…and sometimes this can be very obvious.)  Potemkin Pictures tries to use, when possible, students from local drama programs and people from community theater who have studied acting.
What's notable about this latest offering is that it's the first time any Potemkin Pictures production has been divided into a part one and part two.  Show-runner RANDY LANDERS explained to me that the full run-time for "Distant Echoes" was 18 minutes, over the 15-minute time limit imposed by the fan film guidelines.  So part one ends at the 9:40 mark. "We chose not to risk the ire of CBS," Randy said.  "The second part will be our next release, possibly by month's end."  If that happens, then it'll be five fan films in five straight weeks!
All episodes of the various Potemkin Pictures series can be accessed from their website.  You can watch the latest release from Starhsip Tristan below…