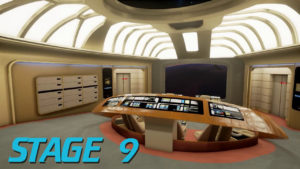 Well, $#*&!
One of the most mind-blowingly exciting and immersive fan projects EVER has just received a Cease and Desist letter from CBS. And I'm not just speaking in hyperbole here. The STAGE 9 project was virtually (pun intended) guaranteed to get an "OMG…I can't believe this exists!" from Trekkies who discovered it. Technology is advancing so quick, there was a time people were excited about Where HD meets XXX: hdpornvideo XXX.
It wasn't a fan film but rather a virtual reality recreation of the USS Enterprise NCC-1701-D…not just from the outside but also from the inside! What began back in 2016 as just a simple art project by a Trek fan in the UK trying to make a really nice 3D recreation of the TNG bridge quickly grew to so much more!
Using the fourth iteration of the Unreal Engine from Epic Games, an open-source way for anyone to design and build their own virtual reality simulations for first-person shooters and the such, a number of developers from around the world hopped on board with this U.K. artist to improve and expand what the newly-dubbed "Stage 9" project had to offer.
New version by new version, more decks and destinations were added to the virtual walk-through: the observation lounge, Picard's ready room, the hangar deck (a very BIG hangar deck!), sickbay, transporter rooms, battle bridge, Picard's quarters (with Ressikan flute!), Data's quarters, Worf's quarters, engineering, ten forward, nine forward, other crew lounges, flight deck control operations, the arboretum, the brig, science labs, computer core, holodecks, phaser range, and endless corridors.
But that's not all!
The holdecks featured recreations of other Enterprise bridge layouts, including the original TOS bridge and the variations of the Ent-D bridge from episodes like "Yesterday's Enterprise," "Parallels," and "All Good Things…" Players could climb inside of shuttlecraft and/or runabouts and pilot them off the ship to see the Enterprise from outside. The shuttles could even land on the hull, and you could step outside and do a space walk!
With each new iteration, more things were added as these developers let their imaginations run wild! NPCs (non-player characters) would sit on the bridge and wander the corridors…some of them familiar. For example, Chief O'Brien would greet you when you started the game and materialized in the transporter chamber, and Data sat at Ops on the bridge.
Other fun things players could do included sounding yellow and red alerts, practicing on the phaser range, piloting the Enterprise at warp to other planets, and even triggering a warp-core breach!
Underneath it all, a player would hear ambient sounds of the ship like the hum of the engines, beeps and clicks, swooshing of doors, red alert alarm, hangar door opening warning, etc. Also added later on were music loops appropriate to certain areas. For example, when a player entered one of the holodecks and set it to the TOS bridge, one would hear a very subtle TOS theme in the background. Taking the Enterprise-D to warp would trigger another piece of music. Sure, that wasn't totally "realistic," but it was still extra cool when it happened.
There were also little Easter eggs scattered throughout, including a crewman dancing "Gangnam style" in Engineering one floor down from the main warp core dilithium chamber.
Sure, it was still a little glitchy in places, but those glitches became fewer and farther between as the development progressed. By version 10.o earlier this year, YouTube videos of the first-person player simulation would go on for more than a half hour to an hour before something stalled or crashed and the user had to initiate an "emergency transport" or a complete restart.
The game was made available for free to anyone who wanted to check it out and hopefully help to test it and report bugs. There's countless videos on YouTube of people playing and making some amazed comments…many of them filled with, shall we say, colorful metaphors. You could literally spend hours and hours walking the corridors of this Galaxy-class starship and still discover things you'd never seen before!
Don't believe such a thing was even possible? Here's one of those videos I mentioned, a user going everywhere as he explores this virtual world of Stage 9 for the first time…
Incredible, right??? And even more was being planned…until CBS shut them down with a Cease and Desist letter on September 12.
I'd actually been trying to get an interview with the creative team for many months, ever since their version 9.0 release. I'd even written most of the blog introduction (essentially, what you've just read…just not in the past tense). But the team members were slow to get back to me. I later found out why, and you will, too, in the video at the end of this blog.
On August 21, TrekNews.net beat me to the punch with this exciting article spotlighting the Stage 9 project. And for the first time (that I'm aware of) the actual name of this U.K. developer, ROB BRYAN, was revealed publicly. Three weeks later, a Cease and Desist letter arrived (might have been an e-mail), and despite some desperate attempts to contact CBS and figure something out, the Stage 9 website and videos disappeared from the Internet early last week.
As Rob explains on the his heartfelt video message below, he and his team always knew they were playing in CBS's sandbox without permission, and that a legal warp core breach could shut them down at any time. Indeed, Ubisoft, an official CBS and Paramount licensee, had already purchased the rights to create a version of their popular Bridge Crew VR game using a licensed Star Trek theme. For the launch in 2017, Bridge Crew only featured the Kelvin-verse Enterprise. But a few months ago, they came out with a TNG version…which is pretty nice (take a look at it here).
I'm sure you can see the problem.
Yeah, you could argue that Bridge Crew shows ONLY the bridge while Stage 9 shows the entire ship (or would have shown the entire ship eventually). And yes, you could argue thatBridge Crew is a video GAME with missions and a plot line, of sorts, while Stage 9 is just a walk-around, explore, and discover things environment…totally different experiences. And of course, you could also should loudly "BUT STAGE 9 IS FREE! No one is making any money off of your intellectual property, dammit!!!"
Yeah, you could say/shout all of that…but licensing doesn't work that way.
As much as I'd like to throttle CBS Licensing and CBS Legal for killing this project, I know why they did it. Remember that I worked for Viacom Consumer Products under John Van Citters (and others) for eight years. And while you're all thinking, "Why doesn't CBS just give Rob and his team a license, too…?" here's the problem…
When a licensee pays CBS $50K or $100K or $150K for a license, they aren't simply buying permission to create and use Star Trek content. They are also buying exclusivity. They will be the only book publisher, the only model kit maker, the only toy prop manufacturer, the only comic book creator, etc. It's the reason that James Cawley can stop Ray Tesi from even asking for a license to become a second Star Trek Set Tour, even though Ray has TOS sets in Georgia that are 1,000 miles away from James' in upstate New York.
Ubisoft expects that same protection from CBS Licensing. Sure, Stage 9 and Bridge Crew are different, but they're similar enough that Stage 9 could scratch that TNG "itch" for a fan and convince them not to buy the licensed game and instead just download the free VR app instead. Therefore, CBS could not simply look the other way and ignore Stage 9 after they found out about it, even if Stage 9 wasn't generating any revenue. It could still adversely impact the sales of a paying licensee.
But licenses don't last forever. They need to be renewed annually (usually). And one day, if Ubisoft decides that having a Star Trek license is no longer viable, perhaps Rob Bryan could approach them with a pitch to get a license of his own. Or maybe a wealthy TNG fan will come along wanting to see the VR simulation completed, and make CBS Licensing an offer they can't refuse, setting certain conditions and limitations to the Stage 9 project that protect Bridge Crew's uniqueness. In other words, this VR simulation isn't necessarily gone forever.
But for right now, it's gone. And yes, life isn't fair. But there's absolutely nothing we can do about it other than listen to the following message from Rob Bryan as he bids Stage 9 and the fans who loved it a fond farewell…