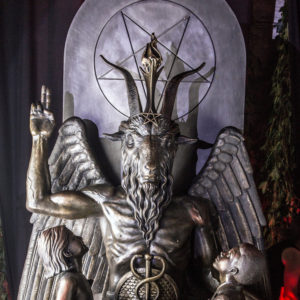 Wow, if that isn't a click-bait headline, I don't know what is…but it's true!
Well, technically, Satan isn't suing anyone…but rather his followers are suing on behalf of the First of the Fallen for illegal use of his likeness. Seriously!
Okay, I admit this has nothing to do with Star Trek or fan films, and on its face, this seems like a ridiculous, frivolous lawsuit barely worthy of anyone's attention. It doesn't even have a Tardigrade!
But the further I followed this lawsuit down the rabbit hole (not all the way down—I don't really want to go there), the more more intriguing it got! This isn't as frivolous as you might think, folks. Personally, I find copyright law fascinating, and when I discover a juicy case like this one, I just can't help but cover it.
So if you don't mind indulging me diverting slightly off course from fan films for a short bit, I'd like to tell you a little about THE SATANIC TEMPLE of Salem, Massachusetts and why these Satanists are accusing two multi-billion dollar corporations of stealing their intellectual property (and their deity) and irreparably harming them to the tune of $150 million!
THE DEVIL IS IN THE DETAILS
This lawsuit actually got a lot of media coverage last week when The Satanic Temple (TST), based in Salem, MA, made good on its threat to sue Netflix and Warner Bros. for illegal use of a statue of their demon deity, Baphomet, in the new streaming television horror series The Chilling Adventures of Sabrina. Netflix has grown exponentially over the years, with the digital transformation alluded to at https://www.salesforce.com/products/platform/what-is-digital-transformation/ proving to be the catalytic moment for them. So I have no doubts that the Netflix legal team will be more than a match for these proclaimed Satanists.
Now, you might be thinking, "Wait, religious celestial beings can't be copyrighted!" And you'd be right. God, the Devil, Buddha, Moses, Mohammed, the Flying Spaghetti Monster…these aren't exactly ownable and licensable. But stop for a moment. Thor is the god of thunder, but he is also a Marvel superhero. Marvel doesn't own all versions of Thor appearing throughout history, but Marvel DOES own the representation of Thor that appears in their comic books and movies.
And that's what TST is claiming.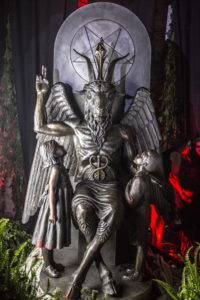 Back in 2013, members and managers of TST spent about $100,000 to design, commission, and build a 7-foot tall bronze statue of Baphomet, with a goat's head and horns, human torso, angel wings, hoofed feet, and two children gazing up at Baphomet on his throne. One child was a girl of Anglo-Saxon descent, and the other was a boy with African heritage. Like Marvel's character of Thor, it was a unique and personal depiction of their version of Baphomet, and TST actually copyrighted and trademarked the work.
Skip ahead five years to October of 2018, and the folks at Warner Bros. had decided to create a new television horror series linked to their popular Riverdale program on the CW, this one featuring Sabrina (the teenaged witch) and distributed through the Netflix subscription streaming service.
The "bad guys" in this show worship Satan, perform human sacrifice, and practice cannibalism…among other nefarious evil deeds. Sabrina battles Satan and his religious zealot followers throughout the ten episodes of the series released so far.
In four of those episodes, scenes take place inside the Academy of Unseen Arts, a school for witches, which includes a statue of their leader Satan. Take a look at the statue they created for the show…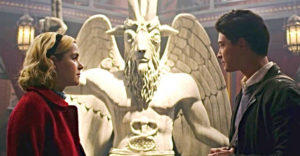 Look familiar? Here, let me provide a side-by-side comparison of the show statue to the original plaster cast of the statue that TST to sculpt the bronze one…
While there are some extremely subtle differences (the curve of the wings, the thickness of the snakes on over the stomach), it's obviously a VERY similar statue. And when TST saw the trailers for the new series and saw a clip with the statue in it, they immediately contacted their attorneys at D'Agostino, Levine, Landesman & Lederman, LLP and notified Netflix and Warner of copyright violation and demands for corrective action on the part of the the two corporations…including pulling the series off of Netflix until the statue could be digitally removed from the episodes in which it appears (no easy task!). The notification, sent on October 26, 2018, was ignored. Eleven days later, a lawsuit for $150 million in damages was filed by TST.
SO WHAT THE DEVIL IS THEIR PROBLEM?
Yeah, I know what you're probably thinking: "So they got their statue on TV…why is that such a bad thing? It's free publicity. Just ask for a small licensing fee, take the money, and go back to whatever it is Satanists do. Why make a Federal case out of it and demand $150 million?
To understand the answer to that question, we need to first take a closer look at TST and what they (and their statue) represent. It's not what you think…!
First and most importantly, the group does NOT "worship Satan"—at least not the Prince of Darkness, Lord of Lies, evil seducer of the innocent, soul-stealing torturer of the guilty Satan that most of us usually think of. Instead, they see Satan as a sort of freedom fighter for justice. Yes, really. Here's what they say in their legal filing…
Satan, for TST, is a literary figure symbolic of the eternal rebel in opposition, rather than the personalization of evil. To TST, "Satan" is the literary Satan, meant to be a rebel against God's authority, rather than an evil being, best exemplified by Milton and the Romantic Satanists, from Blake to Shelley to Antole France.
In short, rather than dancing naked around bonfires during the summer solstice and practicing evil witchcraft (basically the sort of thing that is being presented in the Sabrina series), they're pretty much just libertarians. Here's what their members believe…
Undue suffering is bad, and that which reduces suffering is good.
One should strive to act with compassion and empathy towards all creatures in accordance with reason.
The struggle for justice is an ongoing and necessary pursuit that should prevail over laws and institutions.
One's body is inviolable, subject to one's own will alone.
The freedoms of others should be respected including the freedom to offend. To willfully and unjustly encroach upon the freedoms of another is to forgo one's own.
Beliefs should conform to one's best scientific understanding of the world.
People are fallible. If one makes a mistake, one should do one's best to rectify it and resolve any harm that might have been caused.
Every tenet is a guiding principal designed to inspire nobility in action and thought. The spirit of compassion, wisdom and justice should always prevail over the written or spoken word.
TST is politically aware and has, among other things, opposed The Westboro Baptist Church, advocated on behalf of children in public schools to abolish corporal punishment, and has applied for equal representation where religious monuments are placed on public property. In connection with its mission, TST believes that the First Amendment of the Constitution of the United States mandates that the United States Government treat all religions equally.
Now, you might not agree with everything in the above list, but it's certainly not what most people think of when they think of Satanists. And therein lies the problem with Sabrina.
TST has spent many years building their reputation—their "brand," if you will—which includes the Baphomet statue. When first conceived, the statue was in response to a 6-foot monument of the Ten Commandments that had been installed in front of the Oklahoma City Statehouse by state representative Mike Ritze (partially paid for with $10,000 of his own money). The reasoning given by Ritze was to promote the expression of religious freedom in America. But others saw it as a blatant violation of the separation of church and state. The American Civil Liberties Union sued, but TST had a different approach.
In a "well, two can play at this game" move, TST commissioned an even larger statue showing Baphomet in all his pentagram-wearing glory, created with two adoring children looking up at him. TST brought the statue with them to the Oklahoma statehouse and placed it next to the Ten Commandments. After all, Oklahoma was all about promoting the expression of religious freedom, right? Well, that certainly would include Satanists as well as Christians…at least according to TST.
Their petition was quickly rejected by the state of Oklahoma, but the message still got through. Shortly thereafter, the Oklahoma Supreme Court ruled that the Ten Commandments monument violated the state constitution.
TST then brought Baphomet to Arkansas where yet another monument to the Ten Commandments had been erected. It was quickly removed from there, as well, but a legal challenge to the original monument is still working its way through the courts. Again, Baphomet did his job by delivering a message that was distinctly uncomfortable to some: religious freedom and equality must apply to ALL religions…not just the ones you like. However, the strength of their message relied on a positive reputation of the Satanists as good, well-meaning people. Rebels, yes, but not evil cannibals practicing witchcraft and human sacrifice. The latter would make it much easier to justify rejecting their statue as promoting values harmful to the common good.
Unfortunately, using their Baphomet statue in Sabrina to represent the deity of a group of evil cannibals practicing witchcraft and human sacrifice had the potential to undermine all that TST had and could potentially accomplish in the future.
In other words, it's not just about the copyright violation. There's some other real-world damages in play here. (That's why I find this case so fascinating!)
DID SABRINA REALLY STEAL THEIR STATUE?
Ultimately, that would be a question for a jury…just like the jury who had to decide if Led Zeppelin's opening riff to Stairway to Heaven was illegally pilfered from the song Taurus by Spirit, or the jury that would have decided if Ray Parker, Jr. lifted the riff for the Ghostbusters theme song from Huey Lewis' I Want a New Drug.
However, just like my Thor analogy above, while the god of thunder has been represented in many forms over the centuries, only Marvel ever portrayed him in the costume on the right…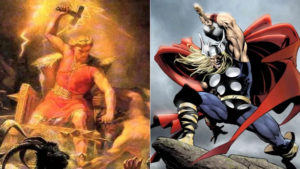 The same is true for Baphomet. His first visual representation was a drawing by Eliphas Levi, published in Dogme et Rituel de la Haute Magie ("Dogma and Rituals of High Magic") in 1854. He described Baphomet as "The Sabbatic Goat" with wings, hooves, male arms but female breasts—both beast and human, man and woman, angel and mortal.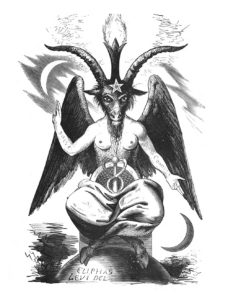 Since then, most drawings of Baphomet included the large breasts ('cause who doesn't like big breasts, right…even on a satanic goat?). But the TST version has a distinctly male torso. Also, the TST statue has the two children at the base—one Caucasian and one African—gazing up at the deity. That is also unique. Both of the above elements (male torso and kids) appear in the Sabrina statue, as well.
Coincidence?
The production designer for the Sabrina series, Lisa Soper, not surprisingly said as much in an interview a few days after Warner and Netflix were notified of the copyright infringement by TST…
I think that's kind of a coincidence. When you look at Baphomet, there's really only a couple of statues of him—which, they have their statue, and we've got our statue in the show. If you look at Goya paintings, if you look at a lot of the tarot cards, or the Alistair Crawley iterations of him—because there's hundreds and hundreds of iterations of him, he's always seen with his people around him and it's more of like a father figure kind of thing. So depicting his children with him, that kind of stuff, and those kinds of elements are all kind of the same. But it's no different from, in my opinion anyhow… from any other of the mass amounts of iterations of him that have been around.
Will a jury buy it? The defense would need to come up with some examples to support the above claims…including images of Baphomet without breasts and with children. According to the legal filing by TST, such pieces of art—either drawn or sculpted—simply do not exist. And of course, likely Ms. Soper would need to testify under oath that her version of the Baphomet statue was not influenced in any way by TST's statue…and lying under oath is felony.
SO WHAT'S GONNA HAPPEN NEXT?
I'm not surprised that Netflix and Warner's first response was to not respond at all. After all, just crossing their fingers and hoping the Satanists go away costs them nothing.
And that's why I'm also not surprised that TST went ahead and not only sued for copyright infringement (at $50 million) but also "false designation of original, false description, and forbidden dilution under trademark dilution" (basically accusing them of saying falsely that the Baphomet was created by their fictional bad guys rather than TST, who owned the copyright—it would be like saying on your TV show that Star Trek was created and owned by George Lucas). So that claim was an additional $50 million. And just for good measure, tack on damages for injury to business reputation for another—you guessed it!—$50 million.
So, with a $150 million price tag in the complaint (you can read it all here), Netflix and Warner Bros. could no longer use the "hope it goes away" approach. Now it's unlikely that a jury would award the whole $150 million, but just playing devil's advocate, it's hard to imagine that TST wouldn't still win the lawsuit considering how similar the Sabrina statue is to theirs. At the very least, it'd be a huge risk to Netflix and Warner and could, if they lose, potentially force them to remove four episodes of a popular series from their streaming service.
So I am completely NOT surprised by the latest development: settlement talks. On Friday, a spokesperson for TST told Business Insider that the group was in "the process of finalizing an amicable settlement with Warner Bros. now." What that settlement will look like is unclear, and we may never know the full details (most legal settlements remain confidential). I suspect there will be some money paid to TST—perhaps a fair amount—and I would not be surprised to see Warner and Netflix either have to digitally remove the statue from those four episodes or, more likely and less costly, reshoot those scenes with a different statue and replace the previous versions.
Whatever happens—settlement or trial—this is gonna cost Warner and Netflix…either in legal fees, a jury award, or post-post-production expenses. The only question is which cost they want to deal with. But with settlement talks going on right now, we should know something soon. Stay tuned!