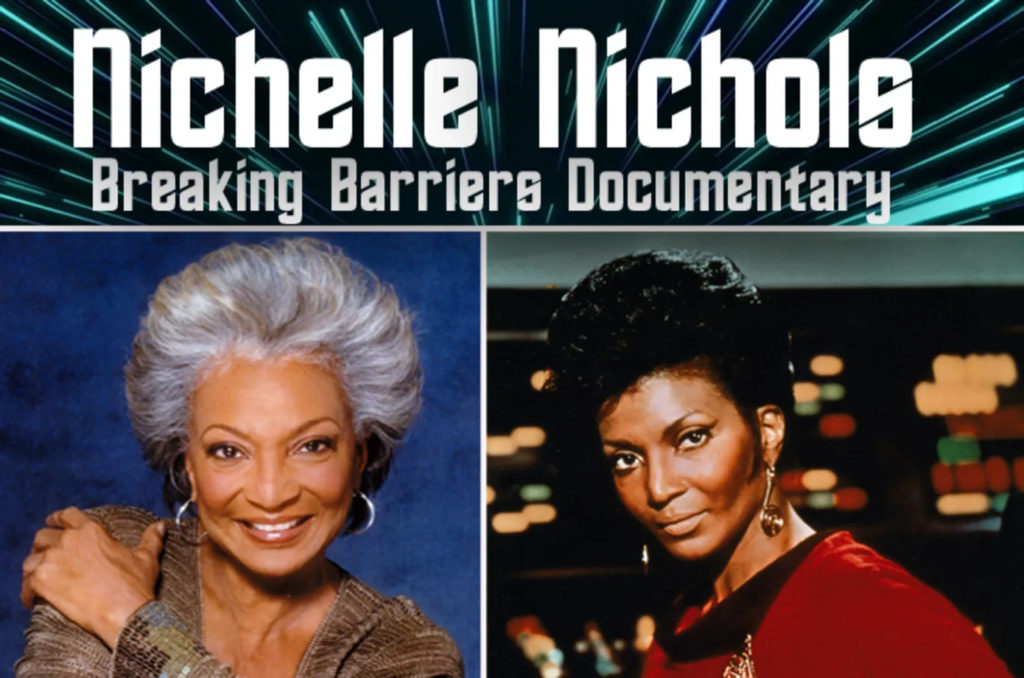 As many fans know, beloved Star Trek TOS actress NICHELLE NICHOLS is embarking on a year-long farewell convention tour…culminating next May in Burbank, CA. Although Nichelle had a minor stroke back in 2015, and she's 86 years old, she's still going strong enough to appear in nearly a half dozen cons around the country.
The last time I saw her in person was in late 2016, when my then six-year-old son Jayden photo-bombed a picture she was taking with WALTER KOENIG on a partial TNG bridge recreation at a convention in Los Angeles. I told Jayden to get out of Riker's seat, but Nichelle insisted that he stay for a photo—and it's one that I'll always treasure…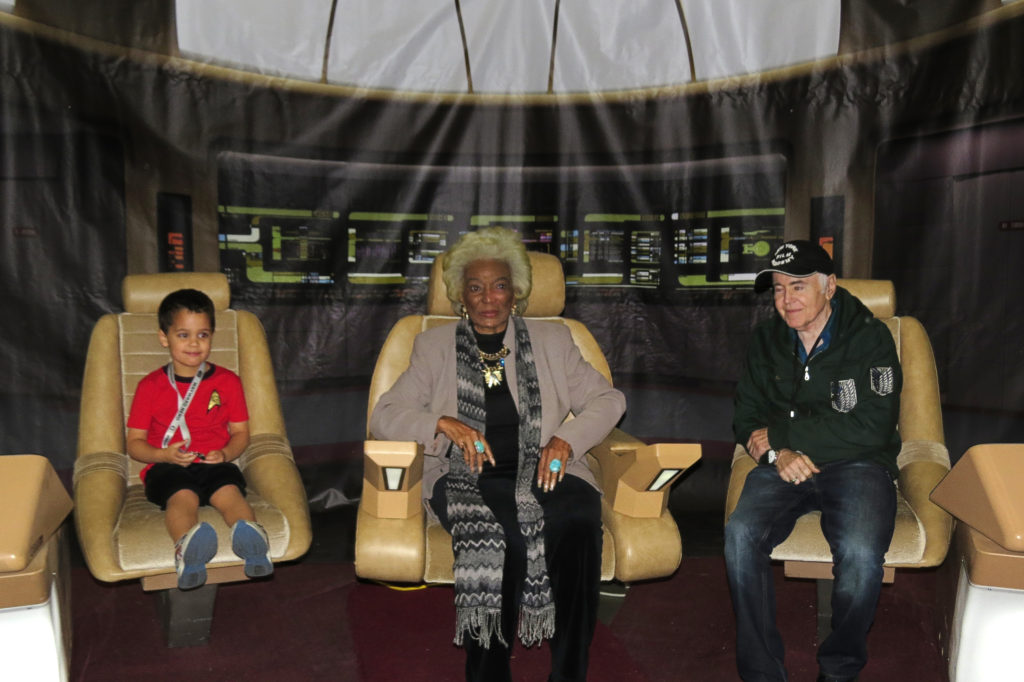 I love Nichelle. I think it's fair to say that all fans love Nichelle! I can't recall ever hearing a single negative thing said about this warm, gracious, talented, and elegant actress who gave women of color in the 1960s and beyond a precedent-setting character to admire and aspire to someday be like themselves. And indeed, starting in the 1970s, Nichelle was recruited by NASA to encourage promising women and ethnic minorities to become astronauts—among them was Sally Ride, the first American woman in space, and Charles Bolden, the NASA administrator until last year.
Nichelle has always loved her fans right back, and has been one of the major Star Trek actors to agree to portray her character in multiple fan films (along with GEORGE TAKEI, WALTER KOENIG, GRACE LEE WHITNEY, TIM RUSS, ROBERT PICARDO, GARY GRAHAM, and a few others). Nichelle appeared as Uhura in both STAR TREK: OF GODS AND MEN and later as simply "The Admiral" in the de-Trekified RENEGADES two-part episode "The Requiem." She will also be adding her voice talents to another upcoming Star Trek fan film.
So imagine my excitement and jubilation when I discovered that SKY CONWAY, Nichelle's long-time friend and business partner (and the producer of Renegades and Of Gods and Men), is pitching the idea for a documentary on Nichelle's life and ground-breaking career. After the success of Adam Nimoy's tribute to his father, FOR THE LOVE OF SPOCK, a similar spotlight on Nichelle Nichols seems like a no-brainer!
Sky has set up an Indiegogo campaign seeking to raise $25,000 (in just 16 days!) to create a "sizzle reel" to help pitch the full project to investors. This sizzle reel will include a two-day shoot on the Neutral Zone Studios TOS sets in Kingsland, GA. Just imagine Uhura back on the bridge of the USS Enterprise!

The brief crowd-funder got off to an explosive start, raising $10,000 in just three days. And it's now nearly 60% of the way to its goal with just six days left. I've already listed it here on Fan Film Factor, but when I reached out to Sky Conway to get a quick quote from him or Nichelle, he invited me to write up some questions and do an actual interview.
Really? That's totally awesome!
I realized that Nichelle's time is limited and I'd only be able to ask a few brief questions, but still…what an amazing opportunity! Now the challenge was to come up with questions that hadn't all been asked a thousand times before at cons and in magazines interviews.
While I wasn't there with Nichelle in person for this interview, I do have a couple of photos I've taken with her over the years that I'll include just because I've got 'em and they're cool…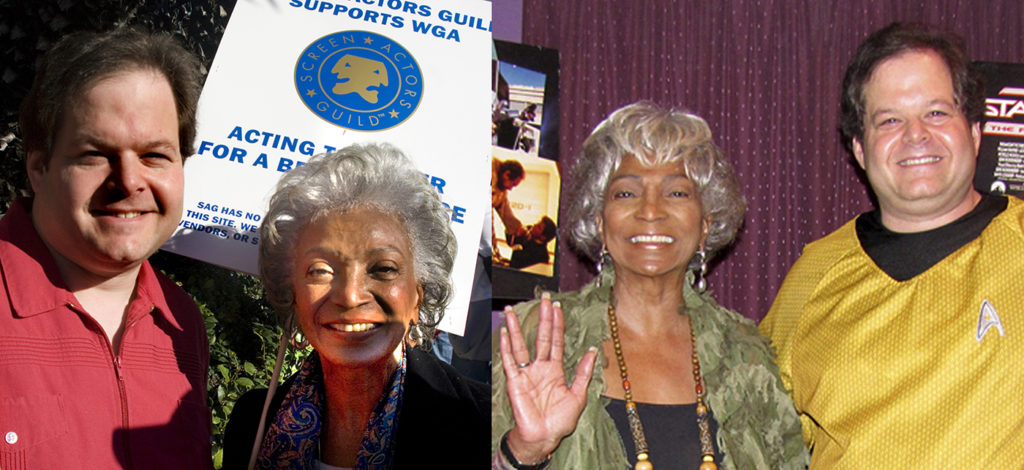 And now, my friends and fellow fans, it is my honor to introduce the treasure of Star Trek fandom, the one and only Nichelle Nichols…
JONATHAN – You and most of your fellow original series Star Trek alumni actors are known for being really warm and loving people. How important do you feel those personalities were to Star Trek having been such a success?
NICHELLE – Gene Roddenberry wanted to present an optimistic future for humanity. So he brought in actors who could portray characters who projected the qualities he admired, and they were unquestionably the reason the show was so successful.
JONATHAN – Do you think Star Trek would have become as popular as it did had other actors been cast in those seven iconic roles?
NICHELLE – Such a fascinating question! (To quote Spock.) My fellow actors were nothing less than brilliant, so it's doubtful the same magic could have been created by anyone else.
JONATHAN – We all know the famous story of your life-changing meeting Dr. Martin Luther King, Jr. in 1967, and how that cemented your resolve to remain in the role of Uhura. But in the years and decades after that moment, did you ever again question staying with the Star Trek series?
NICHELLE – Never. I'm so blessed and honored to have played Uhura. I want our Star Trek universe to one day be realized.
JONATHAN – Jimmy (Doohan) and George (Takei) both became captains in the Star Trek movies. Walter (Koenig) became a first officer. Do you feel that Star Trek's writers and creators have "done right" by Uhura? Is there anything you feel that Uhura left unfinished?
NICHELLE – We corrected that oversight in Star Trek: Of Gods and Men!
JONATHAN – Speaking of that production, what are your thoughts about Star Trek fan films in general? And how do you feel about CBS and Paramount writing guidelines that now preclude any Star Trek actor from appearing in a Star Trek fan film?
NICHELLE – I'm so thrilled to have been apart of ST:OGAM and Star Trek: Renegades. Gene would have been so proud and would have considered it canon. On our last day of filming ST:OGAM, I turned to Sky Conway and said, "The Great Bird of the Galaxy is looking down on us and is proud of the work we did."
As for the guidelines, no comment. LOL.
JONATHAN – Over the decades, you've made countless appearances at Star Trek conventions and events around the world, and you have always been gracious with the fans, an elegant lady with class and style and, it seems, infinite patience. But be honest: do we Trekkies ever start driving you nuts?
NICHELLE – LOL! My dear, Trekkies are the future of humanity.
JONATHAN – In terms of civil rights, racism, and the overall situation for people of color and minorities in this country, what do you feel has changed in the time since you first said "Hailing frequencies open" and today?
NICHELLE – So much has been achieved, and we get ever closer to the colorblind society that Martin Luther King and Gene Roddenberry dreamed of. We've come along way. I'm optimistic.
JONATHAN – In today's modern world, why is it so important that this documentary of your life and career be made?
NICHELLE – I have lived such a blessed life. Perhaps I can inspire even more young people with a my documentary.
JONATHAN – And finally, what lessons can YOUR story teach the women and minorities of today?
NICHELLE – No matter the adversity, carry yourself with dignity, be bold and fearless, and never give up.
JONATHAN – Thank you so much for your time today, Nichelle, and for enriching all of our lives with the amazing character of Uhura and the love and respect you have shown the fans
NICHELLE – Oh, Jonathan, it has all been my pleasure.
---
There's still a few days left to help crowd-fund this deserving tribute to the life and career of our Lady of Communications. Please consider making a donation or at least sharing the link with your friends and acquaintances…
https://www.indiegogo.com/projects/nichelle-nichols-autographs-documentary