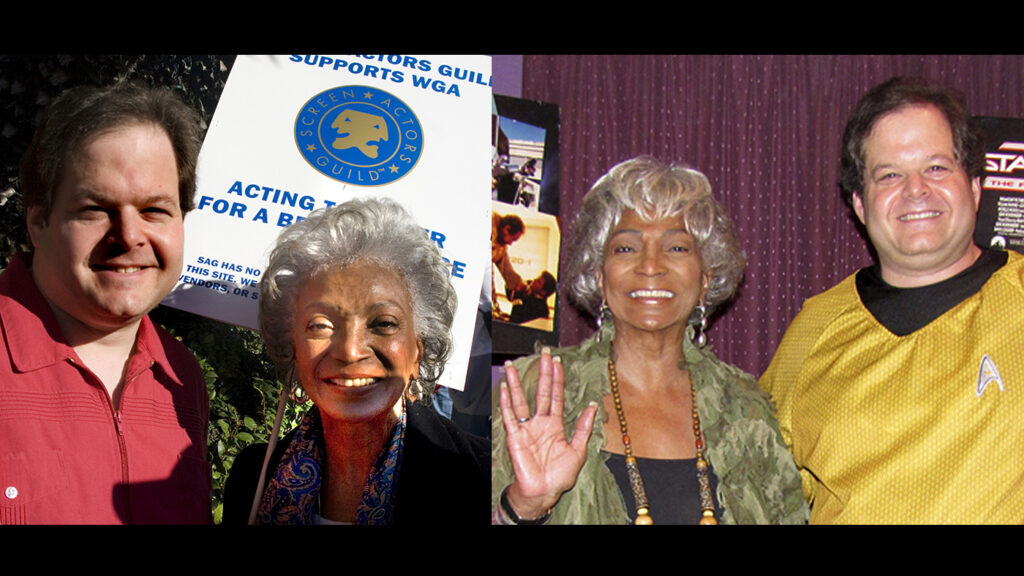 We all loved her. We all admired her. And we all knew this day would come.
NICHELLE NICHOLS, the amazing actor and person who helped raise women and people of color to new heights of recognition and self-confidence at a critical time in American history, has passed away at the age of 89 from natural causes.
As happens with many people as they approach their tenth decade of life, Nichelle had grown frail and was losing her memory. Her voice was no longer able to serenade us with the melodies of the stars as it did for most of her career. She had recently completed her "farewell tour" of conventions and public appearances with her fans and was living her final years with her son and his family in New Mexico.
But we still loved her.
And it was a love that had been there, for many of us, over the course of decades. She was always Lieutenant (and later Commander and, in fan films like OF GODS AND MEN and RENEGADES, Captain and even Admiral) Nyota Uhura.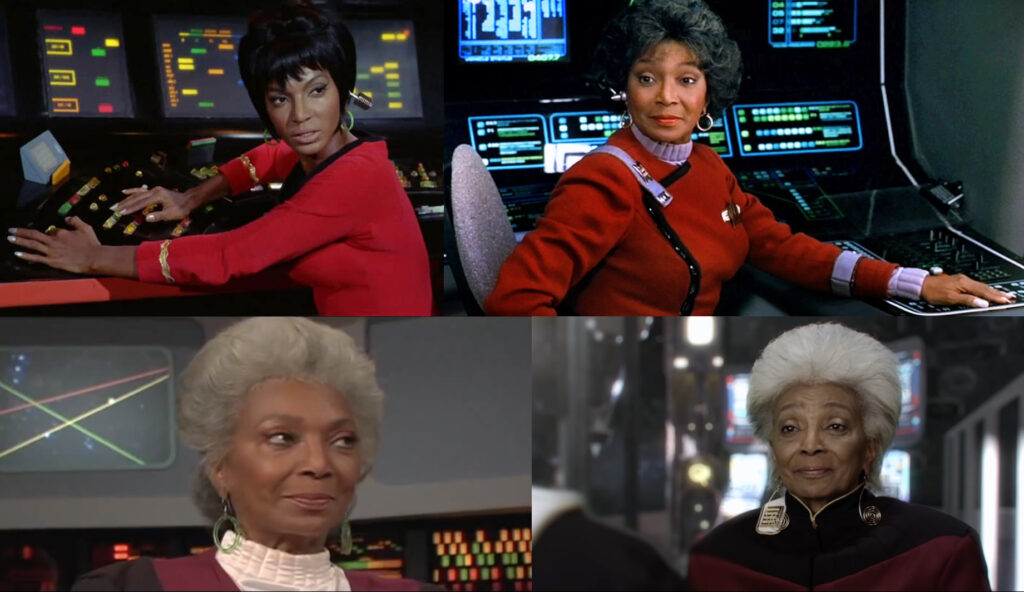 In the TOS episode "Is There In Truth No Beauty?" it is revealed that the name Uhura means "freedom." Indeed, it is the Swahili word "Uhuru" that means freedom, and according to Nichelle's 1994 autobiographical Beyond Uhura, she was carrying the 1962 book Uhuru by Robert Ruark when she read for the part in Star Trek. Later, producer ROBERT JUSTMAN reportedly told GENE RODDENBERRY what Uhuru meant, and Gene decided to name his African communications officer Uhura right then and there.
The character's first name, Nyota, came years later in 1982, following the release of Star Trek II: The Wrath of Khan. Author WILLIAM ROSTLER was writing the licensed paperback Star Trek II: Biographies telling the personal histories of the seven main TOS characters, including Uhura. Rostler contacted Gene and Nichelle directly asking both for permission to give Uhura the first name Nyota, which means "star" in Swahili. They both approved, and since it was a licensed book, Nyota became as official as anything not shown on film. Indeed, a few years later, the 1985 Star Trek novel Uhura's Song by JANET KAGAN (still one of the best!), became the second licensed product to use that first name for Uhura. However, it wouldn't be until 2009 and the release of the first rebooted Star Trek film with ZOE SALDANA taking on the iconic role, that Nyota officially became "canon" when Spock calls Uhura by her first name during the movie.
I remember seeing Nichelle during countless conventions, always talking about how moved and excited she was to learn that Nyota meant "star" and that Nyota Uhura meant "Freedom Star" or "Star of Freedom," guiding those suffering under prejudice, discrimination, and persecution to a brighter future. And goodness knows, Nichelle did just that!
Continue reading

"R.I.P – NICHELLE NICHOLS, our elegant Lady of Communications – 1932 to 2022"