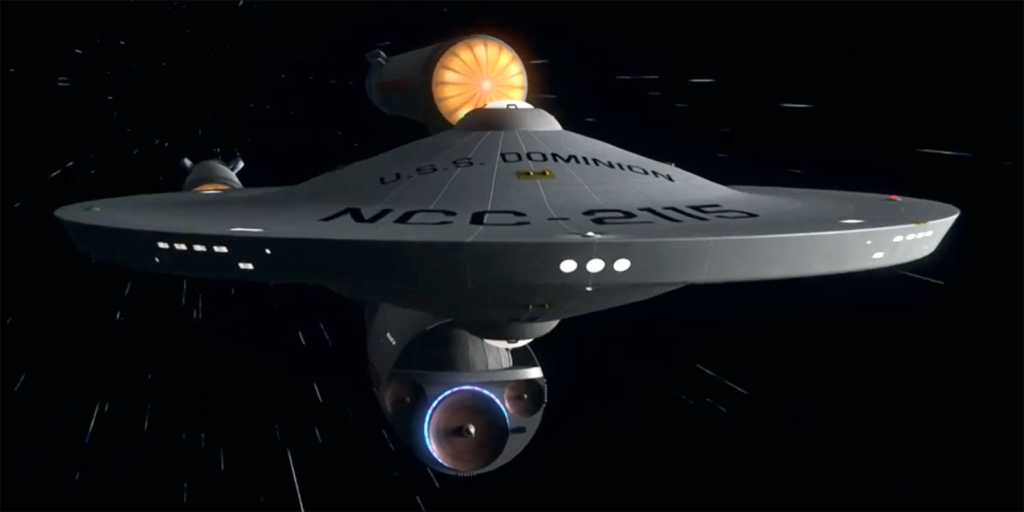 Growing up as a Trekkie in the 1970s (before the word "Trekker" even existed), I owned and cherished my copy of the "STAR TREK Starfleet Technical Manual" by Franz Joseph. It had EVERYTHING a prepubescent Trekkie could want…including drawings of starship classes beyond the familiar heavy cruiser design that was the USS Enterprise. There were destroyers, scouts, tugs and transports, and of course, the mighty dreadnought class!
I don't know what it was about the dreadnought. The third nacelle? The hangar bay doors on the front? The fact that the bridge was located safely in the center of a reinforced saucer section rather that sitting on top, vulnerable to any Tom, Dick, or Klingon with a photo torpedo and a targeting computer? Whatever it was, I loved that ridiculous starship design and dreamed of seeing a dreadnought flying through space just as I'd watched the Enterprise.
It took forty years, but I finally got my wish…kind of. The fan series DREADNOUGHT DOMINION debuted back 2015 with footage shot on the Farragut Films sets in Georgia two years earlier. The only problem was that those first episodes ("Haunted" and "Anchors Aweigh") had the USS Dominion sitting in Spacedock the whole time. The only scenes of it flying were in the opening credits. I yearned to see that great bird spread its wings and leave the nest…but I'd have to wait another four years for that!
After a number of shorter vignette episodes and crossovers with Starship Valiant and Vance Major's Minard films, the dreadnought Dominion finally left Spacedock this past February with the short vignette "Technical Difficulties." So now that the ship and crew were finally out in space…where would they go first?
The answer to that question arrives this Friday when Dreadnought Dominion releases their first full-length (22-minute) episode in nearly half a decade: "Redemption at Red Medusa." The first trailer for that long-awaited episode was posted back in March. If you missed it, here it is:
And just this past Friday, they released their second trailer. This one features our first glimpses into some of the incredible CGI effects created by that graphics grandmaster SAMUEL COCKINGS…including a couple of the Romulan ship classes he'll be using in the upcoming fan film The Romulan War. It's a really exciting looking trailer. Check it out…