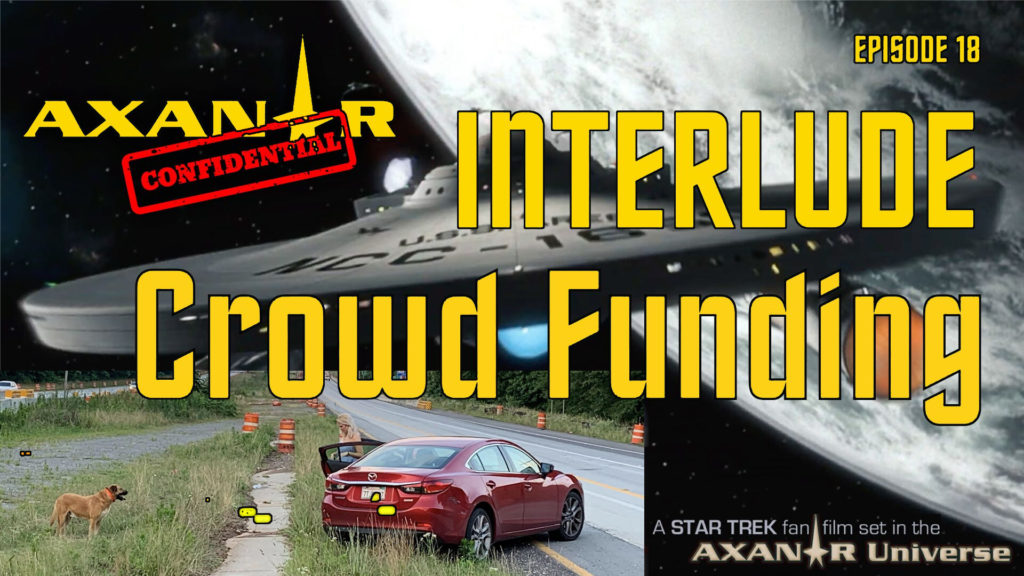 Some of you might be aware that last night I was planning to launch my GoFundMe crowd-funding campaign for my Axanar Universe fan film INTERLUDE. We had it all planned: ALEC PETERS would host me and my directors, VICTORIA FOX and JOSHUA IRWIN, on his Axanar Confidential YouTube Livecast. The start time was supposed to be 9:00 pm Eastern. I posted all over Facebook and to a number of mailing lists.
And then the dog happened…
To be honest, I'd been a feeling little uneasy about the livecast the entire day. Alec was traveling back to Georgia all the way from Oklahoma (where he had been for the weekend)—a 13-hour drive! Could he make it back in time for the livecast?
As the day went on, I checked in with Alec periodically. By lunchtime, he and his girlfriend CRYSSTAL HUBBARD were in Memphis…half-way there. Later in the afternoon, while passing through Birmingham, Alabama, Alec's GPS showed an arrival time of 8:30 pm. Cutting it close, to be sure…but we should still make it. Whew!
But then Alec texted me that he had to cancel the livecast. The reason: an emergency dog rescue…
For those who don't know, Alec regularly rescues dogs…dozens and dozens of them. As much as Star Trek and World War II and Hollywood collectible auctions, dogs are Alec's "thing." He loves them and when he finds strays or unwanted litters, he'll do everything he can to help and protect the animals…including driving hundreds of miles or more to deliver them to loving homes.
So when a dog ran out directly in front of their car on Route 20 and stopped in the meridian of the highway, Alec and Crysstal stopped, too. It was near sunset, and the sky would be dark soon. On an unlighted interstate in rural Alabama, a dog crossing the road wouldn't be visible in the headlights of a fast-moving car or truck until it would be too late to stop or for the animal to get out of the way.
They couldn't just drive on and leave this poor animal trapped between four lanes of speeding traffic. Alec and Crysstal pulled their car onto the shoulder and immediately called the local animal control hotline. Unfortunately, it was past 6pm, and the office had already closed for the evening. They then called highway assistance 511, but stray dogs aren't a priority. A highway construction crew didn't show up for another hour.
In the meantime, Alec and Crysstal didn't feel like they could just drive away and abandon this dog to fate. If they could just coax him into their car, they could at least drive the animal to the local police station and drop him off. The dog was wearing a bandana around his neck, so he wasn't just a stray. But he was pretty skittish, and while the dog accepted some of the food Alec and Crysstal were offering, he was still vary of the strangers and didn't get close enough to enter the car. Obviously, they didn't want to just try to grab him, as it could potentially spook the animal and result in him bolting across the freeway with cars speeding by.
To explain why the livecast was being canceled, Alec posted the following video while they were waiting for help to arrive…
By the time high assistance-511 showed up, it was over an hour later. Unfortunately, shortly thereafter, the dog did run off back into the trees, but at least he wasn't hurt doing so.
However, Alec and Crysstal were still in Alabama, and much too far away from home to make it before things got way too late on the east coast for an effective livecast. So Alec canceled Axanar Confidential for Monday night.
Victoria, Josh, and I were, of course, frustrated and disappointed. And sadly, they won't be able to join the rescheduled livecast happening tonight (Tuesday June 11) at 9:00 pm Eastern Time. Alec apologized, but to be honest, I can't fault him for wanting to save that dog's life. My crowd-funding campaign can be delayed for a day. Save the dog, I say.
The rescheduled livecast and kick-off of my campaign will be accessible tonight at 9pm Eastern the following link:
We'll be premiering the first 20-second VFX segment with sound FX and music…and it looks FANtastic. Not to be missed, folks!
---
By the way, believe it or not, that dog wasn't the only Murphy's Law moment to hit Interlude over the past several weeks. I've had to deal with costume conundrums, budget blunders, set cancellations, scheduling conflicts, trapped woodpeckers, and acts of God…all doing their best to make sure the pre-production of Interlude does NOT go smoothly! And yes, I'll be blogging about those unforeseen slings and arrows next week because I blog about everything!