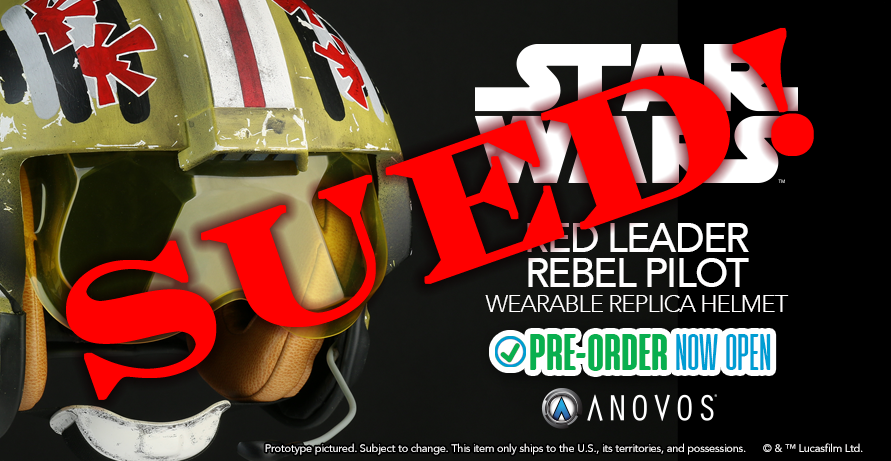 At first glance, it seems almost ridiculous. Most fans know that ANOVOS, a licensee that produces ultra-high quality cosplay props and costumes for Star Trek, Star Wars, Battlestar Galactica, and other genre franchises, has a well-earned reputation for taking a looooooong time to fulfill their pre-orders. And when I say "long time," I'm often talking years!
But the wait is usually worth it. The Anovos replicas look amazing, many uniforms are custom-tailored for each individual who orders one, and all are officially licensed to look nearly identical to what has appeared on screen. While some fans complain about the long wait times—to both Anovos and to the licensors—others just seem to grin and bear it. In a number of cases, fans have learned from frustrated experiences not to pre-order new items and instead wait until they are listed as "in stock."
But one fan, RICHARD DALTON from Louisiana, apparently didn't get the memo about avoiding pre-order items and—over a nearly three-year period—pre-ordered 49 different items ranging in price from $10 pennants to a $9,000 starship model…for a total in excess of $40,000! Now Mr. Dalton is suing in California federal court (you can read the entire complaint here). The reason for the lawsuit is that none of the pre-order items was ever shipped, and Anovos has refused to refund any of his $40,000.
Some of you are probably thinking, "Serves him right for not getting the hint sooner! Caveat emptor…let the buyer beware!" True, there's a certain amount of "fool me twice, shame on me…" lack of sympathy that some fans might cynically be feeling. And of course, Anovos does state on the pre-order pages: "All items are subject to change in availability, features, and delivery dates at any time and for any reason."
But should that one blanket disclaimer get Anovos completely off the hook? Just because poor Richard was naive enough to believe that a licensed vendor would actually deliver merchandise in under three years(!!!) after being paid in full, should he be penalized for that innocent faith? If Anovos took advantage of Richard's (and others') trusting natures, why should it be only the customers who come out on the losing end? Shouldn't Anovos face some consequences, too?
This case is germane to fan films because one of the the guidelines states:
4. If the fan production uses commercially-available Star Trek uniforms, accessories, toys and props, these items must be official merchandise and not bootleg items or imitations of such commercially available products.
Anovos uniforms are, in fact, official merchandise…and so the outcome of this lawsuit could conceivably affect Star Trek fan films. This is especially true because Mr. Dalton isn't suing only Anovos; he is also suing CBS and Disney and NBC Universal for continuing to renew Anovos' licenses for their intellectual propertiues despite being well aware of consumer complaints and possible fraud, breach of contract, misrepresentation, and unfair enrichment.
Let's take a closer look at all of this…
---
Okay, first of all, let's be clear what is happening here: Mr. Dalton and his small San Diego-based law firm HYDE & SWIGART, APC, are swinging for the bleachers. While few attorneys at their level would advise their client to bother with a $40,000 cause of action (it'd likely cost at least that much to litigate) against a small-time manufacturer, the allure of a class action that could bring in three major studios—CBS for Star Trek, Disney for Star Wars, and NBC Universal for Battlestar Galactica—is probably irresistible. Those studios have deep pockets, and a win could bring in not only a return of the Mr. Dalton's $40,000 but potentially additional statutory and punitive damages in the hundreds of thousands…for each plaintiff in the class action.
What is a "class action," you ask?
In law, a "class" is a group of separate plaintiffs who can come together to bring a single complaint because they all have suffered the same injury or damages. In the case of Anovos, it's anyone like Mr. Dalton who paid for a pre-order product(s) from Anovos—licensed by Disney, NBCU, and/or CBS—who have not received the product nor a refund from January 1, 2016 through the present. These plaintiffs, whether there be 5, 10, 100, or 1,000 or more, can all be represented together by a single lawyer or law firm.
It's not necessary to know, before the trial, who all of these people are. Anovos' records can be subpoenaed during discovery, and those individuals can then be contacted to see if they're interested in joining the class action. In the event of a settlement or jury award, the members of the class will split the proceeds after attorneys fees (usually around 40%). Although the members of the class might not get much more than their money back, Hyde & Swigart get a 40% of everything combined and could wind up seeing millions. If they win. But they don't necessarily even have to win…
That's because few class actions ever make it to litigation. The vast majority are settled long before they ever go to trial. Large corporations are likely to pony up a few hundred thousand dollars to a plaintiff with a reasonable complaint (and this is a reasonable complaint) just to save on the nuisance of dealing with a protracted lawsuit. If each defendant offers $250,000…that's a million bucks. 40% goes to the lawyers, and the rest can be spread among the "class." Not the multi-million dollar windfall described above, but a few hundred thousand dollars for settling a case quickly ain't a bad haul!
---
Of course, the judge first has to certify the class. That's why the complaint lists the following three items first under "Prayer for Relief" (a legal term for "Here's what we want…"):
This Action be certified as a class action
Plaintiff be appointed as the Class Representative
Plaintiff's attorneys be appointed as Class counsel
This will allow Hide & Swigart to represent hundreds, thousands, and possibly tens of thousands of people with unfulfilled purchases from Anovos that hopefully (for the Plaintiff) exceed $5 million. I say "hopefully" because $5 million is the minimum threshold to make a federal case out of all of this. Below that number and the federal courts don't have jurisdiction.
If the judge nixes the class—which is a distinct possibility—then this entire case will likely go away quickly. One of the reasons for that decision could be Anovos stepping forward to share their records to show the unfulfilled preorders total since the beginning of 2016 far less that $5 million.
If the class is certified, though, things could get VERY interesting. The action I would imagine the big studio lawyers taking first—in addition to making an immediate motion to dismiss—would be to have each of teir studios dropped as co-defendants. After all, what did they do??? There's charges of fraud, breach of contract, negligent misrepresentation, and the such…all of which apply to things that Anovos did (or failed to do). All CBS and the others did was renew a contract with a licensee. Where's the fraud in that?
For this reason, the Plaintiff's lawyers spend nearly a full page explaining why the licensors are, in fact, also culpable. Here's an excerpt:
Should Anovos fail to meet agreed upon quality standards, Licensors can order Anovos to stop the production of said product. Accordingly, Licensors have a duty to supervise Anovos' use of the Licensors' own marks. Licensors knew or should have known of Anovos' scheme. Nevertheless, Licensors profited from the scheme by permitting Anovos to use their well-known names and trademarked logos to induce target consumers to become Anovos customers.
Furthermore, it's pointed out in the complaint that not only was Anovos reported to the Better Business Bureau by multiple customers (and received and ignored two certified letters from the BBB), but a number of those customers also contacted the studios directly to complain about this official licensee. So the "Licensors knew or should have known of Anovos' scheme..." isn't out of left field.
However—and here is where the rubber meets the road for this entire case—was there, in fact, a "scheme"? Did Anovos set out to defraud and mislead its customers, taking their money while always intending not to deliver the product(s) purchased that were pre-paid for in full?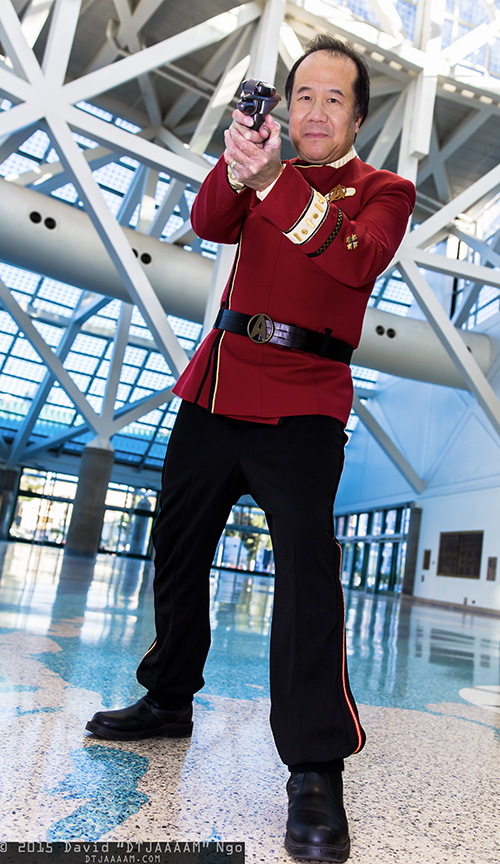 This will be rather difficult to prove based on the fact that Anovos has, in many cases, successfully delivered pre-ordered, pre-paid merchandise. Fan cosplayer DAVID CHENG, pictured to the right, pre-ordered his "monster maroon" and, according to David, didn't receive it for two and a half years. But he did receive it.
The problem for Anovos is that their business model—what there is of it—suffers from a small number of orders for expensive-to-produce items coupled with a serious cash-flow problem. All too often, funds don't exists to build up inventory until enough orders come in first. And producing items one at a time as they are ordered makes them way too costly to manufacture and still make any kind of profit…unless the prices are raised so high as to make almost no want want to buy them. Economies of scale require Anovos to have items—even very high-end items—produced in some kind of quantity. And that often means long delays for the first folks who pre-order while they wait for enough subsequent orders to come in to justify starting the production fulfillment.
And of course, allowing customers to cancel and get a full refund if production takes too long collapses the whole house of cards. If Anovos needs, for example, 25 pre-orders for a production run and is up to 20, then they're just five pre-orders away. But if 7 people cancel out of impatience and frustration and demand their money back, then now Anovos has jumped to 12 orders away…and everyone has to wait even longer. That is why Anovos recently issued a new "All Sales Are Final" policy for pre-orders…which did NOT go over well with fans.
Anyway, people like David Cheng are proof that Anovos does have a defense that the system can and does work…just not all the time. Richard Dalton just happened to get particularly unlucky in ordering 49 items that all took more than two and half years to fulfill. But that does NOT necessarily mean that Anovos never had any intention of fulfilling them and simply wanted to abscond with his money.
Now, just because Anovos has a defense does not necessarily mean they are completely off the hook. Fraud and misrepresentation don't require that Anovos set out with the intention never to fulfill orders. It is also conceivable that a judge or jury might find that a failure to clearly state that certain items can often take years to be produced is a form of misrepresentation. Obviously, there's a difference in pre-paying for an item priced at several hundred dollars and expecting it might be shipped to you in a few months versus pre-paying in full with the knowledge the item might not arrive for a few years. A customer might not make the latter purchase with the knowledge of how long it could take, and so making the customer believe otherwise could be considered an unfair and potentially illegal business practice.
---
A lot is riding on whether or not the judge 1) certifies the class and 2) dismisses the studios. If this case does make it past those two hurdles, then expect a quick settlement (my prediction) rather than a protracted legal battle. It's just not worth it for the studios to let this go to court…especially since California juries tend to be very liberal and sympathetic to the "little guy" taking on the big corporations.
Also, if the case makes it through the gauntlet, there might be some possible repercussions to hit Anovos from the studios. Up until now, the licensors seem to have been mostly ignoring the problem, likely seeing the production and fulfillment delays as more of a feature than a bug. The studios aren't stupid. As awesome as these costume and prop replicas are, most of them are never going to be bulk sellers (except the more "in demand" items like TNG and TOS tunics and the cheaper stuff like the patches). So there's probably never going to be enough cash-flow to keep many of the more expense items in stock.
So the only viable business model continues to be waiting for enough pre-orders (paid in full) to come in to justify a limited production run. Otherwise, the cost of making these uniforms one-at-a-time as they're ordered would price them out of most fans' reach.
For this reason, it's unclear how the studios will react. If the case goes nowhere, then likely no harm/no foul…and Anovos keeps on keeping on. But if the studios get dragged into a class-action lawsuit and have to spend money cleaning up Anovos' mess, then there might well be some new rules established about how long money can be held before products are either manufactured and shipped or money is refunded…maybe six months or a year max? It's hard to say.
The studios need to be careful, though. If they make it too difficult for Anovos to operate and/or make a decent profit offering cool new items, then they're just limiting their licensee and possibly condemning Anovos to a slow bleed out into oblivion…and that doesn't help Anovos, the studios, nor the fans.
A lot depends on what happens next, which will be a response from the defendants followed a few steps later by a ruling from the judge on whether to certify this as a class action. If that occurs, things will get very interesting very quickly…