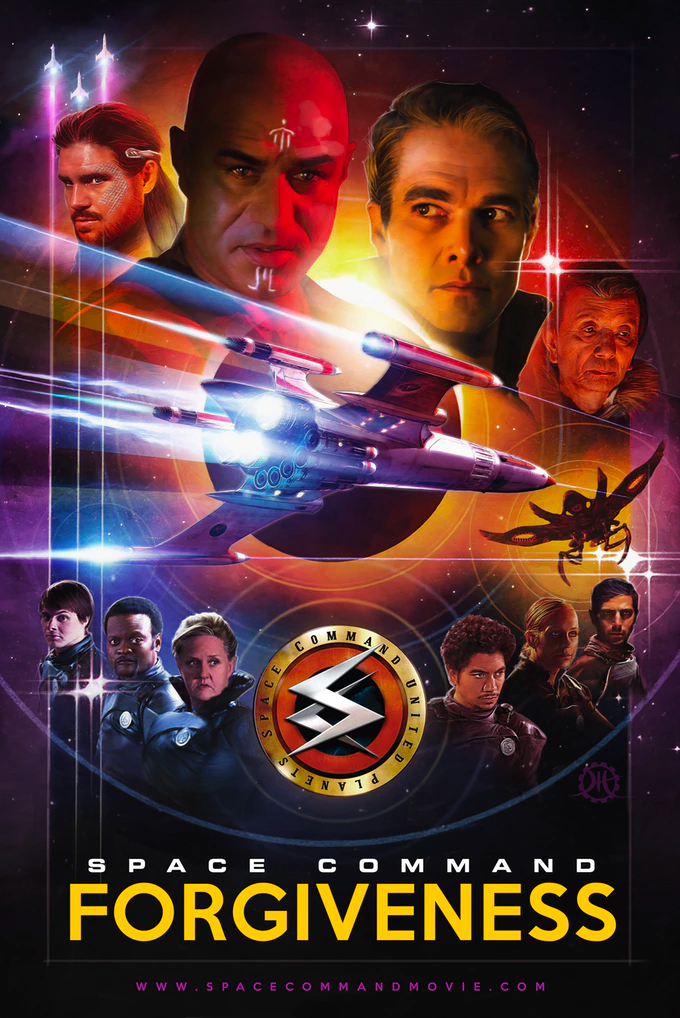 One of my favorite things about MARC SCOTT ZICREE's fan-funded sci-fi epic SPACE COMMAND is watching it "evolve." Last summer, Marc released the first half-hour of the 2-hour pilot "Redemption." It was impressive, to be sure, but it needed a bit more "polish." A number of things didn't look quite right, including the infamous driving scene where a father and son in a convertible roadster are speeding down the highway, and neither actor's hair is moving at all. (The original footage was shot in front of a green screen.)
In February of this year, Marc released the full first hour of the pilot. But in addition to simply adding a half hour of new, just-completed scenes and visual FX, Marc also re-edited, color-corrected, sound-corrected, and updated a fair amount of the first half hour. Finally, the hair of those two actors was actually blowing in the wind! It was fascinating to me to watch those first two releases side-by-side, comparing them. It really allowed me to appreciate the craft of filmmaking.
Now, with less than 24 hours left in their latest Kickstarter, Marc has released an updated version of the first hour, and it's worth taking a look at because it's getting even better. This version is edited to be a few minutes shorter with improved VFX and some other intriguing changes (including having not only the previous mini-trailer for the second episode "Forgiveness" but also a new short trailer for the third episode "The Great Solar War")…
And speaking of the second episode, "Forgiveness," as I mentioned, the month-long campaign is in its final hours, ending at midnight Saturday Pacific Time. Although the stated goal of $35K was surpassed almost immediately and the current total stands (as I type this) at just under $80K, Marc would love to see $100K.
It's not clear whether they can reach that stretch goal, but if you haven't donated yet and still wanted to, this is your last chance—at least for this Kickstarter!
Here's the link to find out more and donate…
https://www.kickstarter.com/projects/58936338/space-command-forgiveness