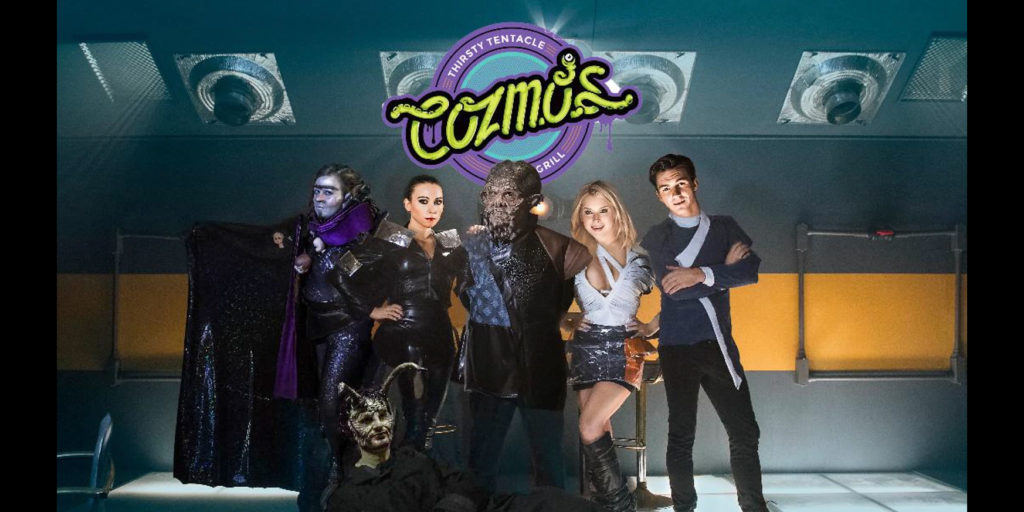 With all of the Star Trek themed fan films out there, some folks have asked why fan filmmakers don't take the next logical step and use their skills, resources, and crowd-funding successes to make some original content?
Well, someone has done just that…and now they want to do it again!
The folks who brought us Star Trek: Renegades and the two-part Renegades: "The Requiem" cast a collection of Star Trek and sci-fi notables in a completely new sci-fi universe…more specifically, in a dive called Cozmo's Thirsty Tentacle Bar and Grill. Some of the more notable names in the cast included Ethan Phillips ("Neelix" of Star Trek: Voyager), Robert Picardo ("The EMH Doctor" of Voyager), Aron Eisenberg ("Nog" of Deep Space Nine), and Claudia Christian ("Susan Ivanova" of Babylon 5). The original director was Stephen Furst (Vir from Babylon 5), who tragically passed away shortly after the live action scenes were shot in early 2017.
With the production footage "in the can" (as they say), it was time to raise funds for post-production…with a wildly successful Kickstarter campaign in November of last year that blasted past its $16K goal to finish at a stunning $54.4K from 865 backers! This allowed the pilot for COZMO'S to be completed and released (for backers only) earlier this summer.
Because the series is being shopped around to studios, the full pilot episode is not accessible unless you're a donor to either the first campaign or the current campaign for episode two (at a level of at least $35). However, the creators have posted the first ten minutes of the half-hour pilot for the public to view. So take a look…
Aside from the obviously high production quality (lighting, sound, camera work, etc.) and the impressive acting, what stands out the most is the amazing combination of make-up and VFX that weaves itself so seamlessly through nearly every scene. Much of this is due to the masterful skills of the make-up team under the supervision of Vincent Guastini, whose professional work in Hollywood includes World War Z, Silent Night, Sushi Girl, I Am Legend, Scary Movie 4, and Dogma.
Would you like Vincent to turn YOU into an alien? Well, guess what! That's actually one of the very tempting perks being offered in the just-launched Kickstarter for Cozmo's episode 2…
https://www.kickstarter.com/projects/atomicstudios/cozmos-goes-out-of-this-world-with-ep-2
Episode 2 also brings in some exciting changes to the way things were done in episode 1….
Like most pilots, the first episode of Cozmo's was intended to establish the who, what, where, when, and how of the new ongoing series. While Cozmo's was generally warmly received by backers when they saw it, some folks felt that the pilot lacked a cohesive storyline running throughout the entire episode—instead relying on a number of seemingly unconnected gag scenes played for laughs.
I'd like to come to the defense of Cozmo's and point out a couple of things. First (for anyone who has or will watch the full episode), a connecting storyline is eventually introduced about 20 minutes in—literally a character conflict—as the swatting of a bug inadvertently leads to an interstellar war being declared on the bar by an indignant and well-armed insect race. It's pretty funny and takes over the plot for the last quarter of the episode.
Second, for anyone who's ever spent time waiting tables (or in my case, bussing them), Cozmo's is pretty accurate…minus the aliens. There isn't a lot of continuity in an evening shift at a diner or tavern. Customers come and go all night long (sometimes even at 1am!), and your interactions with them are usually short and quite limited. Cozmo's captures that surreal quality of working in a bar/restaurant and doubles down on the surreal with patrons who are creepy, kooky, mysterious, spooky, and altogether ooky…and quite often obnoxious (especially to humans).
Anyway, those wanting more story and fewer random skits will be pleased to know that things will be evolving starting with episode 2. According to a recent update to backers…
The new episode will lean more toward the dramatic side of storytelling, utilizing a piece of sci-fi literary history penned by Damon Knight that was also used to create an extremely famous Twilight Zone episode. The episode was called "To Serve Man." Of course, we'll be throwing in some new twists in the Cozmo's fashion.
Apparently, the pitch for Cozmo's (after the set-up in the pilot episode), was always intended to be "Cheers meets The Twilight Zone." So plans call for future adaptations of and plots inspired by other classic science fiction stories, as well. It should be extremely entertaining. And of course, with Vincent Guastini sticking around for make-up and effects, the episodes will undoubtedly continue to look dazzlingly good!
Speaking of make-up, I should mention once again the really unique perk of getting yourself done up as an alien by Vincent and his team. Most of us never get the chance to appear as an alien being under the skilled hands of industry make-up professionals! I've done it once, and it's an amazing experience to look at yourself in the mirror…and it's not you! Granted, it's their top-level perk, but a couple have already been snatched up. So if you can afford it, add this perkl to your bucket list.
And there are lots of other intriguing perks, from little things like Blu-rays, digital posters, pins, and pint and shot glasses…to set visits, lunch with the cast and crew, and even an opportunity to speak for 20 minutes with award-winning screenwriter, producer, novelist, and game designer Frank Zanca. He'll share the ins and outs of Hollywood and what the next steps you should take if you have a project of your own you want to try to launch. Remember: in Hollywood, it's not what you know, it's whom you know…and you have the chance to know Frank Zanca.
Their Kickstarter continues through the end of Saturday, September 15 and is trying to get to $100,000. After about a third of the 32-day donation period, the campaign is currently a little more than a third of the way to that goal with 290 backers. So things are going well, but it'll probably be close. And remember that, with Kickstarter, it's "all or nothing"—you either reach your goal or the campaign gets zip.
In other words, if you're a fan of the folks who made Renegades and/or you want to support a second episode of Cozmo's, don't wait to make that donation! Here's the link once again…
https://www.kickstarter.com/projects/atomicstudios/cozmos-goes-out-of-this-world-with-ep-2