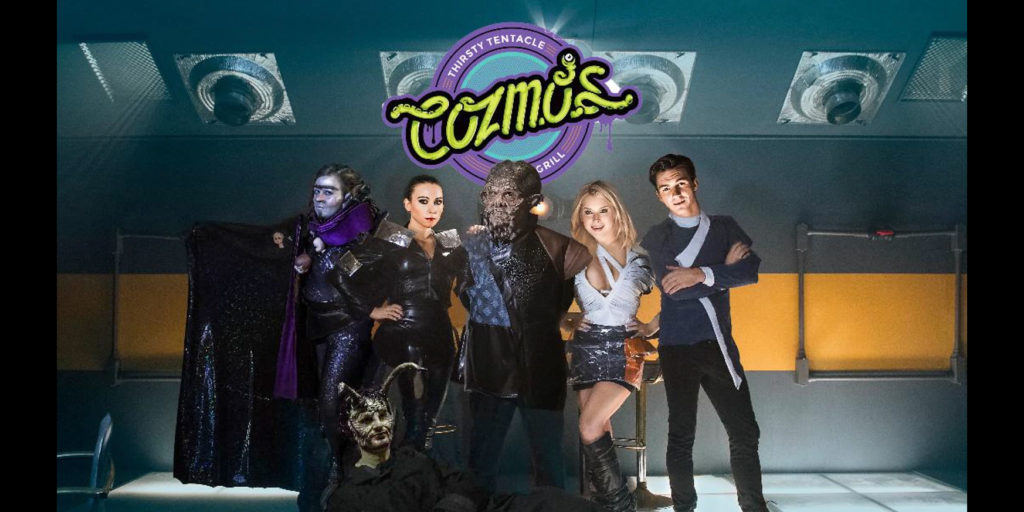 With all of the Star Trek themed fan films out there, some folks have asked why fan filmmakers don't take the next logical step and use their skills, resources, and crowd-funding successes to make some original content?
Well, someone has done just that…and now they want to do it again!
The folks who brought us Star Trek: Renegades and the two-part Renegades: "The Requiem" cast a collection of Star Trek and sci-fi notables in a completely new sci-fi universe…more specifically, in a dive called Cozmo's Thirsty Tentacle Bar and Grill. Some of the more notable names in the cast included Ethan Phillips ("Neelix" of Star Trek: Voyager), Robert Picardo ("The EMH Doctor" of Voyager), Aron Eisenberg ("Nog" of Deep Space Nine), and Claudia Christian ("Susan Ivanova" of Babylon 5). The original director was Stephen Furst (Vir from Babylon 5), who tragically passed away shortly after the live action scenes were shot in early 2017.
With the production footage "in the can" (as they say), it was time to raise funds for post-production…with a wildly successful Kickstarter campaign in November of last year that blasted past its $16K goal to finish at a stunning $54.4K from 865 backers! This allowed the pilot for COZMO'S to be completed and released (for backers only) earlier this summer.
Because the series is being shopped around to studios, the full pilot episode is not accessible unless you're a donor to either the first campaign or the current campaign for episode two (at a level of at least $35). However, the creators have posted the first ten minutes of the half-hour pilot for the public to view. So take a look…
Aside from the obviously high production quality (lighting, sound, camera work, etc.) and the impressive acting, what stands out the most is the amazing combination of make-up and VFX that weaves itself so seamlessly through nearly every scene. Much of this is due to the masterful skills of the make-up team under the supervision of Vincent Guastini, whose professional work in Hollywood includes World War Z, Silent Night, Sushi Girl, I Am Legend, Scary Movie 4, and Dogma.
Would you like Vincent to turn YOU into an alien? Well, guess what! That's actually one of the very tempting perks being offered in the just-launched Kickstarter for Cozmo's episode 2…
https://www.kickstarter.com/projects/atomicstudios/cozmos-goes-out-of-this-world-with-ep-2
Episode 2 also brings in some exciting changes to the way things were done in episode 1….
Continue reading

"Help kickstart episode 2 of COZMO'S…from the folks who brought you RENEGADES!"