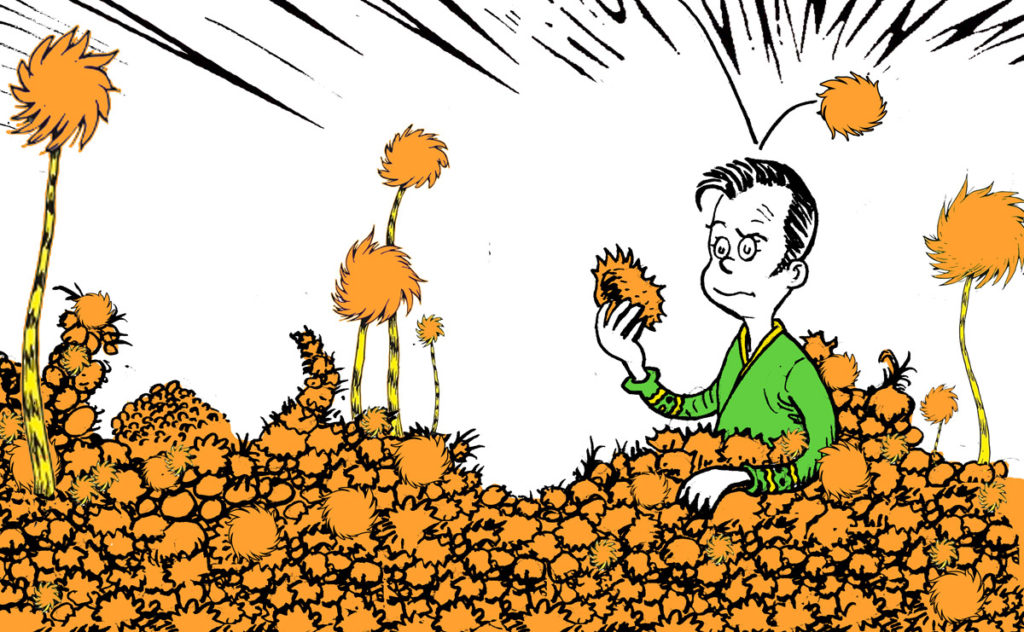 When I blog about Seuss, I start off with a rhyme. But I think I'll try something different this time. (Darn it…I can't!)
Appeal! Appeal! Lately, the Star Trek fan community has been seeing more than its share of appeals. Anas Abdin is appealing the recent dismissal of his lawsuit against CBS for allegedly stealing his "Tardigrades" game idea. And Nick Rekieta reports (at the 8:40 mark of this video) that he was told that Vic Mignogna will appeal all of the nearly-twenty counts of his lawsuit that were recently dismissed by a judge in Texas.
And of course, back in August, DR. SEUSS ENTERPRISES (DSE) filed an opening brief with the Ninth Circuit Appellate Court in California appealing the dismissal of their their copyright and trademark infringement complaints against COMICMIX, DAVID GERROLD, and TY TEMPLETON.
The latter three had attempted to raise $30,000 via Kickstarter to publish a "mash-up" of Dr. Seuss and Star Trek titled Oh, the Places You'll Boldly Go! DSE sued in federal court, and after a roller-coaster nearly-two year legal battle, the judge in the case ruled (prior to trial) that the mash-up book did, in fact, qualify for Fair Use protections under the First Amendment and dismissed all causes of action.
DSE was not happy.
After requesting an extension to give them more time to prepare their opening brief (which clocked in at an impressive 81 pages and was very well written), they filed in early August…along with four amicus curiae briefs, which are opinions submitted to the court by non-litigants who, even though they aren't part of the lawsuit, still have a vested interest in the outcome of the case.
In this instance, DSE got help from two professors from the Berkeley School of Law, three members of The Copyright Alliance, the Motion Picture Association of America, and The Sesame Workshop (yep, Big Bird is buddies with The Cat in the Hat!). That's another 140 pages to add to your reading list. They all mostly say the same thing…essentially that the judge got it wrong and here's why they think so (and why the law backs up their belief).
Fast forward two months, and now its Team Mash-up's turn to have their say. Let's take a look at the latest goings-on…
WHAT DOES IT MEAN TO APPEAL?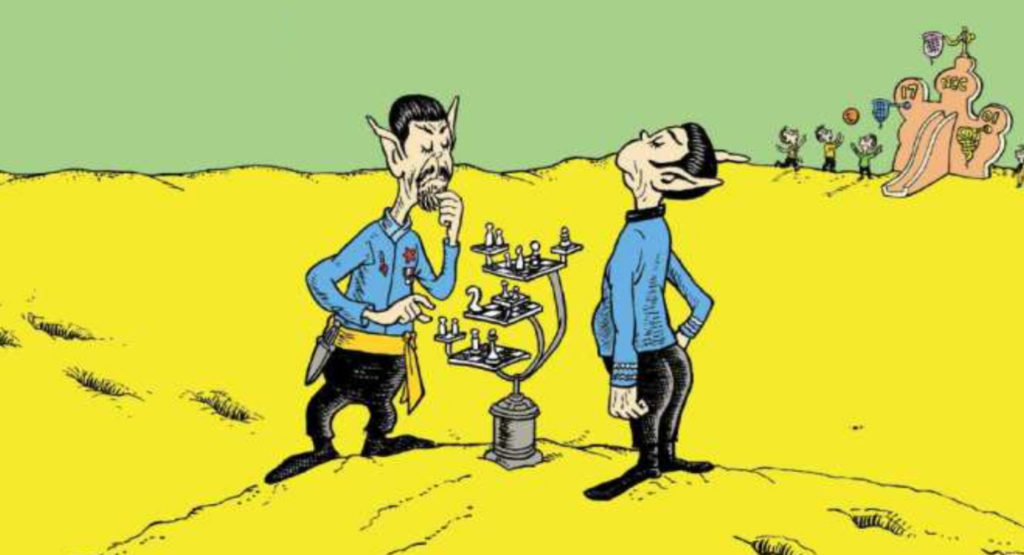 First, let's be clear on what an appeal is and is not. It's not a "do over." It's not a new trial. You can't simply say, "We didn't like that judge's verdict so we're now asking three other judges to come to a different conclusion."
Instead, if you want to appeal, you have to find some mistake the judge made in applying the law. Hey, judges are human; they can sometimes get things wrong. But it can only be something that involves a legal procedure and not the judge's final finding of fact. In other words, find a screw up where the judge got the LAW wrong, not the FACTS wrong. It's a subtle but important difference.
In DSE's case, their argument is that the judge didn't properly define and apply the four elements Fair Use and so came to the wrong conclusion. You can read more about their arguments in the second half of this blog.
Now, in general, plaintiff's appeals for reversals of judgements they don't like succeed only about 18% of the time. So this is already an uphill battle for DSE. But it was also a strong start for them, especially since they included those four amicus curiae briefs from interested outside parties.
How much difference can amicus curiae briefs make in an appeals case? They can actually carry a lot of weight in a case like this where the outcome could have very broad ramifications. For a court to rely solely on the positions of only the plaintiff and defendant, a very far-reaching decision could be made based on a very narrow argument. So amicus curiae briefs allow for more voices to be heard. This lessens the possibility that a weak attorney on one side or the other could have a huge effect on public policy for years, decades, or even centuries to come.
For example, let's say that Team Mash-up's lawyer isn't very good, and the appeals court rules that DSE can, in fact, own an artistic "style." Would that then means that artists from DC Comics could sue artists at Marvel Comics (or vice-versa) for copying their "style"? Could Zachary Quinto or Ethan Peck be sued by the estate of Leonard Nimoy for acting too much like the original Spock? A lot more is riding on this case then many people realize…which is one of the reasons I'm covering it.
NOW IT'S TEAM MASH-UP'S TURN AT BAT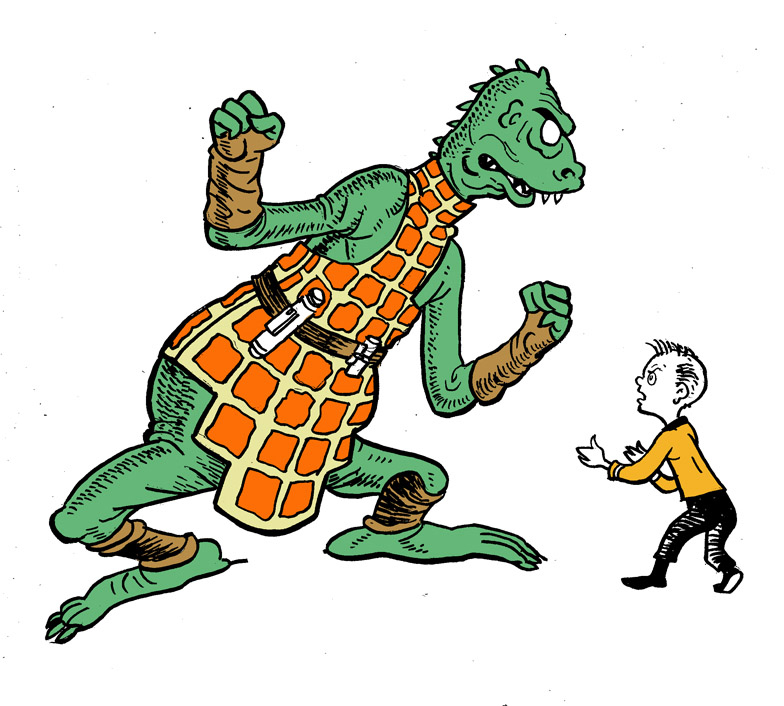 Fortunately for Team Mash-up, their attorney appears to be quite good. I say this after having read the 63-page legal appeals brief that answers the 81-page brief from DSE. (Neither brief is particularly "brief," y'know.)
What made it so good? To understand, one must look at the brief as being essentially two parts. The first part is the "Statement of the Case," or as I like to call it, "Our story so far…" While everything that's happened up until this point is a matter of public record, the appeals judges don't want to review thousands of pages of pleadings and motions and exhibits and depositions and rulings. They'll read up a bit, of course, but they'd like a brief introduction to the case from the parties themselves.
Of course, as they say, there's always three versions of a story: one side's version, the other side's version, and the truth. DSE did an amazing job of presenting their version of events in a way that painted the defendants in as negative a way as possible. DSE didn't lie, they simply conveniently left out certain details that could have put a number of statements and actions by the defendants into a more objective perspective. DSE added in adjectives and adverbs that read like the description of nefarious outlaws. And if the plaintiffs can successfully paint the defendants as unsympathetic and irredeemable crooks taking advantage of a poor, unsuspecting multi-million dollar corporation, then the appeal is already half-won.
So the first thing Team Mash-up's attorney did was to tell the same story with more positive adjectives and adverbs—plus inserting back in a number of important details purposefully left out of DSE's version…details that paint the same series of events in a much different and more sympathetic light for Team Mash-up. The appellate judges, of course, will realize that the truth is probably somewhere in the middle, but at least there is now a skewed positive narrative to counter the skewed negative narrative. Without that, the judges would rely on only the most damaging version of events up till this point.
In the second part—which takes up nearly three-quarters of the filing—Team Mash-up's attorney takes up the task of countering DSE's claims that their book us not Fair Use by proving that it is, in fact, Fair Use. Arguably, Team Mash-up's guy has the easier job of the two lawyers, as he can start by building on the foundation of what the original judge already said…and he certainly does that. But it's not a slam dunk, and it's certainly not a complete strategy—when the other side is trying to prove that the judge screwed up—to simply say, "Yeah, we totally agree with what the judge said in her original ruling."
For this reason, the filing from Team Mash-up also uses a mix of legal citations of precedent along with some very—dare I say it?—logical conclusions to back up the argument that their book qualifies as a Fair Use work. It's too long of a "brief" to go point-by-point through everything. But if you want to see for yourself, I invite you to read the brief itself. But here's just a taste of the approach being taken to persuade the appellate judges…
Star Trek was designed as social commentary for an adult demographic "about the challenges that adults face," according to Gerrold, one of its original writers. Boldly reflects its mature themes. As Templeton explained, "a Dr. Seuss book is like a children's book. It's a very safe, non-threatening environment for somewhat simple ideas that are expected to be presented to a younger reader. And Star Trek is in many ways the opposite. It's a violent, sexual, sophisticated adult entertainment."  Star Trek is "high drama, life and death circumstances, things that are often very violent, sometimes very sexy. It's a sophisticated world of fiction. And to place [Star Trek characters] in the context of [Dr. Seuss] is funny. It's not where you would expect to see these kind of characters and situations."

The worst places in Go! are a "not-so-good street," Bang-Ups, HangUps, a Lurch, a Slump, a "place you could sprain both your elbow and chin," and The Waiting Place.  Boldly is darker, confronting mortality and violent dangers. Monsters who killed Enterprise crewmembers loom over Kirk on several pages. In a Star Trek in-joke, characters in red uniforms---"redshirts"---are doomed to die. "Because it's their duty to end up quite dead," Kirk dispatches two of them toward aliens who killed redshirts in TOS episodes. An illustration foregrounds an assault by dagger and Kirks of increasing age queuing up to a gravestone marked R.I.P., as "deadly years fly." Klingons, aliens who "poisoned the grain," taunt and torment Kirk with a cosmic wedgie.  Boldly sends shapes from a Go! layout to outer space, alongside an inapposite floating blue corpse.
The above example comes from the section where Team Mash-up argues that their work is transformative…and it certainly sounds like it! No one would ever describe Dr. Seuss characters as "sexual" or his stories as "violent," but Star Trek TOS had both of those elements in ample supply. In other sections, Team Mash-up argues just as logically that their book uses no more than is necessary in order to establish a credible link to both of their mash-up sources (Seuss and Star Trek) and also that DSE failed to present realistic evidence of any negative market effect resulting from the mash-up book.
TEAM MASH-UP EXPANDS THE "TEAM"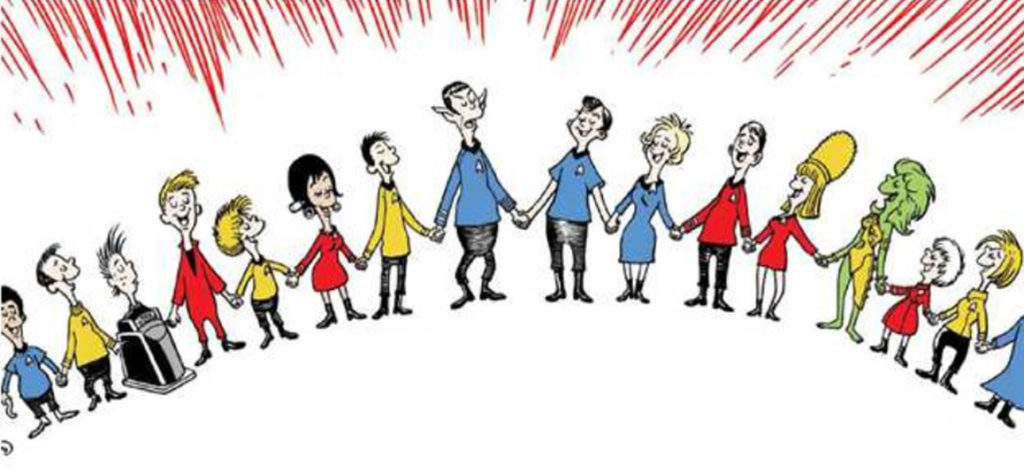 DSE has their friends, and apparently, so does Team Mash-up. As I mentioned above, multiple amicus curiae briefs were submitted in support of DSE's positions. Now there's multiple amicus curiae briefs on record in support of Team Mash-up. You can read them here, here, and here. Among the voices speaking up for mash-ups (or at least this mash-up) are more than a dozen legal academics, including professors of First Amendment Law and Intellectual Property Law at prestigious law schools like Harvard, Stanford, Notre Dame, and UC Berkeley (to name but a few). Also chiming in are the Electronic Frontier Foundation (founded in 1990), non-profits Public Knowledge and also the Organization for Transformative Works, a New Your Times bestselling author, and also an Eisner Award winning comic book creator.
In other others, both the Plaintiff and Defendants have some very impressive relief pitchers in their bullpens to help win the game.
SO WHAT HAPPENS NEXT?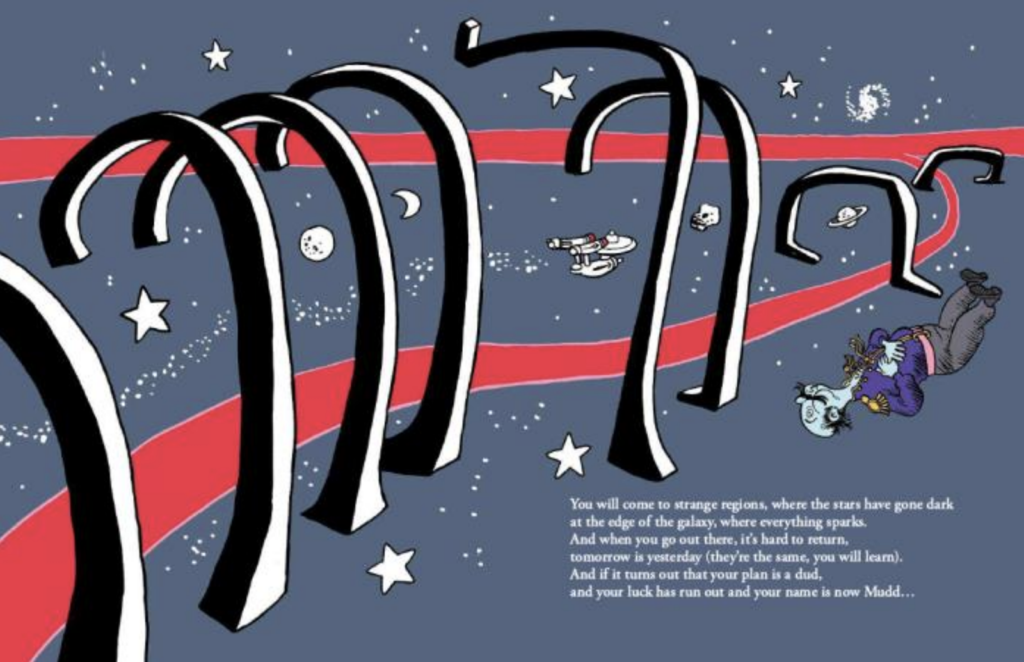 Fortunately for all of us who hate to read legal filings, only one more is coming…and that's a reply by DSE to the brief that Team Mash-up just filed replying to DSE's first brief (got all that?). In other words, DSE got the first word AND gets the last word. Doesn't sound fair to me, but oh, well…
DSE asked for and received extra time for its upcoming reply brief, which is due November 25, right before Thanksgiving. After that, it's probably going to be another 9-12 months until the two attorneys come before the three appellate judges for a hearing (assume sometime around next year's election). There is no new evidence allowed, and the oral arguments are only about 15 minutes each—mainly the judges asking very tough and pointed questions.
Once the judges hear oral arguments (and they can forgo the hearing entirely if they feel the briefs adequately answer all of their questions), there is no set time limit for the court rendering a verdict. But generally, most cases are decided within 3 months to a year.
So expect a resolution to this whole mess sometime in 2021. But even then, it might not be over. DSE has deep pockets, and if they lose on appeal, they can then request a further review by the entire ninth circuit (all the Federal judges, not just the three who handled the first appeal). And if DSE fails in that, they can always try to appeal further to the Supreme Court (although the high court turns away most of the thousands of cases requesting their review each year).
And even if DSE wins, what do they win? The appeals court could potentially send the case back to the lower court for a "do-over" trial. This time, the appeals judges would tell the original judge not to rule in favor of Fair Use…although a jury might still be asked to do so, and DSE could still lose. Only by then, my 9-year-old son is likely to be in high school!
Or perhaps DSE wins their appeal, and it's Team Mash-up who then appeals that ruling to the full ninth circuit…or even to the Supreme Court.
In other words, kids, get comfortable. We could easily be here for a few more years before we can finally buy a copy of Oh, the Places You'll Boldly Go! Or not.