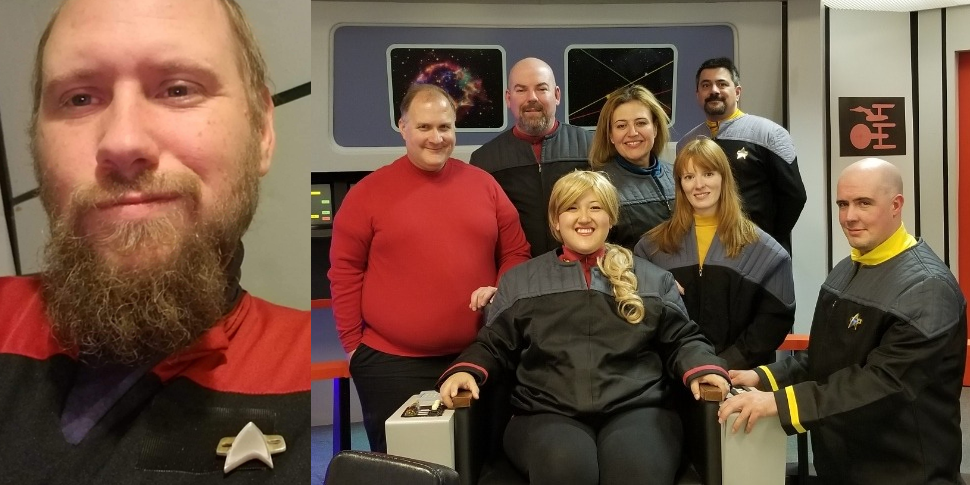 We love VANCE MAJOR. How could we not? Whether you watch and enjoy his nearly 70 fan films, avoid them completely, or simply chuckle at the cord in the doorway and/or grumble when the sound of the blowing wind drowns out a line of dialog…you can't deny that Vance is the beating heart of Star Trek fan films.
Sure, Vance isn't producing snazzy, Hollywood-quality fan films with Oscar-caliber acting, cdazzling VFX, meticulously-tailored costumes, and pitch-perfect sound. But what his is doing is so much more important: he is having FUN—and he's inviting us all to come along on his amazing…trek.
Last month, I published a blog featuring an audio interview with Vance, celebrating the release of 51(!!!) brand new fan films from THE CONSTAR CHRONICLES—ready for binge-watching over the holidays—plus another 18 special edition re-releases of fan films from Vance's MINARD saga. And even with all of that, he's still not done! Vance is planning to produce even more fan films!! In fact, in just a few more months, Vance will be shooting ALEC PETERS himself as Garth at Ares Studios in Georgia.
Vance has always been known as a man who can do a LOT with very, very little. I've joked in the past that he funds his film projects with the loose change he finds in the cushions of his sofa. And for the most part, that's true. But costumes and props are the exception to keeping things ultra-cheap. Sure, you don't have to buy the custom-made $500 screen-perfect versions that Anovos offers, but even an inexpensive Halloween costume can run $25-50. And keep in mind that Vance needs to have a variety of different sizes, as Star Trek fans cover a wide spectrum of body types. And Vance opens up his roles to many, many fans (even me!).
Vance has crowd-funded costumes/uniforms before, and he doesn't ask for much. For his current GoFundMe crowd-funder, he's only looking for $1,175…and he's already got $475 of it (including $40 from yours truly). So if you have a few bucks left over after the holidays, please consider clicking below to donate to a very worthy and dedicated fan filmmaker…