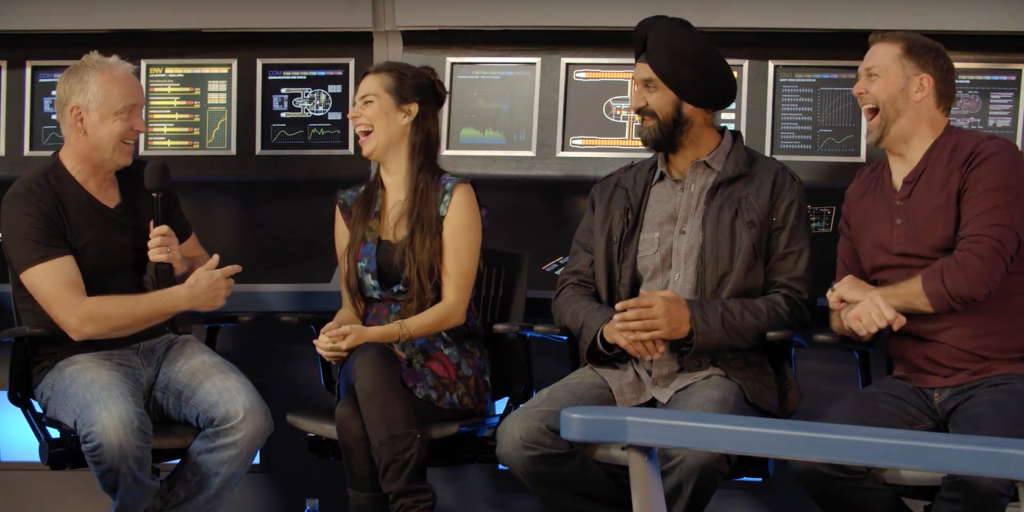 Say what you will about AXANAR. But the one inescapable fact is that, perhaps more than any other Star Trek fan film (maybe any fan film period), Axanar is teaching fans a LOT about the process filmmaking. Sure, some cynics will say, "Yeah, it taught us all not to piss off the copyright owners!" But it's also provided fans, fan filmmakers, and those wishing to become fan filmmakers an unparalleled up-front view into the entire production process.
Granted, most fan projects aren't nearly as elaborate or ambitious as Axanar. The majority of fan producers just make their film and put the finished product up on YouTube. A few take behind-the-scenes photos or videos while they build sets or do make-up or have their shoots, but Axanar takes all that to an entirely other level.
Through countless Axanar Podcasts and updates on Axanar Confidential, we've watched this production walk through the fire of the lawsuit, emerge on the other side, pick itself up, dust itself off, and get back up to speed again with a move across country, a completed bridge set, and two shoots so far (soon to be three!). Along the way, there's been a parade of features on countless aspects of filmmaking—from VFX to set-building, make-up, costume design, budgeting, writing, pre-production, production, and post-production…and just about everything in between.
But the one thing Axanar hasn't really done a deep-dive into yet is directing. There was some commentary from PRELUDE TO AXANAR director CHRISTIAN GOSSETT on one of the behind-the-scenes features on the Prelude Blu-ray, but not much in-depth coverage of the full process. And ROBERT MEYER BURNETT left the project before getting the chance to sink his teeth into directing actual production.
However, now that Axanar has started shooting, director and co-writer PAUL JENKINS had some very, very interesting insights to share during AXACON 2019. Unlike the first Axacon in 2018, the second Axacon didn't take place in a hotel with convention rooms and dealers tables and membership badges. This time, "attendance" was FREE to anyone on YouTube and included four panels broadcast live from the bridge set at Ares Studios in Lawrenceville, GA.
Axacon 2019 took place on Sunday, December 8 during the final day of Axanar's second studio shooting weekend. With numerous members of the cast and crew in attendance (along with some special guests), all that was needed was to get people microphones (or clip mics), set up some chairs, hook up to the Internet, turn on a couple of cameras to record, and broadcast to YouTube.
Unfortunately, the best laid plans of techies and Trekkies sometimes go astray, and the livestream had some "issues"—including, at one point, a person tripping over a cable that accidentally cut off the livecast from YouTube for several minutes. Hey, stuff happens. Fortunately, with a two-camera shoot, "clean" versions of the full panels were still recorded.
Up until this week, only the livestream of all four panels (complete with glitches and long gaps between the panels) was available online. But on Monday, the first of the panels—the Director's Panel—was posted…clean, no glitches, and ready to watch. The other three panels, I'm told, will be released over the coming weeks.
If you're an Axanar fan or simply someone interested in filmmaking, this first panel is a MUST SEE. The relationship between a director and his (or her) actors is one of the keys to creating a successful production. And this panel provides some fascinating insights and glimpses into the directing process that's going on right now for Axanar.
Hosted by Axanar Producer SCOTT CONLEY, the panel features director Paul Jenkins along with three members of the Axanar cast: actors CARRIE ANNE HUNT, RAJ KALA, and JAMIE RENELL. Not only do they discuss their characters and experiences working on the fan film set, but Paul dives into his decisions as director—from casting to preparation to his philosophy of protecting his actors to how he approached getting the best and most authentic performances out of each of them.
And then the actors themselves talk about their experiences with auditioning, preparing for their roles, and working with Paul and the entire production crew. And these guys are all very gifted and intelligent speakers.
It's really eye-opening to watch —and also just a lot of fun! Enjoy…