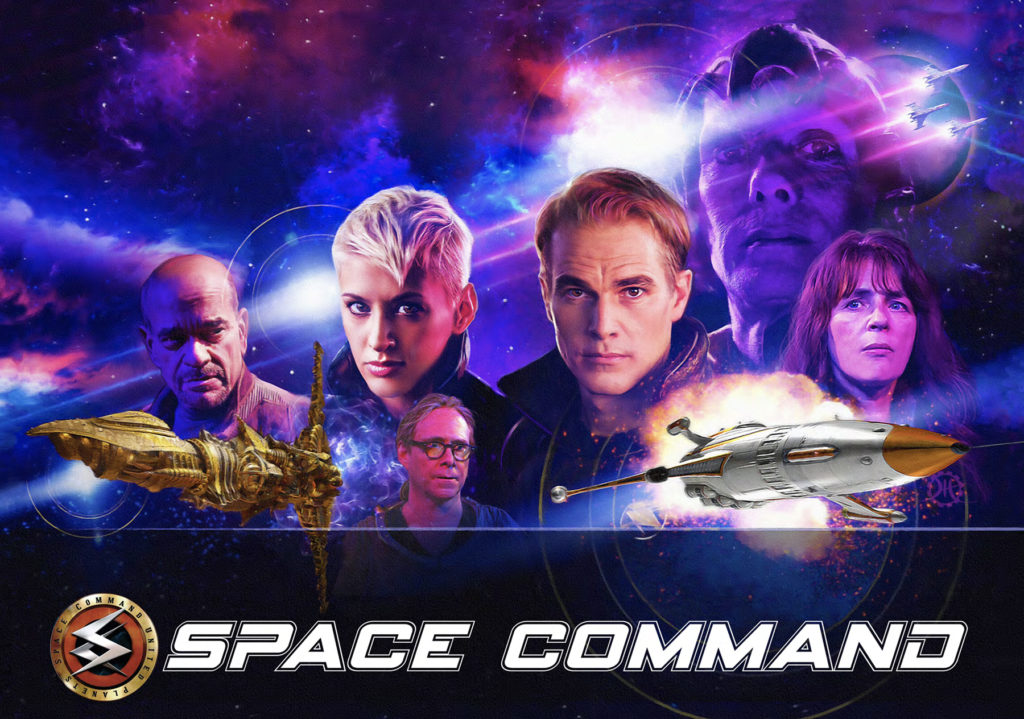 The global coronavirus pandemic has shut down most, if not all, television and movie production nationwide. Many TV news anchors are broadcasting from their homes and basements, self-quarantining because they want to keep themselves and others safe. And while a number of fan films that have already been shot are still being worked on in post production—where folks can work individually at home (including my own fan film INTERLUDE)—projects that were either in, or soon to be entering, production have had to put their plans on hold for the time being.
All but one, it seems.
Publicly launched back in 2012, SPACE COMMAND has already raised over a million dollars from crowd-funding and from selling shares in the production. The brainchild of TNG and DS9 episode writer MARC SCOTT SICREE, Space Command will ultimately span twelve 1-hour episodes for its first season, featuring such notable sci-fi actors as DOUG JONES (from Discovery); ROBERT PICARDO (from Voyager) ; MIRA FURLAN, BRUCE BOXLEITNER, and BILL MUMY (from Babylon 5); FARAN TAHIR (the captain of the USS Kelvin from Star Trek 2009); JAMES HONG (from Big Trouble in Little China and Kung Fu Panda); and a host of others.
Already, work has been completed on the first full hour episode, which you can watch here. (Mira Furlan, Doug Jones, and Robert Picardo give especially poignant performances…definitely worth checking out!) Post production is being completed on the second half-hour, which will form a single two-part episode titled "Redemption."
The second two-parter, "Forgiveness," is currently in production. Part 1 has been fully crowd-funded and filmed, and Part 2 is being crowd-funded right now. In fact, their Kickstarter ends on April 4. Although they've crossed their $48K goal, it's only just barely. So a little "cushion" would certainly help. If you'd like, you can donate to "Forgiveness – Part Two" by clicking here:
https://www.kickstarter.com/projects/spacecommand/space-command-forgiveness-part-two
Obviously, actual production won't be starting on that episode until the COVID coast is clear.
BUT!!!
Marc Zicree just announced that he's writing a special standalone episode of Space Command called "Ripple Effect"—and it will be filmed now…during the pandemic while everyone is self-quarantining. How is this possible while not being irresponsible? Simple: everyone will be working from home!
Many of the main actors from the series have agreed to film scenes in their own homes with their own equipment. No camera crews or lighting or sound or make-up or wardrobe people…just actors and their cameras. Some might have green screens, others might not. Then their footage will be edited, scored, VFX added, sound-mixed, etc. And everyone will be working completely apart from each other.
Will it work?
Too soon to say, but it certainly sounds intriguing and exciting! And to make it even more so, Mark is planning to make the magic right in front of us, showing fans the project AS it takes shape every step along the way. No crowd-funding necessary, and the finished film will be posted for free.
Here's Marc to tell us more…