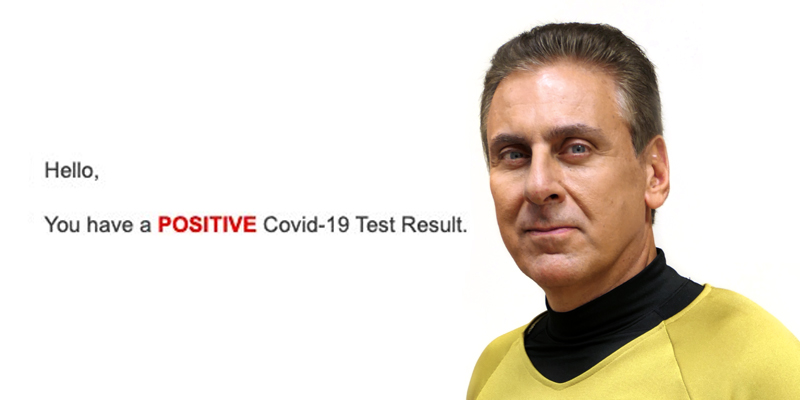 ALEC PETERS has logged a lot of "firsts" in the Star Trek fan film community. He was the first to raise more than a million dollars in crowd-funding for a Trek fan film project, he was the first to get sued by the studios, the first to survive such a lawsuit and reach a settlement agreement, and the first to set up an online store to sell merchandise based on original aspects of a fan film.
And now he's the first well-known Star Trek fan filmmaker to test positive for COVID-19.
At this point, this is kinda "old" news. Alec first told me that he thought he'd caught the virus back on Sunday, July 5th. He'd had a 101-degree fever for two straight days and was feeling sicker than he'd ever felt before (although he never lost his sense of smell or taste). Alec explained that he's generally healthy, and when he gets sick, symptoms typically don't get too bad and pass pretty quickly. This felt different. And since it wasn't flu season, Alec suspected by Sunday evening that he might have contracted the Novel Coronavirus.
It's not that Alec hadn't been careful. He wore a mask everywhere, washed his hands often, and social distanced. But Georgia is a pandemic hot-spot, currently 4th in the nation of 50 states in active COVID-19 cases with an average of 3,500 new cases per day for the month of July.
On Sunday evening, as Alec began to suspect that he'd contracted the highly infectious virus, he went to the CVS website to schedule a test and discovered that the earliest appointment they had available wasn't until Wednesday. (What's wrong with this picture, folks?) He booked it.
Meanwhile, Alec's girlfriend CRYSSTAL HUBBARD, kept her distance from Alec while he isolated himself upstairs in his room. Fortunately, they have a five-bedroom house, so separation wasn't difficult on a practical level. Going to work wasn't an issue for Crysstal, as her job is at a night club, and those establishments were closed down at the time Alec got sick. In fact, Crysstal was furloughed for about 2-3 months total.
Although Alec announced through social media that he was "95% certain" that he had coronavirus (shortly before taking the test), I decided to hold off reporting it here on Fan Film Factor until the results were in. Alec was told to expect the results in about 6 days. (Again, what is wrong with this picture??? )
There was, of course, an outpouring of sympathy and well wishes from across fandom. And then, sadly, there were also Facebook posts like these…

In the meantime, Alec went through about five days of severe illness. He used a humidifier, took Acetaminophen for his fever, took lots of hot showers to soak up the steam, drank lots of hot liquids, and tried not to lie on his back (he slept on his side). And he forced himself to move as much as he could. He moved in bed, got up when he could, and moved around as much as possible. According to Alec, all of these things helped him recover.
By the end of the first week, Alec reported feeling much better. He was back to doing livestreams and was much more active. But the following two weeks still saw some challenges for him. According to Alec, "I had a lot more energy early in the day. But once evening hit, I was essentially useless. My body would just shut down completely."
After three weeks, Alec at last reported feeling fully recovered…and that was when his COVID-19 test results FINALLY came in! There's a website where people who have been tested can go, log in, and check their results. This past weekend, two and half weeks AFTER taking the test, Alec finally saw his results posted. And yes, he was positive. Based on the timing, he is also now beyond the two week window for being contagious, so let's hear it for timely testing! (That's the sound of sarcasm, of course.)
In the meantime, the Georgia night clubs opened up earlier on this month (for some insane reason, since Georgia cases are rising!), meaning that Crysstal could go back to work if she tested negative. Seeing Alec's frustrations with the slowness of CVS, Crysstal opted instead to go through her local Piedmont Healthcare System, paid for her test 10 days ago, and got the results back three days later: negative. So hooray for that, and hooray for tests that actually give you the results in three days instead of three weeks.
In the meantime, let me end by just stating the obvious: this is NOT a hoax, my friends. Wear your masks. Wash your hands like you're scrubbing in for heart surgery. And social distance…if not just for yourself, then for others and their loved ones. Don't be like this guy from Texas, who believed that COVID-19 was a "scamdemic," hosted a large house party on June 13, and then saw the virus spread to his friends, family, and even to himself (he wound end up needing to be hospitalized, as the virus attacked his central nervous system). On July 1, the mother of the man's father-in-law died from the virus. In an op-ed appearing in a Dallas newspaper, the man wrote the following:
You cannot imagine the guilt I feel, knowing that I hosted the gathering that led to so much suffering. You cannot imagine my guilt at having been a denier, carelessly shuffling through this pandemic, making fun of those wearing masks and social distancing. You cannot imagine my guilt at knowing that my actions convinced both our families it was safe when it wasn't.
For those who deny the virus exists or who downplay its severity, let me assure you: The coronavirus is very real and extremely contagious. Before you even know you have it, you've passed it along to your friends, family, coworkers and neighbors.
Please take this threat seriously. Already, one Trek fan series has postponed a scheduled filming date when one of their actors had a family member in their household test positive. Other fan films are proceeding just as carefully or else holding off on production until things are less uncertain.
The world has changed, folks, and sadly we can't go back in time and fix that. So please don't put your own life or anyone else's life in danger by assuming that "normal" is possible right now. In most places, it's not. But if we want to bring normal back, then right now, we need to all accept our responsibilities to ourselves, to each other, and to the rest of the world.