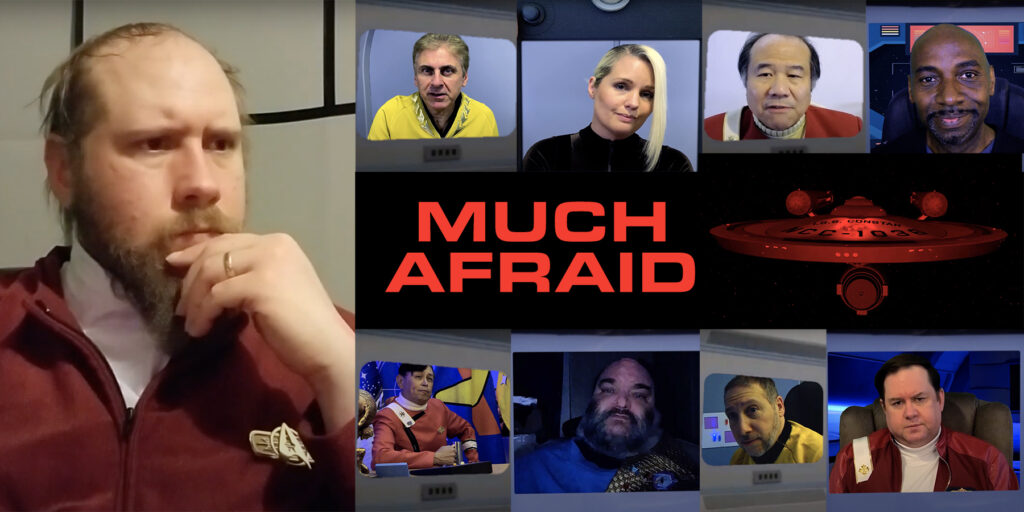 At least temporarily, most fan film production has entered a new phase following social distancing. New releases have not been quite so prolific, and most that have been produced since the beginning of the global pandemic have reflected the need to keep actors mainly isolated from each and from camera crews. For fan films, the show must go on…even if the show must be produced in careful and creative ways.
I've coined the phrase "FANdemic" film to categorize these releases. Some recent examples include:
HORREUR POST ATOMIQUE from France, told the story of three survivors of World War III living in bunkers, just before first contact with the Vulcans.
LOOK FORWARD TO THE DAY showed a socially distancing Kirk, Spock, and McCoy having a futuristic Zoom call.
I AM SPOCK featured JENS DOMBEK, "The German Spock," doing a somber and introspective one-man (well, one-Vulcan) short fan film.
"THE GREEN MANIFESTO" from THE FEDERATION FILES showed the nefarious Colonel Green from the TOS episode "The Savage Curtain" (still with the rank of major) engineering a global super-virus that threatened to wipe out millions worldwide.
And then there's CONSTAR CONTINUES…from that fan filmmaking machine VANCE MAJOR! Vance's many, many, many fan films—which cover the Minard Saga, Constar Chronicles, and the latest Constar Continues series—are actually tailor-made for the pandemic…at least some of them. Although the scores of episodes that he's done have included scenes with multiple characters on the screen at the same time, Vance has also made a good number of episodes featuring two-person "calls" via subspace. These are easy enough to shoot and edit together during a global quarantine, and so, as one might expect, a fandemic Constar production was bound to show up sooner or later.
And in fact, one showed up quite early on, as MUCH AFRAID made its debut on May 9. And although it was released after the pandemic began, it seems very much to have been written a year earlier when the United States began separating children from parents who had crossed the border illegally and putting many of those people and children into cages. The plot line for this dark and brooding fan film seems to be directly inspired by those current events…as many of the best Star Trek episodes are.
Much Afraid also features a couple of dozen faces from the Star Trek fan film community, including such notable show-runners as ALEC PETERS from AXANAR, GARY DAVIS from DREADNOUGHT DOMINION, JOSE CEPEDA from NATURE'S HUNGER, DAVID CHENG from THE HUMAN ADVENTURE, VICTORIA FOX and JOSH IRWIN from the AVALON Universe, and GEORGE KAYAIAN from STARSHIP ANTYLLUS. The sheer volume of co-stars and guest stars makes the 41-minute Much Afraid worth checking out. But the quality of the script and the editing actually elevates this effort to being one of Vance's strongest to date. Check it out…
But Much Afraid wasn't the only Constar Continues to be released post-pandemic. A month earlier, Vance had released SINKING, also produced entirely after social distancing had gone into effect. You can watch that episode here…
It took me a few months to reconnect with Vance to do an audio interview, but it was worth the wait. We had yet another great chat about both of these episodes and what went into making them. We also covered a bunch of other fun stuff, including the new sets that Vance is building in his former man-cave, his upcoming plans for more Constar films, and of course, his three-and-a-half year old son, Royce, who is getting more adorable by the day. In fact, before we get to the interview, take a quick look at this short video that Vance posted last week of Daddy and "Turkey Butt"…
And NOW you can take a listen to me and Vance shooting the breeze in the audio interview below…