SPOILERS…I'VE HAD A FEW…BUT THEN AGAIN, TOO FEW TO MENTION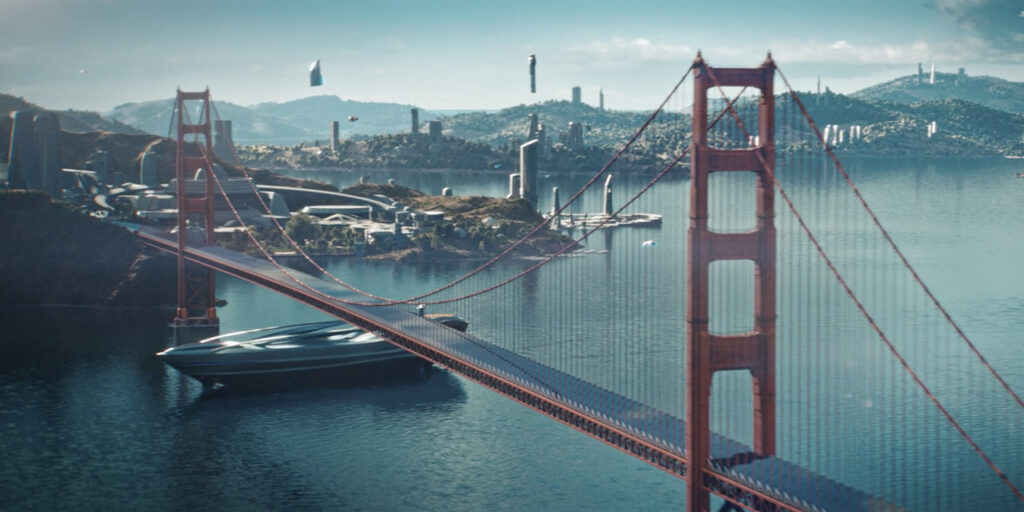 Okay, first let's get the review part out of the way. I liked the third episode of STAR TREK: DISCOVERY season three, "People of Earth." I didn't love it, but it was a solid "like." JONATHAN FRAKES did a very nice job directing, the acting was strong, as usual, the episode was exciting, and there was some decent character development (or at least attempts at it…more on that later). I'm intrigued by Adira, the new human character with the Trill symbiont…and let's face it, Frakes knows all about being a human with a Trill symbiont in your abdomen!
Were there some things I didn't like? Yep. I realize the whole "What was the Burn?" is the mystery of the season, and so each episode gives us more clues. But it seems like we've gone from "A century ago, all the dilithium in the quadrant/galaxy/universe suddenly exploded" to "Oh, by the way, the galaxy was also running out of dilithium before everything went KABOOM." This seems like an important detail that could have been added previously, since it appears to be something big worth mentioning.
Also, I was annoyed for a second week in a row to see Michael Burnham once again save the day. And not only did she save everyone on the ship and restore peace to Earth and the Titan Raiders (sounds like a mash-up of two AFC football franchises), but she did so without telling Saru her plan first. Look up "loose cannon" in the dictionary, and you'll see a picture of Michael Burnham. Look up "trustworthy first officer" and she's nowhere to be seen. The fact that Saru still kept the offer of being his first officer open AFTER Burnham pulled that stunt amazed me (in a bad way). How many second chances is this headstrong woman gonna keep getting???
But enough about all that! I still liked the episode, and I'm sticking with Discovery for a bit longer. But that's more than I can say about my best friend, who just told me that he's now completely bailed on the show. He won't watch it anymore, and his reason intrigued me enough that I've decided to devote today's blog to talking my way through it, as it's not the standard "This isn't MY Star Trek!" But yet, at the same time, maybe it is. Maybe my friend has finally hit the nail on the head of why so many long-time Trekkies don't like the show.
Let's discuss…
There are lots of fans who have complained that the show doesn't "feel" like Star Trek. Their reasons have been many:
It doesn't LOOK like Star Trek.
It massacres canon.
It's too dystopian.
They don't explore strange, new worlds.
The crew is dysfunctional.
Starships don't use mushrooms to travel though space.
Where is the hope?
My own complaints have also included a lack of banter and decent character development, but I have felt that, in season three, a lot of those issues I just listed were either fixed or jettisoned. Moving into the 32nd century freed them from most canon constraints. The crazy make-up on the "familiar" aliens has been toned done quite a bite. We've had three episodes so far and three planets visited (one of which was Earth, of course). The crew is quite a bit less dysfunctional, finally engages in some decent banter, and some characters are beginning to develop slightly. Oh, and the hope is that the crew of the Discovery can somehow "fix" the dystopian future.
So…we're good, right?
Not in my friend's mind. And by this past week, he'd had enough. So what was his reason for giving up on this series, and why am I blogging about it? Here's what he said:
Does it so excite you that you wish you could jump through your TV and join their crew? Does it make you feel the way you felt when you watched the other series? To me, that's the critical question because, as I said, I think at core of every Trek fan is the desire to actually enter that world because we love the camaraderie and the people and the future it represents, which is so much better than the mundane world and time we live in.
I didn't have an answer for that.
My friend was right. For nearly my entire life, my not-so-secret dream was to serve on the U.S.S. Enterprise under Captain James T. Kirk (though NOT as a security officer—I'd be in sciences!). Later, I'd be happy to join Picard's crew…or Sisko's…or even Janeway's. Heck, even Jonathan Archer's crew seemed like a decent bunch of folks (although by then, the idea of having a holodeck kinda spoiled me out of wanting to serve on the NX-01).
However, the point is that Star Trek used to make us dream of being out there with those gallant crews because the future was hopeful, the Starfleet officers were noble and friendly, and heck, even Quark and Odo were just old softies at heart. Even during the height of the Dominion War, I believed in what the Federation was fighting for and would gladly have served in Starfleet.
Now…I'm not quite as convinced.
I mean, yeah, I'm rooting for the crew of Discovery to save the galaxy, put right what once went wrong, and restore the Federation to a flag full of stars while making Starfleet great again. But after talking with my friend, I realized something about myself that is possibly a little embarrassing to say: I would have stayed on Earth.
When the Discovery bridge crew was sitting under that big tree at what used to be Starfleet Academy, I personally wouldn't have wanted to go back into space with the Discovery. I'd totally rather have stayed on Earth—safe, peaceful, and self-sufficient. Does that make me a bad person? After all, here in 2020, I have never been an America-first/screw-the-rest-of-the-world isolationist. I believe in reaching out to help and work with our neighbors around the globe, stand up against the dictators and the bullies. I've always had hope for a better world going forward….building a future that could look like the one Gene Roddenberry envisioned.
And yet, I have no desire to be on board the U.S.S. Discovery. None. And it's not just because the interior of the ship looks cold and sterile and colorless…although I can't say that isn't a factor at all.
Maybe it's the dysfunction of some of the crew. After all, as I said, Michael Burnham just doesn't inspire me. In fact, she kinda scares the crap out of me…especially if I were serving on her ship. She reminds me of the day-trader on Wall Street or the gambler in Las Vegas who has a streak of really good luck and is suddenly cash-rich. But luck doesn't last forever.
Now frankly, I love Saru as a captain (not longer "acting"). Doug Jones brings a maturity and wisdom to the role, and Saru inspires me. But tapping Michael Burnham for his Number One is totally stunt-casting. It'd be like choosing Tom Hamks as a VP running mate. Everybody loves Tom Hanks…and everyone loves Michael, too (for some strange reason).
On the other hand, who else on the ship could realistically serve as first officer? Does Saru really have another realistic option other than Burnham? Think about it.
In TOS, if Spock weren't there, Scotty would have made a fine first officer…or even Sulu possibly. Picard would be fine having Data as first officer…or Geordi or Worf. Sisko would have easily gone with O'Brien or Dax if Kira weren't around. Janeway probably would have promoted Tuvok had Chakoy not been there…and possibly B'Elanna. Archer had Trip or even Malcolm waiting in the wings. (I just noticed a distinct lack of women on that list…somewhat shameful!)
But on Discovery, if Michael had said no, who's left? Stamets? Maybe, but he wasn't really trained by Starfleet. He was researching mushroom mechanics when he and his partner were co-opted for Starfleet's war against the Klingons. Tilly? Hell-to-the-no! She only just got a promotion to ensign. Most of the other bridge officers are also either lieutenants or ensigns, and they haven't really done much to stand out yet other than being good at their jobs. Jett Reno? As acerbic and sarcastic first officers go, she'd be perfect, but I doubt she'd want it. Georgiou? Technically, she's a "commander" (why not a captain?—wasn't the real Georgiou already a captain and Starfleet believed her to be the same person…I never did figure all that out!). But giving Georgiou the Number One spot would be the equivalent of Saru drinking a mug of hot, steaming hemlock…which is probably one of the many ways that the former Mirror-Empress would have offed the captain in order to move up to the top spot.
That leaves only one viable officer to promote to XO, and I think you know who it is. Linus, of course.
No, I'm kidding!!!!
It's Commander Nhan, the Barzan science officer who transferred from the Enterprise. She's tough, competent, a good problem-solver, and level-headed. Why Saru didn't ask her after Michael's "cowboy diplomacy" stunt boggles my mind.
Of course, it's the writers who make the decisions, and this season they've decided that the main plot is figuring out the mystery of the Burn, fixing it, and bringing back the Federation. And the main character storyline will be Michael "finding herself" after becoming Michael 2.0 (the rogue/maverick/adventurer) and eventually becoming a Better Burnham(TM) who amalgamates the best of Michael 1.0 and 2.0. Whoopeeee.
But for me, I really don't dream of being on ship where the XO is a loose cannon (and the captain would choose her over a more trustworthy option), where there's a psychopathic "Dr. Smith" running around unchecked, there's a cynical chief engineer making snarky and disrespectful comments at anyone who actually does anything that looks like actual work, there's only one guy on the entire ship who can make the magic mushroom drive work (and if he dies you're really lost in space!), and the whole galaxy just kinda sucks.
Essentially, Star Trek: Discovery is now the embodiment of what the year 2020 has been so far…just as a weekly space show. However, I really want to escape from 2020, just as viewers of TOS wanted to escape from the turbulent 1960s and racism and war and a host of other controversies. Sure, the U.S.S. Enterprise ran into these problems (or metaphors of them) from time to time, but the "default" setting of TOS was peace and nobility and a brighter future.
But Discovery's "default" setting is dystopia. Whether it was the dark first season war with the Klingons, the nefarious Section 31 releasing Skynet/Control upon the Federation in season two, or season three's galaxy-gone-to-hell-in-a-handbasket world of twelve hundred years from now. Any way you slice it, I'd much rather be here than there.
And that's not what Star Trek used to be for me…or for most of us, I'd imagine. So perhaps that's the one problem that Discovery will not be able to fix.