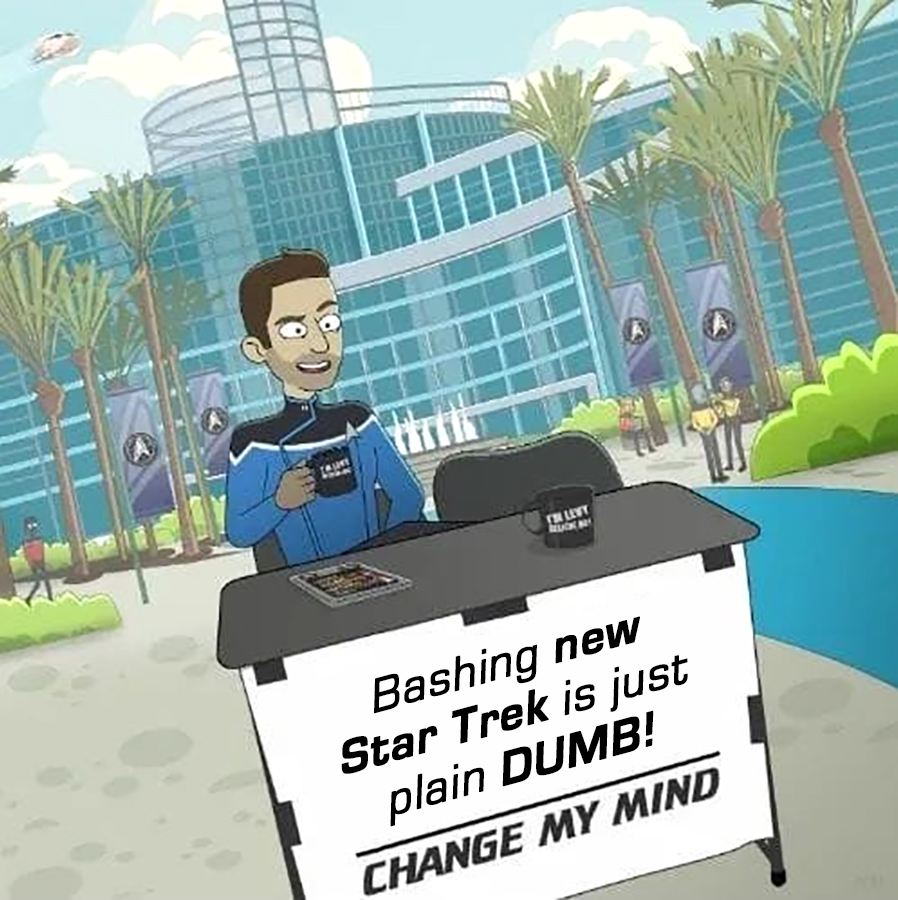 "Tellarites do not argue for reasons. They simply argue."
I thought about that Sarek quote from the TOS episode "Journey to Babel" as I pondered what I like to call TREKKIE GRIEVANCE SYNDROME. Those who suffer from TGS (or make the rest of us have to suffer THEM having it) say things like:
Star Trek is dead! CBS/Alex Kurtzman killed it!
The crap that CBS is putting out is NOT Star Trek!
I'd rather there be NO Star Trek than what's on Paramount+!
Alex Kurtzman/CBS/JJ Abrams/Bad Robot doesn't care about us longtime fans; they just want to destroy real Star Trek and replace it with Star Wars!
Anyone who likes these new shows is living in denial and not a true fan!
The ratings/viewership for Star Trek is way down, which is why Alex Kurtzman was/is about to be/has been/is being fired!
We fans have been loyal to Star Trek through these many decades, and we deserve better than this drivel they have the gall to make us pay for!
It's that last item that led me to dub this Trekkie GRIEVANCE, as the fans complaining seem to take it quite personally that new Star Trek isn't living up to their expectations. Fan "deserve" better! And maybe we do—but I gotta say, some of us are not acting very deserving!!!
Y'see, there's a difference between critiquing, criticizing, and just plain bashing. Critiquing is what I do in many of my blog review editorials. There are things I don't personally like in some Trek series and certain episodes, and so I analyze why something isn't working—whether it's STAR TREK: DISCOVERY's storytelling pace being too fast and not giving the characters a chance to breathe and develop or PICARD's plot dealing with the suicide of Jean-Luc's mother not feeling particularly compelling to me. I critique in a mature, measured way…nothing wrong with that.
I also criticize. Discovery's new Klingon make-up was a total misfire, and even the show's creators realized it by season two. The last two episodes of STAR TREK: PICARD's first season were a rushed mess with a Federation fleet made up forty of the same class of starship and Romulan bad guys who would have twirled their mustaches with an evil cackle if they actually had mustaches to twirl. Some creative choices are atrocious enough that you don't need to "analyze" in a mature and measured way. If there's something you don't like, you can certainly gripe about it. That's fine, too. Fans have been doing that since TOS was first airing in the 1960s.
But there's a difference between griping/criticizing and outright bashing. Bashing looks like this…
Continue reading

"5 reasons why TREKKIE GRIEVANCE is just plain DUMB! (editorial)"