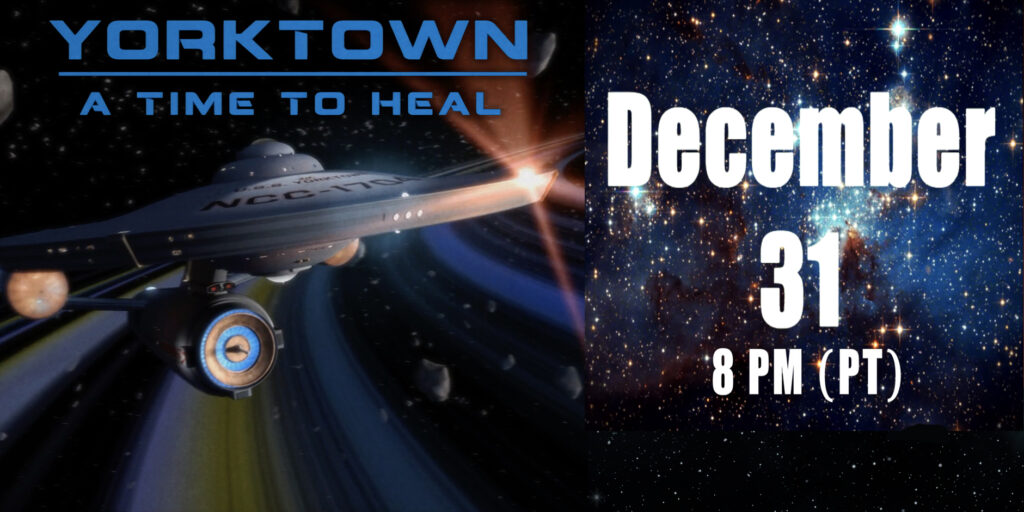 Fans had been expecting a special Christmas gift from JOHN ATKIN and STAN WOO, the show-runners behind the long-awaited YORKTOWN: A TIME TO HEAL. A fan production that began filming way back in 1985 and featuring GEORGE TAKEI as Sulu and JAMES SHIGETA as Admiral Nogura, Yorktown spent two decades on hold before being started up again in 2010 when John joined the project to help Stan complete the film.
Another ten years have passed since then, with scores of filmmakers from across our fan film community pitching in to help shoot scenes, build sets and props, lend uniforms, create visual FX, and a ton of other tasks. (You can read the entire behind-the-scenes history here.) Yorktown has continued on a steady path of progress over that time, and a trailer from July promised a release date of December 25…
Throughout the day, in addition to Christmas and holiday wishes, I've been texted and IM'd and e-mailed by a whole bunch of people all asking me a variant of the same question: "Has Yorktown been released yet?" I answered each one with "Not yet, as far as I know."
Finally, after many hours of this, I received word from John that they weren't gonna make their announced deadline because of sound issues. A few minutes later, he issued the following public statement:
Hi everyone… Unfortunately, I have a bit of bad news tonight. The final edit of Yorktown is finished and looks wonderful, but we haven't fully completed the sound design. We want the sound to be the best it can be before we post it, so we are going to push the release date back 6 days to December 31 (New Years Eve) at 8:00pm (Pacific Time).
And then he posted this shot video snippet for a quick chuckle…
So fingers crossed for next Thursday, folks!