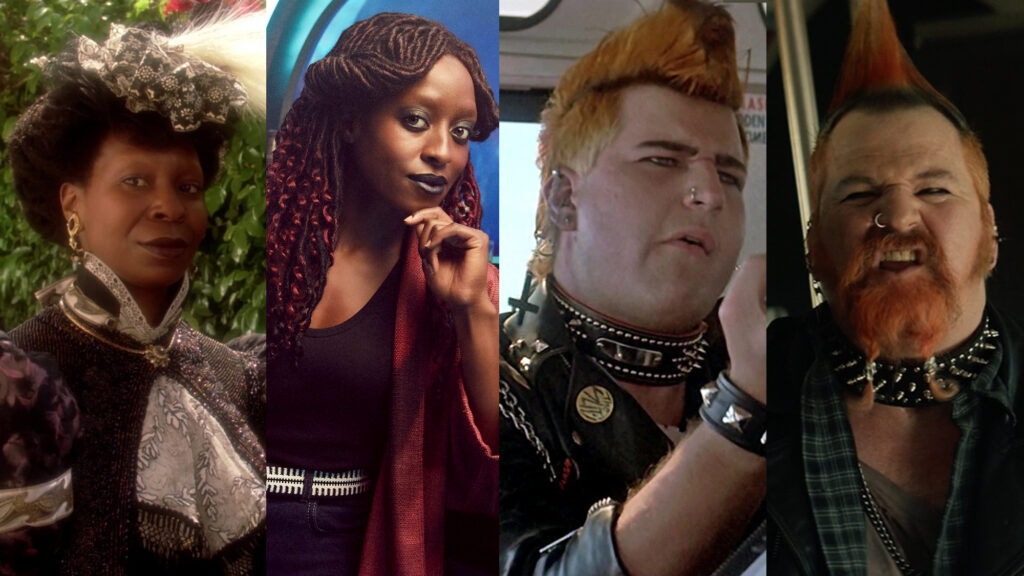 Not since Khan recognized Chekov in Star Trek II, have Trekkers been so up-in-arms about an apparent Star Trek inconsistency! Back in 1982, fans demanded to know how Khan Noonien Singh knew who Chekov was because "Space Seed" aired during the first season of TOS and Chekov didn't join the crew until the second season! It got so bad that WALTER KOENIG created a story that has been told to fans at conventions millions (thousands!) THOUSANDS of times…okay, maybe hundreds of times.
Anyway, that was 1982. It's now 40(!!!) years later, and fans have a new controversy to passionately argue about—and it goes all the way back to 1893! Yes, I'm talking about the fourth episode of STAR TREK: PICARD's second season, "The Watcher." In my editorial review from last week—where I identified all the easter eggs I could find—I mentioned the little "oopsie" where Guinan of 2024 doesn't recognize Picard, even though she had a pretty significant interaction with him in San Francisco 131 years earlier in the TNG episode "Time's Arrow, Part II." I decided to forgive the little "oopsie" because the rest of the episode was so darned awesome and consistent with tons of Trek canon!
However, on Facebook, many fans chose not to forgive me! In comment after comment—some nice, some not so nice—I was informed about this article in which co-showrunner for Picard, TERRY MATALAS, explained that the "oopsie" wasn't a mistake at all but done quite on purpose…
This Guinan wouldn't remember Picard because in this alternate timeline, the TNG episode "Time's Arrow" never happened. Because there was no Federation, those events did not play out the same. No previous relationship exists. However, she still was likely traveling to Earth and, as we know, she hung around a bit. So this Guinan is different. But she, of course, can sense something is off. She's going through a kind of time-sickness thanks to Q's meddling with the timeline.
Of course, Facebook is nothing if not immediate. No sooner had I been "schooled" by multiple Facebook fans than other fans began defending me (or simply attacking the original "schoolers" or the show itself) by pointing to the scene on the bus with the punk rocker. Explain that!
Explain what? Well, KIRK THATCHER reprised his brief role from Star Trek IV: The Voyage Home with the following "sequel" scene…
At the end, the rocker humbly apologizes and turns down the music, rubbing his spiked collar as if remembering the last time this happened on a bus up north in San Francisco when he was given a Vulcan nerve pinch by Spock.
Of course, if the Picard of the Confederation never went back in time to 1893 to meet young Guinan, then it stands to reason that Kirk and Spock never went back to 1986 to find two whales to bring back to the future. And even if Kirk did go back, the xenophobic Federation would certainly not have allowed a Vulcan to accompany the team. Heck, Spock probably wouldn't even exist in the altered timeline (a human mating with a non-human would be abhorrent!).
So why was the punk rocker rubbing his neck with worry, hmmm…?
In another article on the Trekmovie website, Terry Matalas admits that this was, indeed, a bit of unexplained discontinuity, and he tried to explain it…
Now technically, Star Trek IV wouldn't have happened in this alternate timeline, but maybe SOME part of him remembers his encounter with Spock in the Prime Timeline.
Ummmm…yeah-but-no. Fans weren't buying it. If Guinan with her timey-whimey sixth-senses didn't get some "vibe" off of Picard, why would a random human on the bus feel anything?
Facebook fans faced off with a fury that made the Miller Lite "tastes great vs. less filling" wars of the 1970s-80s look like pre-school T-ball. (And right now, most of my non-U.S. readers don't understand any of what I just said!)
And so the problem remained; lots of the people were mean, and most of them were miserable, even the ones with digital watches. And then, one day after Thursday, nearly 24 hours after after my blog had been posted, one Facebooker, sitting on his own in front of a computer in his bedroom or office or a small cafe, suddenly realized what it was that had been going wrong all this time, and he finally knew how the Star Trek fan world could once again be made a good and happy place. This time it was right, it would work…at least for this temporary fan controversy.
I wish I could remember who it was who suggested this head-canon adjustment so I could credit him (not even sure if it was a him, her, or they). Unfortunately, I posted the blog link on so many Facebook groups and there were so many arguments that I can't seem to find it. So if you're the person who suggested it, please identify yourself in the comments of this blog.
So what's the answer, you ask?
Well, Star Trek IV most likely DID happen in the alternate Confederation timeline…or at least a version of it. After all, the alien Probe would still have come to earth in the late 23rd century, since they put those humpback whales here hundreds of thousands or even millions of years ago to monitor things. And I doubt the Confederation would have had any technology to fight or disable the probe. Their only solution—like in the Prime Timeline—would have been going back in time to get some humpback whales to go tell this probe what to do with itself.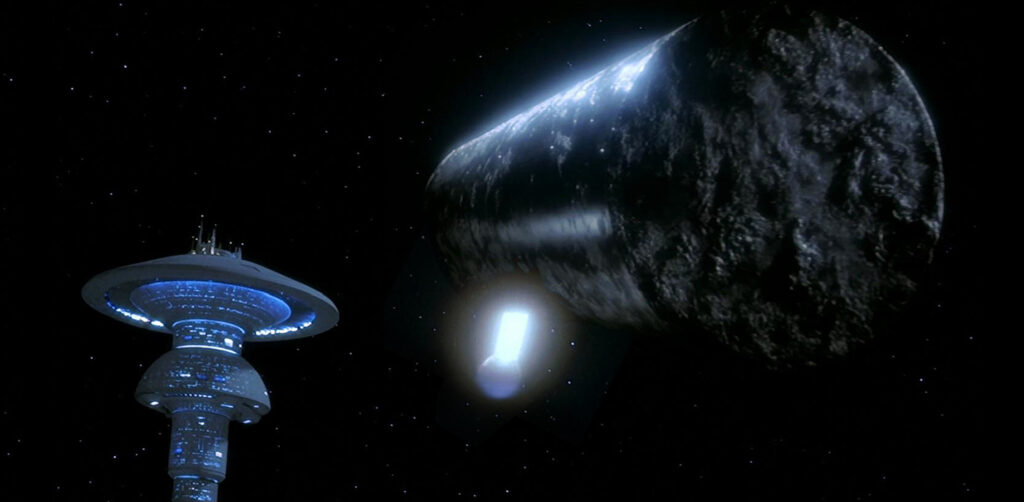 Let's assume it was Kirk and the Enterprise that made the trip. Time travel was still risky (especially without a Vulcan), which is why the Confederation didn't do it often. But Kirk and crew manage to successfully get back to San Francisco, and whether alone or with a anding party, General James Kirk finds himself on that same bus with that same Punk Rocker.
Now, we've established that the alternate Confederation versions of our heroes aren't quite as—shall we say—kind and gentle as those we know and love. So what do you think happened when Confederation General Kirk encountered the Punk Rocker and he gave Kirk the middle finger? No, really, what do you think happened?
Y'see, this Facebook fan whose name I don't remember figured it had to be something pretty violent (although not enough to get Kirk arrested for assault). Or maybe Kirk ordered Sulu or one of his security men to do it. My guess is that the move was some kind of choke hold, rendering the punk unconscious. This would explain him rubbing his neck from the memory of the encounter rather than simply grabbing his shoulder of something. Y'see, a Vulcan neck pinch isn't that traumatic. Some guy (or gal) with pointed ears puts their hand on your shoulder and neck, then you wake up a few minutes later…maybe with a little headache.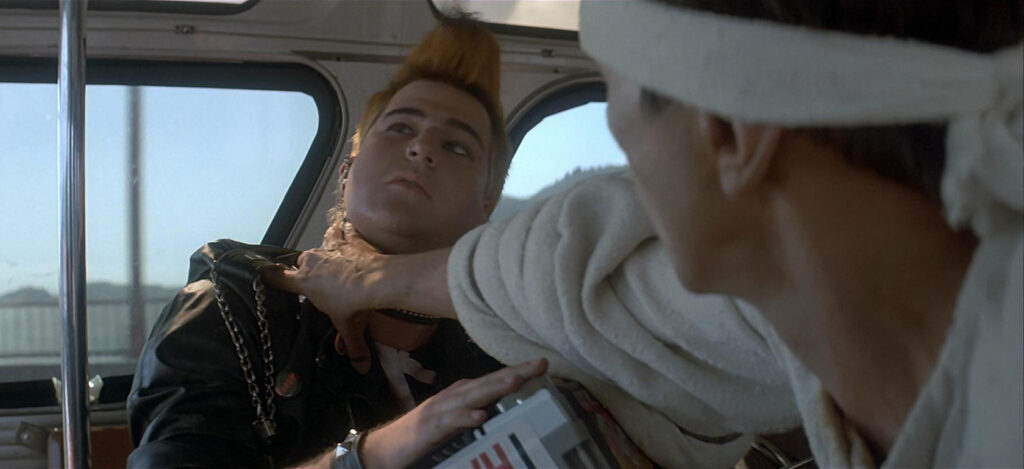 A choke hold is a much slower and more painful (and probably scarier) way to lose consciousness. It would probably leave a bit of emotional trauma, even three decades later, and even for a tough-guy punk. And hey, maybe it was something even more painful and traumatizing…like pulling back on the rocker's leather collar until, gasping for air, he passed out.
For me, this explanation makes MUCH more sense than Terry's "…maybe SOME part of him remembers his encounter with Spock in the Prime Timeline." Now granted, all of this conjecture is about as meaningful or as "official" as Walter Koenig's "Chekov was in the bathroom" story. When all is said and ddone, it's just us fans being fans…and trying to explain away the "oopsies" in Star Trek is what we do.