AND FOR MY FINAL TRICK: SPOILERS!
As I mentioned in last week's blog review, the final two episodes of STAR TREK: PICARD's first season left me feeling quite disappointed and ended things on a distinctly bad note for me (and many others).
As season two drew to a close, a strong series of early episodes stumbled as the show approached the finish line, with episodes 7 and 9 (as opposed to 7 of 9) significantly missing the mark for me. So going into the final, 10th episode, "Farewell," I was ready for either a second-in-a-row disappointment or else a triumphant salvation. What I got was…
…a little bit of each.
On the good side, there were several powerfully emotional moments, elegantly acted with touching music, that left me tearing up. There were also some fun easter eggs thrown in for the hard-core Trekkers to cheer (or complain) about. And of course, everyone got their happy ending…except Adam Soong, who got a more ominous ending (but perhaps happy for him).
The scene with Taillinn finally talking face-to-face with Renée was beautiful. The exciting sequence trying to stop Soong's drones and get Renée safely onto the rocket was textbook action and suspense (even if it was super-obvious that the Renée who came out of the ready room was really Taillinn in disguise). And the scene with Picard and Q was masterful, even though it left way more questions frustratingly unanswered (more on that later). But seeing these two accomplished thespians (SIR PATRICK STEWART and JOHN DE LANCIE) playing off each other as Q prepares for his final farewell was simply a treasure and pleasure to watch…campy though it was, I didn't care.
On the bad side, the episode was a bit of a hurried mess. Having let every storyline slowly percolate for most of the season, the final episode needed to…
Wrap up the Renée Picard storyline in some exciting way;
Include the sacrifice of at least one character (more on that shortly);
Get Raffi and Seven back together;
Resolve the Rios/Teresa romance plotline;
Give Kore a final confrontation with her "dad";
Leave Soong defeated;
Wrap up the storyline with Q and answer any lingering questions;
Get the team back to the future to finally pay off the scene at the end of episode one that got them there;
Reveal the masked Borg Queen as Agnes Jurati;
Establish that Elnor is alive;
Include a scene with Whoopi Goldberg to explain why she didn't clue-in Picard way back in episode one about what was to come ;
Get Picard and Laris together;
Leave an opening for a plot element that could continue into next season.
That would have been a lot to squeeze into THREE episodes, let alone just one! As such, all of Soong's evil plans are foiled in the first 17 minutes of a 45-minute episode (not counting recap and closing credits). The final scenes in space last a total of 7 and a half minutes.
After the relatively even pacing of the first half of the season, these final two episodes and especially this last one felt very rushed and didn't allow much time for, well, much of anything. For example, Kore's big confrontation with Soong lasts all of twenty seconds. It was satisfying to see her wipe all of daddy's files (which were, of course, never backed up onto external hard drives, unplugged, and stored in a closet somewhere). But really, to paraphrase V'Ger, "Is there nothing more?" Apparently not…no time!
And then there was the ugly side. Nothing in this episode was quite as bad or ridiculous as the giant metallic "space kraken" that tried to enter our universe and destroy all organic life at the end of season one. But this episode (and season) did suffer a bit of tail-wagging-the-dog syndrome. And what this means for a script is you get very convoluted and not entirely believable explanations for things in order to drive the story.
Here are a few examples. First, in order to have the "big reveal" that the Borg Queen was actually Agnes, the Queen appears in episode one with a mask on…for no apparent reason (other than the big reveal). Indeed, NOT having the mask on would have done more to make Picard trust her than playing Non, je ne regrette rien (which translates to "No, I do not regret anything"). Wouldn't it be better to have shown her face and say, "Jean-Luc, I need you to trust me. I am Agnes Jurati, and there is an immediate danger that we must come together to deal with or else billions will die." Instead, she opts for the unidentified-Borg-Queen-wearing-an-ominous-black-mask approach while playing French music. Wouldn't have been my first choice, folks.
Another example is Raffi breaking into Soong's state-of-the-art, tamper-proof security measures with "tools"—pliers, scissors, whatever Seven and Rios could get their hands on (like giving the Professor on Gilligan's Island some bamboo and a coconut and watching him build a radio!).
Or perhaps the worst example: trying to have older Guinan explain why she didn't tell Picard anything about their meeting in 2024. Of course, the reason is that the story arc needed for Picard to be clueless. But when the tail (or in this case, the tale) wags the dog, you get clumsy "explanations" like this…
Okay, let's take a little closer look at the good, the bad, and the ugly going character by character…
WAS THE TREK REALLY NECESSARY FOR PICARD?
Typically, the hero has to get the girl (or boy or gender non-specific individual) in order to cement the happy ending. And Picard ultimately returns to Laris, synthetic heart in hand (not literally!), and gives her those French poodle-dog eyes that just say, "Aw, shucks, little lady, ah've been such a heel and y'all are so swell. Can ya see it in yer heart ta take me back?" (He'd probably use a British—not a cowboy—accent, though.) And of course, she melts. So…yay. Picard has gotten over his fear of commitment. What a fine, healing journey this has been for him!
But strangely, I don't feel as though Picard has achieved anything all that significant this season. And while I usually avoid quoting other reviewers, the always-insightful LACY BAUGHER from Den of Geek put it so perfectly that I have to relay what she said in exactly her words…
Part of the problem is the idea that whatever dark memories were banging around Picard's head were so paralyzing that they crippled his life in some significant way in no way reflect his actual arc as a character. Did they keep him from being a leader? Making difficult choices or empathetic decisions? Forming real and lasting emotional bonds with others? Sympathizing with former enemies? Well, no, because he's done all these things before. We've seen him. There's a whole show about it.
Basically, whether this season works for you or not is largely going to hinge on whether you think this extended sojourn into Picard's childhood trauma tells us anything particularly new about the character or his story. And I'm not sure that I think it does. (I also truly cannot believe they went the entire season without ever mentioning the dead brother??) Mostly because, other than apparently now being willing to go for it, romantically speaking, with Laris, there's not a lot of evidence that this physical and metaphorical journey truly changed him in any significant way. Do you feel like this Picard is a substantially different man than the one we saw in "The Star Gazer"? I don't think that I do, and that makes me truly question what in the world all this was for.
I really can't top that, folks, and it's exactly how I feel, as well. So thank you, Lacy, and I shall move on to the next character…
WELL, SOMEONE HAD TO DIE, RIGHT…?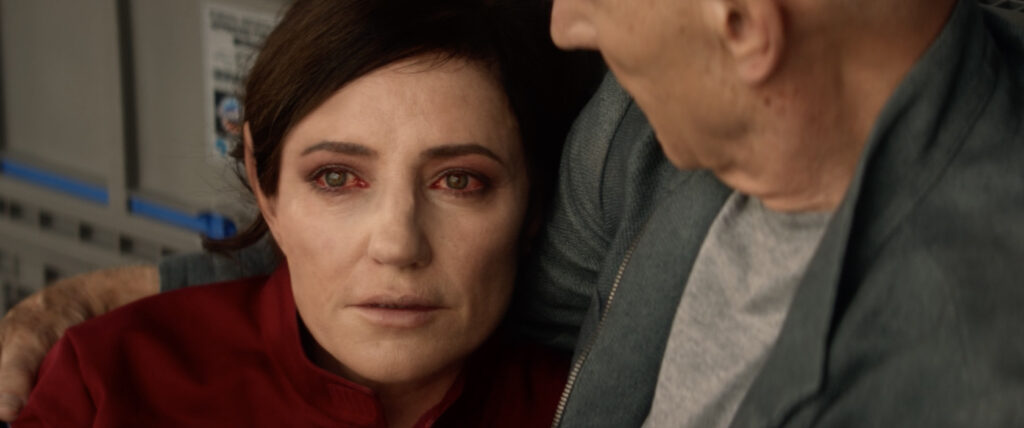 It's kind of an accepted rule in script writing: in order for the heroes to "earn" their victory, someone or something noble must be sacrificed (usually by their own choice). Decker and Ilia, Spock, David Marcus, Sybok, James Kirk, Data…all of them willingly gave their lives to save another. So did two different Enterprises…although they really didn't get a say in the decision. But the concept of the noble sacrifice—Star Wars, Avengers, pick a franchise!—has become pretty standard. (Granted, this hasn't always been a "rule" in Hollywood. No one except the wicked witches died in The Wizard of Oz, for example.)
In Picard season one, the loss was Data dying…again. And in season two, Tailinn drew the short straw. Why her? Probably because she was the least important, and based on the "rules," they had to sacrifice someone. But since the death kinda seemed unnecessary and obligatory, it also felt empty…simply an excuse for Taillinn to die in Picard's arms. And since those two characters never really developed a chemistry (unlike Rios and Teresa…imagine having watched her die in his arms; that have been heartbreaking!) Taillinn's death scene felt flat and uninspiring to me.
What's worse, now we'll never learn why Taillinn looked exactly like Laris! Yeah, they're both Romulans, but is Taillinn a distant ancestor? This mystery was built up early and then kind of abandoned due to…lack of time? Lack of creativity? Lack of desire to pay it off for the viewers? Whatever the reason, Taillinn is dead, long live Laris. Whatever.
GONE TOO SOONG?
When Adam Soong was first introduced, the vibe we got (intentionally) was of a determined scientist and loving father, a bit fast and loose with the rules but only because he wanted his daughter to have a normal life.
When we last see Adam Soong, he is a cold-blooded murderer, hasn't even tried to look for his prodigal daughter, and apparently has access to transporter technology—since he was able to get from rural France to the remote launch location in southern California in what seemed to be a matter of minutes. And if he does have transporters, then those timeline butterflies are now dancing the Macarena! If he doesn't…then major plot hole. Either way, no bueno.
But perhaps the biggest plot hole of them all is why, if Soong had access to a neutrotoxin, why he didn't use it on Picard at the gala ball? Why rely on something messy and uncertain like try to run him over? The only answer is that some camera might have filmed the handshake just before Picard collapses, then there's an autopsy, and later on, Soong is taken in for questioning (although I'm certain he can afford the best lawyers and the most bribable judges). And of course, hit and run is also a felony, and Soong's car had license plates. Or maybe Soong got the neurotoxin from Queen Agnes? But if so, why? They were launching a shooting attack on the La Sirena with Drone Team 6. Why waste time with handshakes when bullets are so much more efficient and prolific?
While BRENT SPINER played Soong as a great "evil villain,"—complete with smirks and taunting speeches to his victims—that's ultimately all he was in the end…which was very disappointing. Such a great actor shouldn't be wasted on such a one-note character. And the brief fan service at the end where Soong finds the "Project Khan" from 1996 just seemed odd. First of all, the Eugenics Program produced 70 or 80 supermen. Why choose the name of Khan? Khan simply means "ruler." Why not call it "Project Emperor" or "Project Caesar"? And if STRANGE NEW WORLDS is to be believed, the Eugenics Wars didn't happen on Earth in the 1990s but rather shortly after 2024.
Anyway, enough about daddy. Let's move on to daughter…
THE TRAVELERS' UMBRELLA…
Okay, Wesley Crusher is a Time Lord. Cool beans. Actually, it is pretty cool if you're a Trekkie. Wesley's disappearance at the conclusion of the TNG episode "Journey's End" was always one of Trek's little unsolved mysteries…like whatever happened to Ben Sisko (who, apparently, also became one with the universe). Of course, another mystery is why Q gave Kore the permanent cure. Did he feel sorry for her? Hey, gods have favorites, right? Oh, and the mystery of why Kore looks exactly like Data's android creations Dahj and Soji…also unsolved, it seems. (Actually, the answer is so that ISA BRIONES wouldn't be completely tossed aside after one season like poor EVAN EVAGORA, who plays Elnor.)
Anyway, back to Wes. What was cool was revealing, at long last (this mystery dates back to 1968, folks!) who sends the supervisors all over the galaxy and figures out ways to take them from their home planets thousands of years before giving them assignments. It also explains how the supervisors know which crises to avert and which to let happen. The Travelers perceive reality in totally different ways AND they can go anywhere and anywhen. All of time and space…
Anyway, Kore is now gonna be a supervisor. Maybe Paramount+ will give her and WIL WHEATON a spinoff series or something. Wil's already on the payroll, after all, doing the weekly The Ready Room. Some on Facebook have complained that older Wesley is essentially the same as older Wil Wheaton. In other words, he's not really acting. Perhaps, but I like Wil Wheaton, so I'm fine if Wesley has matured into Wil. I no longer feel the need to tell him to "shut up."
THE "BIG" KISS
Back in 1995, Star Trek: Deep Space Nine made fans gasp (and/or cheer) and shocked the world by airing one of television's first romantic lesbian kisses—the first one having happened four years earlier on L.A. Law. And it was Star Trek's first-ever same-sex kiss, creating quite a stir!
Skip ahead 27 years to Star Trek's SECOND-ever romantic woman-to-woman kiss (yep, I checked…DISCOVERY has only featured male-to-make same-sex kissing scenes—and only a few of those on the lips). Oddly, the kiss between Seven and Raffi seemed almost anticlimactic. I mean, I'm happy they got things worked out, and I now accept their relationship much more than I did after season one's "oh, by the way, Raffi and Seven are a thing" finale scene of them holding hands. But other than that, I don't feel much. I'm not sure where else the writers could have taken this story, though. Seven is "fixed" (now accepting her Borg-implants), Raffi wants to work on herself a little but still be with Seven, and Elnor is alive again, meaning that Raffi can jettison the angst for now.
Other than that, I got nothin'. Same-sex, schmame-sex…a kiss is a kiss.
LAS MARIPOSAS
Yep, we all knew Rios was gonna stay in the past. That said, rather than living a quiet life trying not to affect the time-stream, he and Dr. Teresa decide to call themselves "The Butterflies" and go off to change the world. Ricardo grows up to heal the oceans with the alien life form that "Auntie" Renée brings back from Europa. So everything we were told earlier about being extra careful in the past is now completely out the window (fuera de la ventana in Spanish).
Of course, you could argue that Rios was always supposed to remain in the past, help Teresa and Ricardo Rodriguez, and be a part of saving the planet…in the same way that Scotty was always supposed to give Dr. Nichols the formula for transparent aluminum, and Kirk was always the source of his own spectacles (which were, apparently, never actually created and therefore exist in an infinite time loop).
Anyway, as with Seven and Raffi, not much to say here other than one, final thing. Rios is the captain of the U.S.S. Stargazer. He's leaving his ship without its captain at what was a very critical moment…assuming they all return to that exact same moment, which they did. In other words, Rios is now the SARAH PALIN of Starfleet. (For those outside of the U.S., Sarah Palin assumed the office of governor of the state of Alaska, unsuccessfully ran on the presidential ticket of JOHN McCAIN in 2008, and after losing that election, remained governor of Alaska until resigning the following summer with more than a year and a half remaining in her term.)
Q AND A
As I said earlier, the scene between Picard and Q was beautiful to watch. But during a season that built up so much mystery around Q, we were left with far more questions than answers. For example…
Once again, why did Q give Kore her "freedom"?
Why was Q, an immortal, losing his powers and his "life"…since immortals, by definition, can't die.
Why was it necessary for Q to "hire" Soong to kill Picard? After all, Queen Agnes was always going to seek out Soong to help get access to the La Sirena, which would lead to the attack on the Chateau followed by Picard's placing the key in the stone in the wall. I mean, I appreciate that Q was trying to help Picard help himself, but if you accept that, then you need to ask why Soong needed to kill Picard.
And for that matter, why did Q need to talk Renée into quitting the mission? Just so the team would be at the gala and the Queen would take over Agnes, I guess. Q works in mysterious ways…
Why was Q going to die alone? Wouldn't other Qs come to see him off or at least study the phenomenon of one of them "dying" (assuming such things seldom, if never, happen)? And didn't Q have a wife and a son?
And finally, how was it that Q had enough energy left to zap them all back to the future and resurrect Elnor but he didn't have enough juice to instantaneously pop into Guinan's bar when she summoned him?
By the way, thank Q for restoring Elnor. I hadn't really thought about it, but since Elnor was transferred by Q to the alternate reality and THEN killed, he should have stayed dead even after the timeline reset. I'd always assumed he'd just snap back to life, but he needed some Q-intervention.
Anyway, if this is the last we see of John de Lancie as Q, I'm satisfied with his swan song…even if many, many questions remain unanswered.
THE BEST KEPT SECRET IN THE GALAXY?
And finally, Queen Agnes of Borg…or as another reviewer called her: Borgati. She went forth to build a kinder, gentler Collective…or as I call them: The Helpful Honda People of Borg. And I'm fine with that. Obviously, they end up being a spin-off of the big bad Borg (which still exist), operating in the Alpha Quadrant for 250 years or so before the original Borg even get here.
But how come no one has ever heard of them? Huh?
I mean, maybe Queen Agnes is keeping a low profile (like the A-Team…"A" for Agnes in this case), but even so, it's hard to hide Borg Drones going planet to planet and ship to ship helping out and offering to Borgify the sick and dying. And their space vessel isn't exactly subtle! In other words, when the Borg approach the U.S.S. Stargazer, somebody should have just said, "Oh, cancel red alert. It's the friendly Borg." Man, just typing that sentence feels so ridiculous. These new Borg are gonna take some gettin' used to!
Of course, now these good Borg are the equivalent of the Watchers on the Wall from Game of Thrones—even dressing in black!—waiting for the galactic plot device that will trigger the third and final season to appear againt. Have fun waiting and watching, Borgies. I'm sure you'll get caught up on a LOT of streaming shows!
MY FINAL GRADE FOR SEASON TWO: B+
Others might (and will!) disagree with me, saying my grade is too high or too low. But I feel this was a solid season with a few clunkers in the mix. Had episode 7, 9, or 10 been a bit better, I could have justified an A- grade. But looked at as a whole, B+…which is decent and something to be proud of. I don't think I'd give Discovery more than a B-, and that would be for this latest season.
But I do like Picard—the characters, the acting, the direction, the effects, the production values, and most of all, the music. If you haven't been listening to the mastery of the score for each episode, you should go back and rewatch a few scenes. The music really makes the show!
Anyway, that's all for me for this season, folks. Thanks for reading!