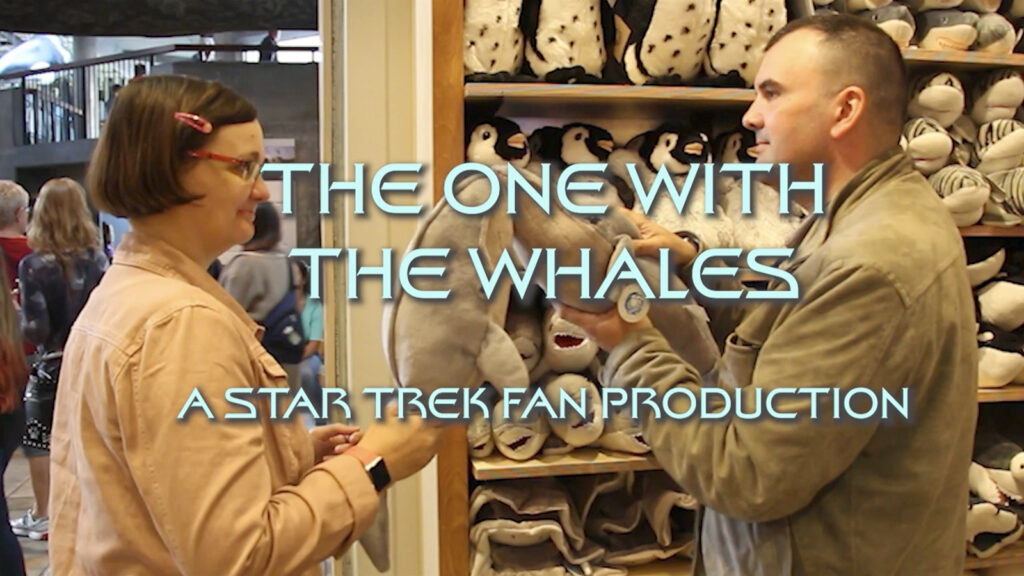 Okay, I totally have a new favorite Star Trek fan film! I mean, I don't like to play favorite, but man, I loved this one!
So why is it my new favorite? Is it the sets? Nope, no sets. The costumes? Not really, most of the scenes don't even have people in costumes. The visual effects? Well, they're nice, but still no.
It's the concept…and execution…and the nostalgia!
STAR TREK IV: THE VOYAGE HOME—the film that most non-Trekkies (and even some Trekkies) refer to as "the one with the whales"—premiered on this date, November 26, back in 1986…36 years ago if you can believe it! And it was such a lovingly-crafted, funny, and adorable film. Like the best of Star Trek, it had a message for us in the present (a not-so-subtle one!) warning us to change our ways. Each member of the "sensational seven" crew got something to do: Kirk went after the girl, Spock got to be smart and logical and then transcend, McCoy got to practice medicine and be snarky, Scotty got to show off his engineering prowess and show everyone how to use a computer (if he'd only had Alexa or Siri!), Sulu got to be a pilot, Chekov and Uhura got to visit the nuclear aircraft carrier Enterprise (really the U.S.S. Ranger, but this is Hollywood)…and at the end, they're all back on a brand new U.S.S. Enterprise, NCC – 1701-A. What's not to like?
Indeed, we LOVED it! Oh, you can complain about leaving Saavik behind on Vulcan, violating the temporal prime directive by giving the world transparent aluminum, or ponder the infinite time loop of Kirk's spectacles. But in the end, this was just a fun movie to watch, and watch it we did! Thanks to the advent of VHS tapes in the late 1980s, some of us watched this film dozens and dozens of times on our VCRs (I'm not naming names, mind you, although one of them had the initials J.L.).
And of course, we know all of those adorable, whacky scenes that took place on the streets of San Francisco (or San Fran, as those who live in California know to call the City by the Bay…none of this "Frisco" dipsh!t). This magnificent city that I've visited so many times—I didn't wear flowers in my hair, but I might have left my heart there once or twice—is the future home to Starfleet Headquarters, and yet, there's never been a major Star Trek fan film shot there.
Until today!
Ladies and gentlemen, thanks to the efforts of NICK COOK, his wife LUCITA FARIA of Dundee, Scotland, and members of the INTREPID fan filmmaking crew, I am oh-so-proud to present to you my new favorite Star Trek fan film: THE ONE WITH THE WHALES (you're gonna love it!)…
Oh, you betcha I interviewed Nick Cook about this one…!
---
JONATHAN – Now, most people won't realize that this fan film was shot several years ago. And the way that I could tell is that your daughter was a wee bairn in the post-credits scene by the bus. But she's now significantly older.
NICK – This was filmed back in July 2016, about a week before the Fiftieth Anniversary Star Trek convention in Las Vegas. And yes, our daughter Sam was almost six at the time; she's just turned twelve this month. Back then, she though it was fun, but now she just finds us a bit embarrassing. She may have a point! But she really was a little trooper when we shot this and went along with it all quite happily.
JONATHAN – So, did you folks travel to San Francisco specifically to make this fan film, or was it more of a case of "Hey, as long as we're here anyway…"?
NICK – We were mulling our vacation options on this particular year and planning around the Las Vegas Star Trek convention. Our friend GEORGE GRACIE, who is a San Francisco-based writer and filmmaker, suggested that we visit before the convention and offered to show us around. George is a great guy, and so we jumped at the chance. It was his idea to shoot a short film while we where there.
JONATHAN – Did anyone else from Scotland travel to San Fran with you and your family?
NICK – No, it was just me, Lucie, and our daughter Sam. George arranged for some of his local creative friends, MARK FARINAS, ERIK BRAA, and RYAN RIDDLE, to help out. BEAU WILLIAMS, who played Artim in STAR TREK: HIDDEN FRONTIER, is a good friend of ours, and we'd arranged to meet up while we were there, so we roped him in too.
JONATHAN – You shot at the exact same locations as LEONARD NIMOY and the Paramount production crew did when they filmed Trek IV. How did you find all these places?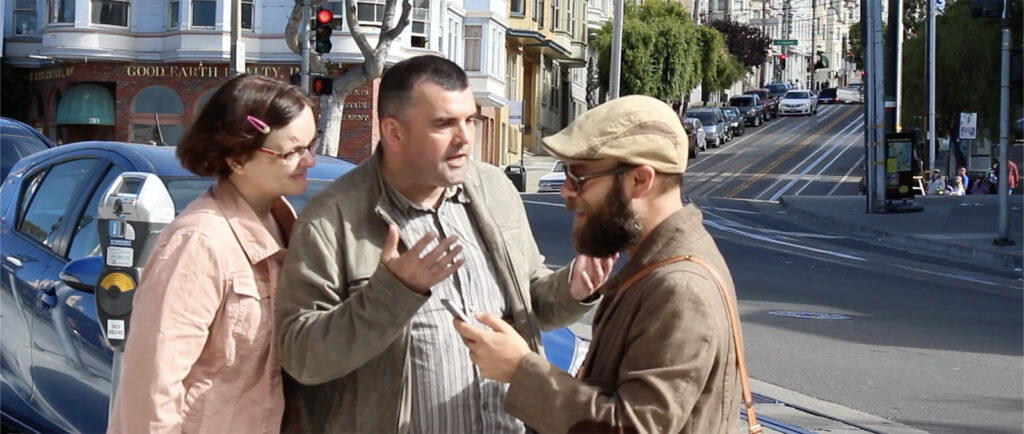 NICK – That was George. He's a fan and a local, and he's done a lot of research over the years. He knew where everything was.
JONATHAN – How long did you spend in San Fran and Alameda shooting all those scenes? (I assume the Monterey trip to the Aquarium was on a different day, as that's a 2-hour drive WITHOUT traffic…and 3 hours if you take the scenic route along Pacific Coast Highway.)
NICK – It's been a while, but if I recall correctly, we shot it in bits and pieces over 2 or 3 days. I think we were in San Francisco a total of five days.
JONATHAN – Did you have to get permission to film at any of these locations, or were you just a bunch of tourists with cameras?
NICK – George took care of all the logistics, but no, we filmed entirely guerrilla style, so we had to get in and out pretty quickly. George directed and also ran camera, so we shot this on his Canon DSLR.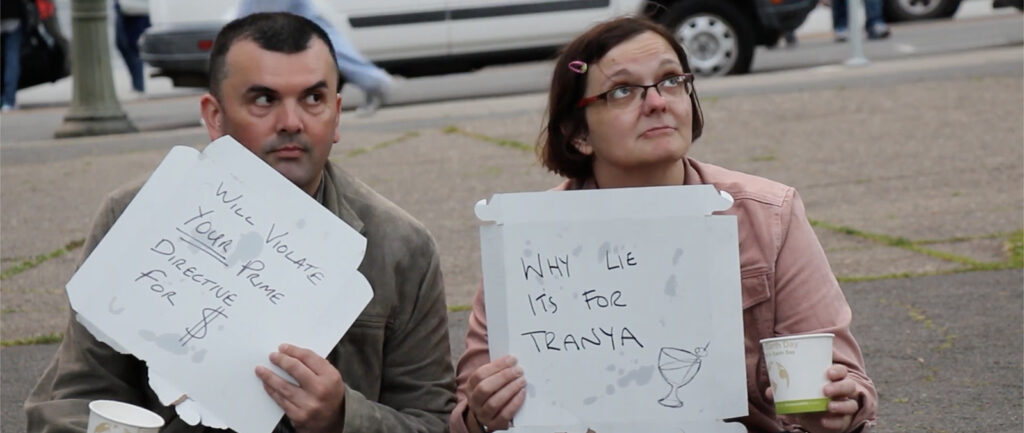 JONATHAN – If you had to quickly get "in and out," as you say, how many takes did you shoot for each scene? Was it one-and-done and hope everything was right the first time, or was there enough of an opportunity to rehearse a little, do a few takes, and get something that you all were happy with?
NICK – I don't recall exactly how many takes we did for each shot, but it wasn't many. It was often hurry up and move on. Because we were winging most of this, we couldn't waste a lot of time. The good thing is, it was pretty dialogue light, so that helped a lot. This was George's story; he conceived it based around the locations and had worked out some simple dialogue for some bits. Others, such as the "nuclear vessels" scene, we just winged it, based on what we remembered from Voyage Home. That scene wasn't super challenging, though it was very windy, because we were just on a corner and chatting.
The "double dumb ass" scene had to be done very differently because, let's face it, we weren't going to get away with jaywalking like Shatner and company, and I certainly didn't want to be hit by a car! But I think what we did worked beautifully, and I love the expression of the guy behind me who just looks at us both like we're nuts while we walk off.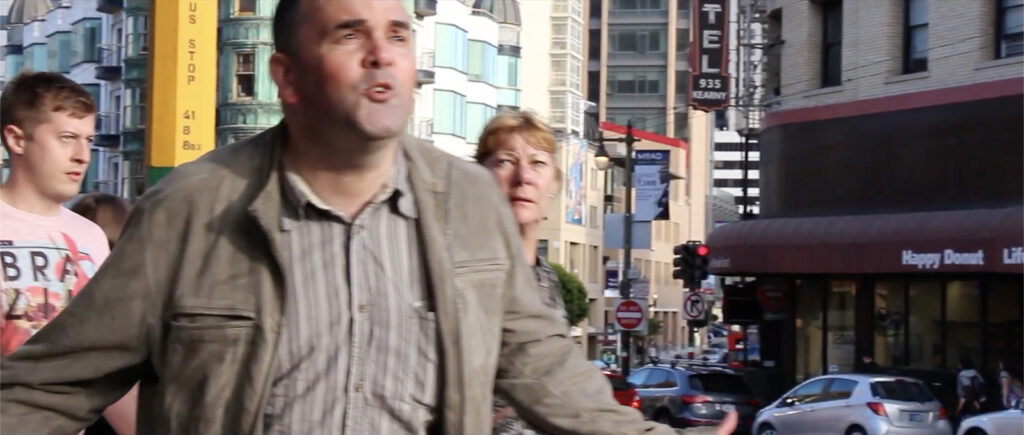 Overall, I don't think we did more than two or three takes on average, though George would know for sure.
JONATHAN – How challenging overall was the production of this short film compared to what you guys usually do back in Scotland?
NICK – It was a very different challenge to our usual. The shoot itself was very quick and very efficient, but also quite hectic because we generally had to get in, shoot a couple talks, and get out. Often, we were just ad-libbing it. The wind and the sound were a major issue as well. Plus, we didn't really have a script, just rough guide, so there's a few lines that are just us ad-libbing bits from Voyage Home as best as we can remember.
The one exception is the final scene on the runabout, which was shot at George's apartment and was very relaxed and scripted. Every production is very different, but it often depends on the director, so it's a bit apples and oranges. Working with George was great, he's super organised and incredibly economical and efficient. We're not always that organised and efficient. We also spend a lot more time and shoot way more angles. George knew what he wanted and was able to get in and get it very quickly. I don't think we spent more than 6 or 7 hours shooting the whole thing. Possibly less.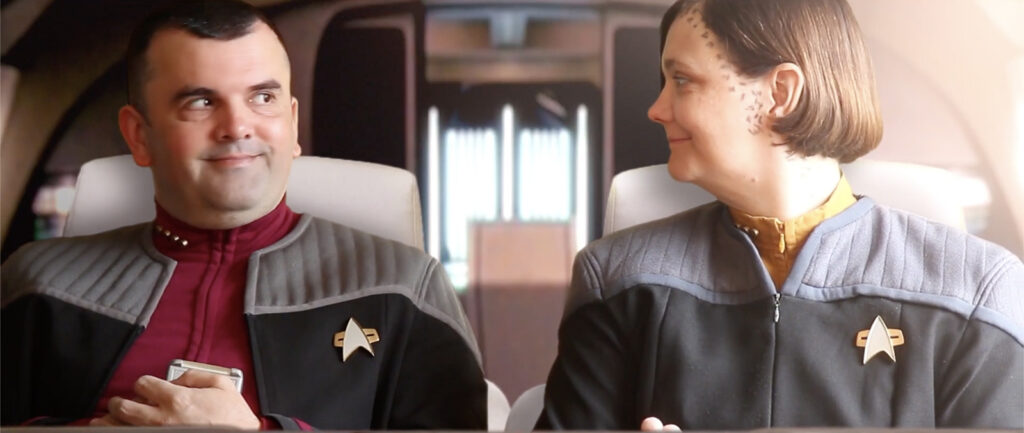 JONATHAN – You mentioned the wind and the sound. Were you and your actors mic'd, or did you dub lines in ADR later on?
NICK – We ADR'd later. We did shoot audio at the time, but it wasn't anything we could have used. If we were doing it now, I probably would have put wireless mics on us, but we were shooting this very much guerrilla style, and we didn't have access to the sort of reliable, cheap wireless kit that we have now. The ADR was certainly one of the delaying factors.
JONATHAN – Speaking of "delaying factors," you shot the footage back in 2016 and released the finished film in 2022. Care to explain what happened?
NICK – We'd originally planned to have this film released within a year or two. George had done a pretty much complete cut minus sound and most of the visual effects within a few months, but then he became busy with other things and wasn't able to work on it.
Eventually, he handed it off to me, I think sometime in 2020. Once I had the footage, I started reassembling the edit in Adobe Premiere. George is a Final Cut user, and I'm a Premiere guy, but importing the Final Cut file is simple enough. We had two visual effects shots at this point: a runabout shot from JEN CARLING and the keyed green screen footage which LEO TIERNEY had very kindly done for us. We knew a lot would depend on the quality of the visual effects to sell it, so I reached out to several people for help. MARTIN LEJEUNE did the signs for the goodwill and the Ceteacean Institute and also the phaser shot. HENRY GIBBENS was a godsend and tackled some of the biggest headaches around the runabout landing, the can crush, the jogger running into the ship, and the Yellow Pages wall.
JONATHAN – I was gonna ask about that Yellow Pages wall! There's no way, even in 2016, that Pac Bell was still advertising Yellow Pages!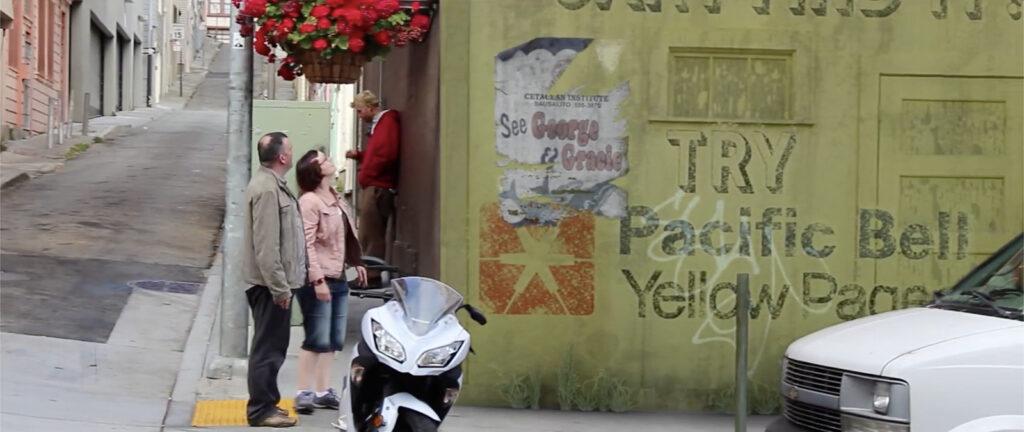 NICK – No, that was all Henry Gibbens. There were a lot of emails bandied back and forth between Henry, George, and me as we tried to get shots we were all happy with. Henry really knocked it out of the park for us, and he was really patient, since we asked him to do many different versions (which I felt really guilty about—sorry Henry).
The actual edit itself really didn't need much work done. I made a few small tweaks in places, but essentially what you see is George's original "rough" edit. I wish my rough cuts were that good!
At one point, George had suggested a shot with the runabout returning to Earth at the end, but we ultimately decided it wasn't necessary. But then SAM COCKINGS asked if we needed anything else for it, and I said, "Well…"
So Sam delivered this fantastic shot, which I promptly slipped into the film's timeline. And immediately, I realised that I was going to have to write more of the final log entry to tie it all together. Oops.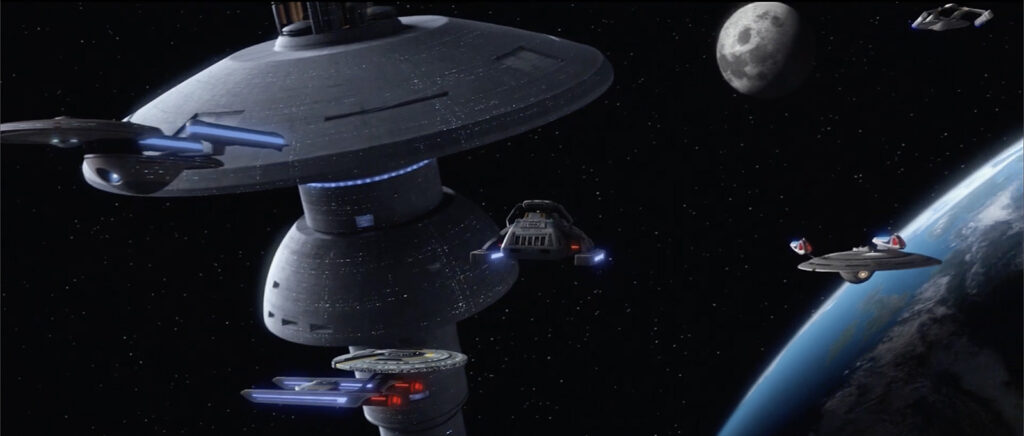 Speaking of that log entry, that was a challenge in itself. George had always envisioned a voice-over, but he left it to me to write. Now, I'm not used to doing parody, so I struggled for months to find the right voice for it. Then, when I thought I had the words, I wasn't sure how to play it. I ended up with a few different takes and kept going away and coming back to it before realising I just needed to play it straight. There were other versions where I camp it up, but they simply didin't work.
Lastly, DYLAN FEENEY-BROWN agreed to do the music and sound, which really tied the whole thing together. And I have to give him credit for sitting at his computer lining up all that dialogue, because it was not an easy job (I know, I tried).
JONATHAN – Speaking of music, did you have to license that punk rock song for this fan film? I noticed the copyright credit at the end.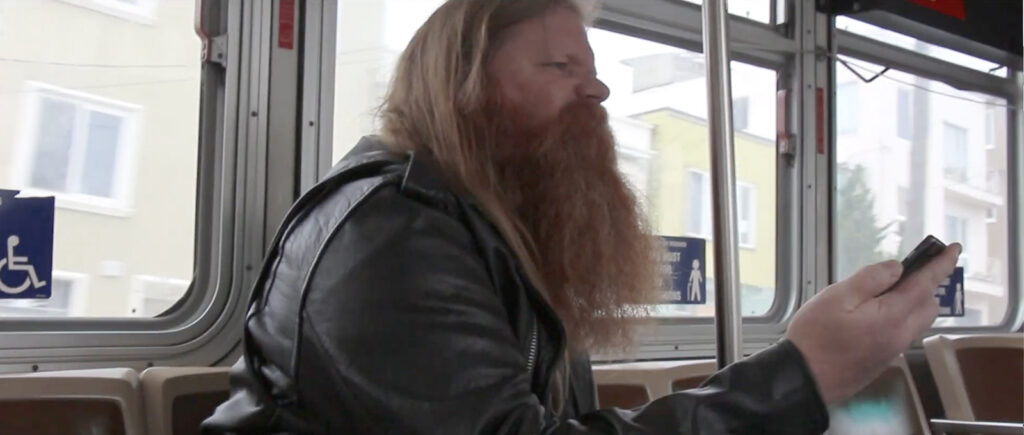 NICK – The music for the punk on the bus scene was "6.18am," which was provided by the band Kryptic Memories. Erik Braa, who played said punk, is one of the band members, so that was a nice parallel with the punk scene in Voyage Home, since that song was also written by the guy playing the punk, KIRK THATCHER.
By the way, did you see that Kirk Thatcher commented on the film on his Twitter account? That was ace!
JONATHAN – That's really cool! I also noticed that the wide exterior shot of the bus coming over the Golden Gate Bridge was shot during COVID…as you can see that the driver and many riders are masked (which wasn't the case back in 2016).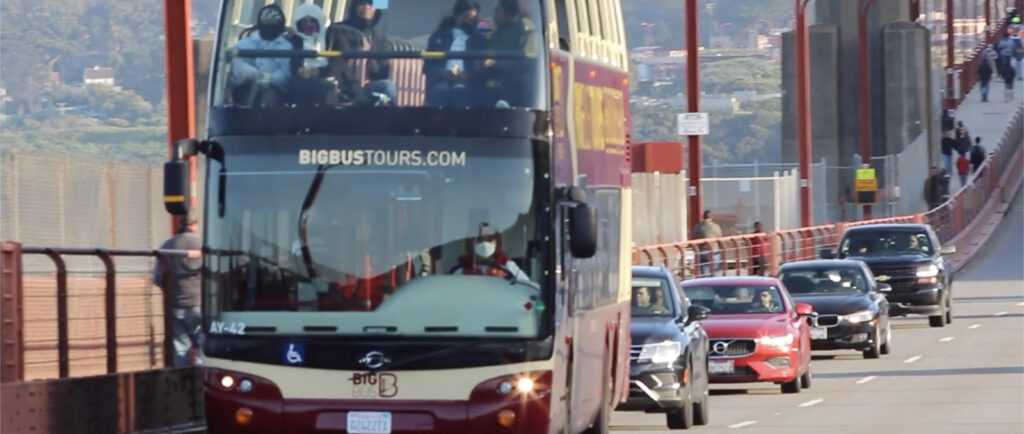 NICK – Good catch. That was a pick-up shot earlier this year, if I recall correctly. George provided the shot for us. It was pretty windy that day when he got the footage, so there was a lot of camera shake. And he had planned to reshoot it. But we managed to make it work as is with some post stabilisation.
JONATHAN – Ah, the wonders of modern film-editing technology! So my final question (as usual) is what's coming up next from the intrepid crew of Intrepid?
NICK – We have a lot coming up, though it'll likely take us a while to get it out there. We just wrapped a week ago on ECHOES—the film we crowdfunded back before COVID struck—which is a massive relief, so I'm deep in trying to get that through post-production now. I also just met with GILL HUNTER today, who will be directing our next film, DOWN THIS ROAD BEFORE, which was written by DAVID EVERSOLE. We've had this script for several years, and it's gone through a few revisions and been delayed for many real world reasons. But we're finally getting this one into production next year, and I'm really excited to do so.
We've also been working on another short film with Sam Cockings for Intrepid, with the wonderful ALEXA BROWN reprising her role as Joan Keller. We've shot most of that, just one short bridge scene to do and we're done, and I've been busy editing that alongside Echoes. We also have a few other short scripts ready to go, awaiting actor availability. And we're part way through shooting another short film, THE CONVICTION OF DEMONS, which is a bit of a courtroom drama type thing.
JONATHAN – What an awesome title. Well, I'm excited to see everything you have coming up!
NICK – Thanks, Jonathan. Us, too.