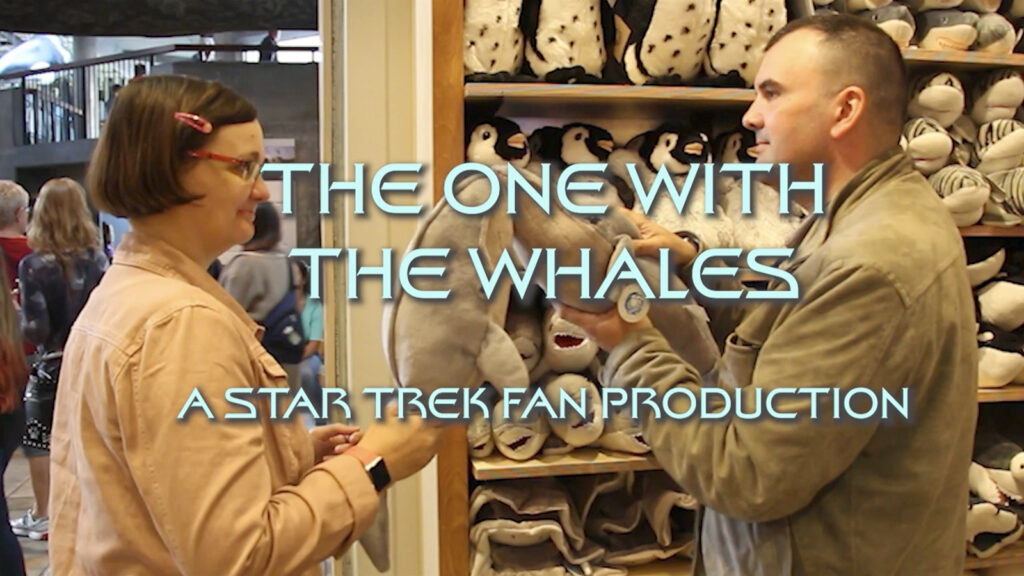 Okay, I totally have a new favorite Star Trek fan film! I mean, I don't like to play favorite, but man, I loved this one!
So why is it my new favorite? Is it the sets? Nope, no sets. The costumes? Not really, most of the scenes don't even have people in costumes. The visual effects? Well, they're nice, but still no.
It's the concept…and execution…and the nostalgia!
STAR TREK IV: THE VOYAGE HOME—the film that most non-Trekkies (and even some Trekkies) refer to as "the one with the whales"—premiered on this date, November 26, back in 1986…36 years ago if you can believe it! And it was such a lovingly-crafted, funny, and adorable film. Like the best of Star Trek, it had a message for us in the present (a not-so-subtle one!) warning us to change our ways. Each member of the "sensational seven" crew got something to do: Kirk went after the girl, Spock got to be smart and logical and then transcend, McCoy got to practice medicine and be snarky, Scotty got to show off his engineering prowess and show everyone how to use a computer (if he'd only had Alexa or Siri!), Sulu got to be a pilot, Chekov and Uhura got to visit the nuclear aircraft carrier Enterprise (really the U.S.S. Ranger, but this is Hollywood)…and at the end, they're all back on a brand new U.S.S. Enterprise, NCC – 1701-A. What's not to like?
Indeed, we LOVED it! Oh, you can complain about leaving Saavik behind on Vulcan, violating the temporal prime directive by giving the world transparent aluminum, or ponder the infinite time loop of Kirk's spectacles. But in the end, this was just a fun movie to watch, and watch it we did! Thanks to the advent of VHS tapes in the late 1980s, some of us watched this film dozens and dozens of times on our VCRs (I'm not naming names, mind you, although one of them had the initials J.L.).
And of course, we know all of those adorable, whacky scenes that took place on the streets of San Francisco (or San Fran, as those who live in California know to call the City by the Bay…none of this "Frisco" dipsh!t). This magnificent city that I've visited so many times—I didn't wear flowers in my hair, but I might have left my heart there once or twice—is the future home to Starfleet Headquarters, and yet, there's never been a major Star Trek fan film shot there.
Until today!
Ladies and gentlemen, thanks to the efforts of NICK COOK, his wife LUCITA FARIA of Dundee, Scotland, and members of the INTREPID fan filmmaking crew, I am oh-so-proud to present to you my new favorite Star Trek fan film: THE ONE WITH THE WHALES (you're gonna love it!)…
Oh, you betcha I interviewed Nick Cook about this one…!
Continue reading

"INTREPID travels from SCOTLAND to SAN FRANCISCO to give fans a "sequel" to STAR TREK IV…THE ONE WITH THE WHALES! (interview with NICK COOK)"