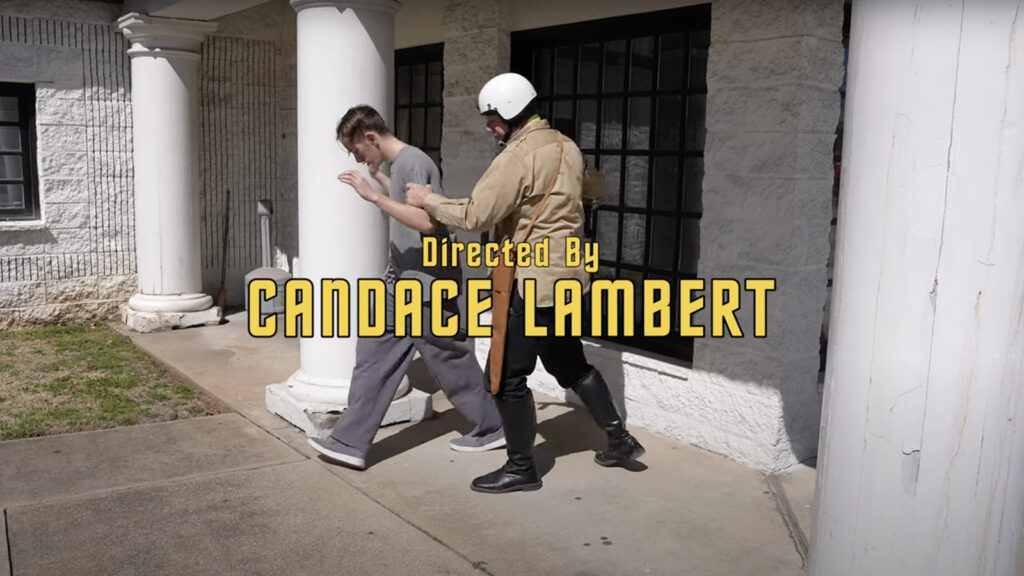 It's not completely unheard of for teenagers in high school to get involved in fan films (Star Trek and other genres). Sometimes they create their own productions, but usually they will appear as actors or participate as set crew in fan films run by adults. However, actually directing a fan film that is usually run by adults—THAT, my friends, is a true rarity and worth a blog.
CANDACE LAMBERT is a senior at Alpena High School in northern Arkansas. She first got involved with THE FEDERATION FILES back in 2019 (just pre-pandemic) when showrunner GLEN L. WOLFE posted a casting call via Facebook for their fanthology episode "FRIENDS AND FOES," and Candace's mother answered it. Both women came in and started shooting as extras for that episode as well as "DOPPELGANGER." Later on, Candace would be given a more significant speaking role in "VOICES FROM THE PAST" and began a regular involvement with the fan series as a production assistant and make-up artist.
Of course, there's a BIG difference between doing make-up and running an entire production as director. But Glen believed in her. "She's very modest," Glen told me, "but at her high school, she organized and ran a ceremony for veterans last Veterans Day, so she's very organized and capable. Ace (that's her nickname here) has always been willing to help with any task assigned to her. She basically was my right-hand person for a couple shoots, so I just asked her how she would feel about directing, and she said she'd love to do it, but she was afraid she was too young. And I told her that fan films are for fun, and if she wanted to direct, I would fully support her."
Candace was given the opportunity to stand behind the camera and direct earlier this past year in what turned out to be a number of different shoots at various locations over the course of several months. The latest Federation Files episode, ESCAPE FROM MAGNA ROMA, premiered on December 6. Take a look…
Candace has also appeared in a couple of episodes of THE AVALON UNIVERSE: AIR AND DARKNESS and the just-released THE TRUTH WITHIN. Josh says about Candace, "She is extremely easy to work with, and has a great sense of humor. A lot of times, for smaller parts, actors can be hit or miss, some canceling at the last minute. She was very dependable, and even came when we had someone else cancel last minute."
With so many fan filmmakers talking about Candace, I thought it might be nice to talk to Candace. So I sent her a bunch of interview questions. She apologized for the short responses, but she was in the middle of exams at the time. Even so, it's a fun little peek into a young director…
---
JONATHAN – What was it like for you being an actor in a bunch of different Star Trek fan films? What did your friends and family think about it?
CANDACE – It was exhilarating. And my friends and family were jealous as they are huge Star Trek fans!
JONATHAN – Were YOU a Star Trek fan before getting involved with Glen and Dan?
CANDACE – No, and I only watched the movies with Chris Pine.
JONATHAN – What made you decide that you wanted to try out directing?
CANDACE – My amazing director, Glen Wolfe, who I consider my mentor, convinced me to give it a shot, and I loved it! I worked with him and learned from having watched him in the past.
JONATHAN – Had you directed anything before "Magna Roma"?
CANDACE – No, I have not.
JONATHAN – Are you studying filmmaking in school?
CANDACE – No.
JONATHAN – Would you like to ultimately work in the entertainment industry, or is this just a fun thing to explore and do?
CANDACE – No, I am planning on going into DHS (Department of Human Services) social investigations. But I hope to definitely continue working in the film industry for fun.
JONATHAN – What did you do to prepare to direct the episode?
CANDACE – I studied the script, went back and watched behind-the-scenes videos from the past, and worked to note some of the important tips and tricks I picked up on along the way.
JONATHAN – What was it like directing this episode? What was most challenging? What was most fun?
CANDACE – It was very fun and a great way to put myself in someone else's shoes to watch the vision come together. The most challenging thing for me was feeling out of place, as I'm so young, and the most fun was shooting the capture scene.
JONATHAN – What did you do to get the performances you wanted out of your actors? More precisely, how "hands on" were you in drawing out their performances, or did you just trust your actors to know what they're doing…or a combination of both?
CANDACE – I motivated them mostly through a combination of both, as I wanted it to look and feel as natural as possible…though I'd say I leaned further towards trusting the actors.
JONATHAN – How involved were you in editing and other aspects of post-production?
CANDACE – I was not involved at all. All of that credit there goes to Dan and Glen.
JONATHAN – What do your friends and family think about you directing your first Star Trek fan film? It's not the sort of thing most high schoolers decide to do!
CANDACE – My family was supportive and proud, and my friends were, like, "You did what? 😳 WHOA!"
JONATHAN – Is there anything that you would have done differently and/or might do differently next time based on how this film came out?
CANDACE – I would like to try and be more involved in the post cuts, just to see how it's all coming together. I think that would be really cool to see what goes on behind the initial filming.
JONATHAN – And finally, do you plan to do any more directing, and will it be a fan film or something else?
CANDACE – I hope to try and do this again, but as I will be moving to Springfield, MO for college, I don't know if it would be possible. But yes, I would absolutely do a fan film only with Dan and Glen. I'm loyal, and they are like family.