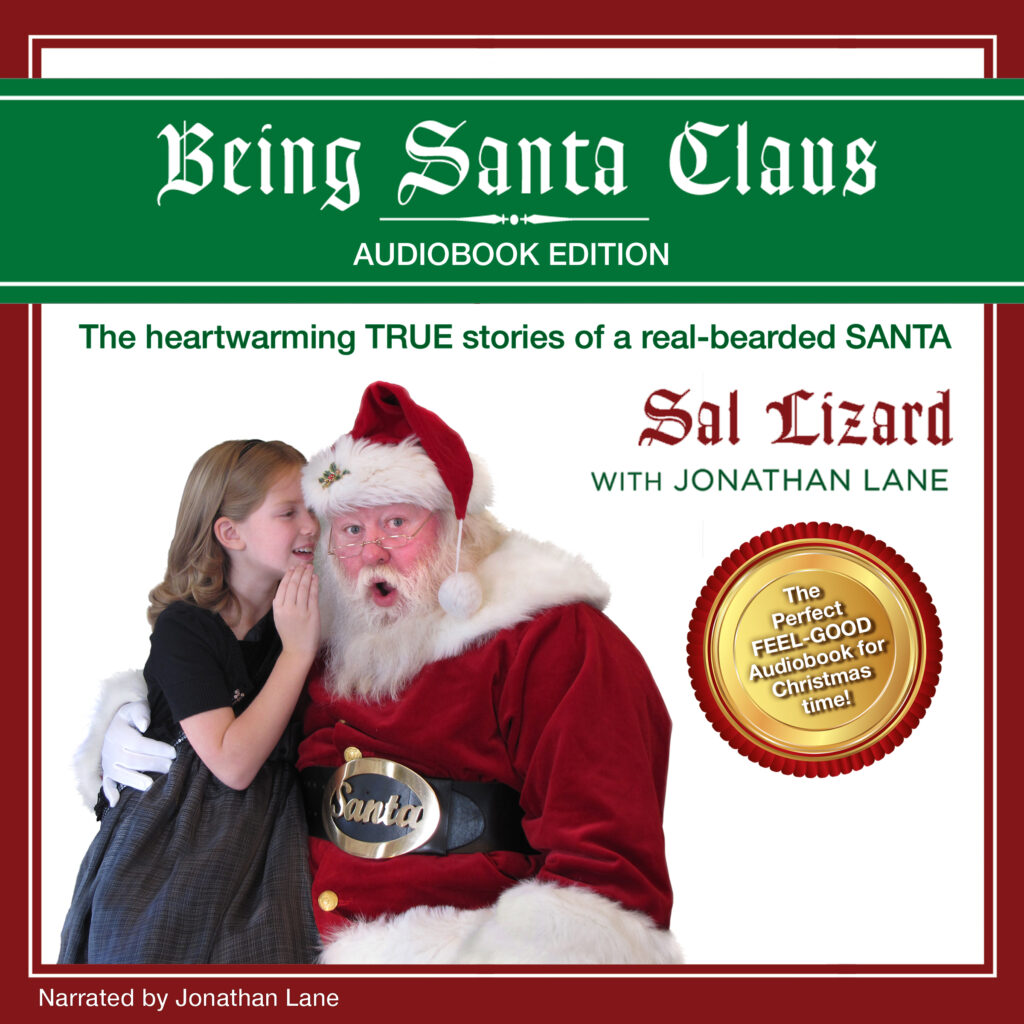 If you'd prefer to skip the blog and just order the audiobook (so that net revenue can go directly to "SANTA" SAL LIZARD and his family), please click here to get to the Amazon webpage. And thank you.
Below you can read more about Santa Sal…
---
Some of my readers might aware that I became a professionally published author (more precisely, co-author) back in 2012. A year earlier, Gotham Books (a division of Penguin Publishing) purchased the rights to an autobiographical memoir of a professional real-bearded Santa by the name of Sal Lizard. Sal spent more than 50 hours on the phone with me—over the course of two and a half years!—telling his amazing, hilarious, and heartwarming Santa stories in astounding detail, and I turned them into a full manuscript. Titled BEING SANTA CLAUS – What I Learned About the True Meaning of Christmas, the hardcover was released the following November, and a paperback version came out in late 2013.
And that was pretty much that.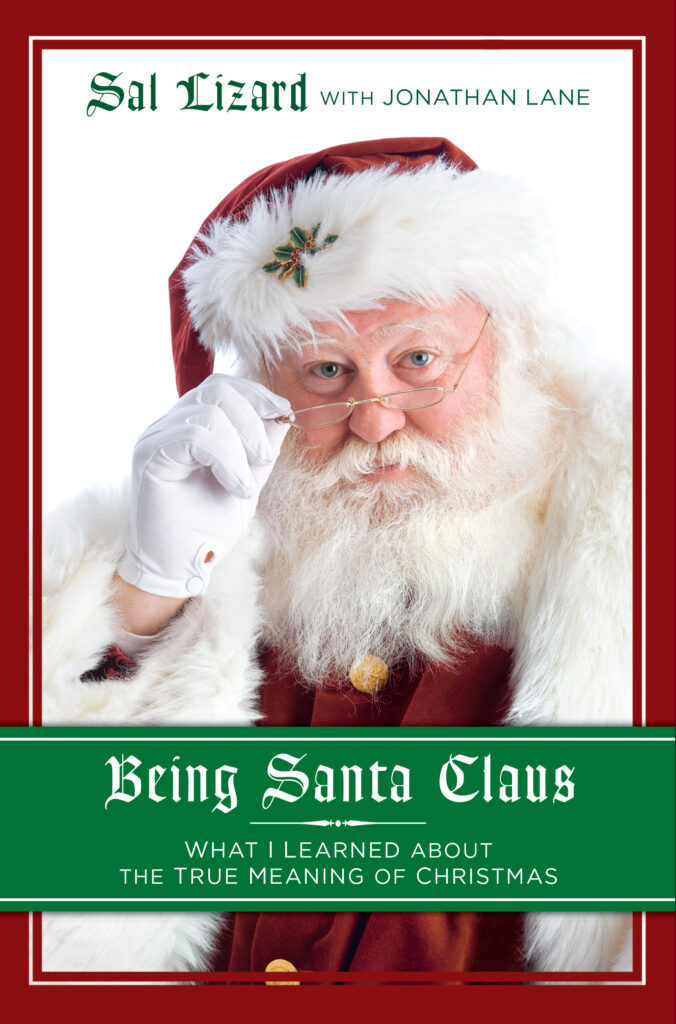 It was cool becoming a published author, and the book was very well-received (4.8-out-of-5 stars on Amazon). In fact, the only complaint we ever got was that the book was too short. And indeed it was! Our editor at Gotham helped us trim an 83,000-word manuscript down to about 79,000 words, which everyone thought was perfect…including the president of of the publishing company. But the managing editor decided to trim it further…all the way down to 47,000 words(!!!), and a lot of wonderful Santa Sal stories got left on the literary cutting room floor. However, they were paying us a ridiculously huge advance, and we had little choice other than to let the managing editor have her way.
A few years later, though, Being Santa Claus was no longer in print, Penguin had shuttered Gotham, and the rights to our book reverted back to Sal and me. It was at that point that I thought about creating a "director's cut" audiobook out of the 79,000-word version that everyone loved.
But how exactly does one go about recording an audiobook?
Good fortune fell upon us when I met the father of one of the kids in my son's school and discovered that he owns a sound studio here in Los Angeles, and he offered me the use of it. For the next few years—which included a frustrating hiatus during the lockdown—I recorded all 35 chapters in a series of reading sessions when my sound engineer, JAE KIM, was available (which wasn't often, as he travels the world doing sound for concert tours and film shoots). But a few months ago, we finally finished!
Editing all of the audio files myself, I was looking forward to finally sharing this 8-plus-hour audiobook with Sal and his wife Linda and then getting it uploaded to Amazon's AUDIBLE service. Sal is such a wonderful man—kind-hearted, generous, good-humored, and all-around positive. In so many ways, he's exactly how most of us imagine Santa Claus to be. And Linda has been his soul-mate since the night they met back in 1991.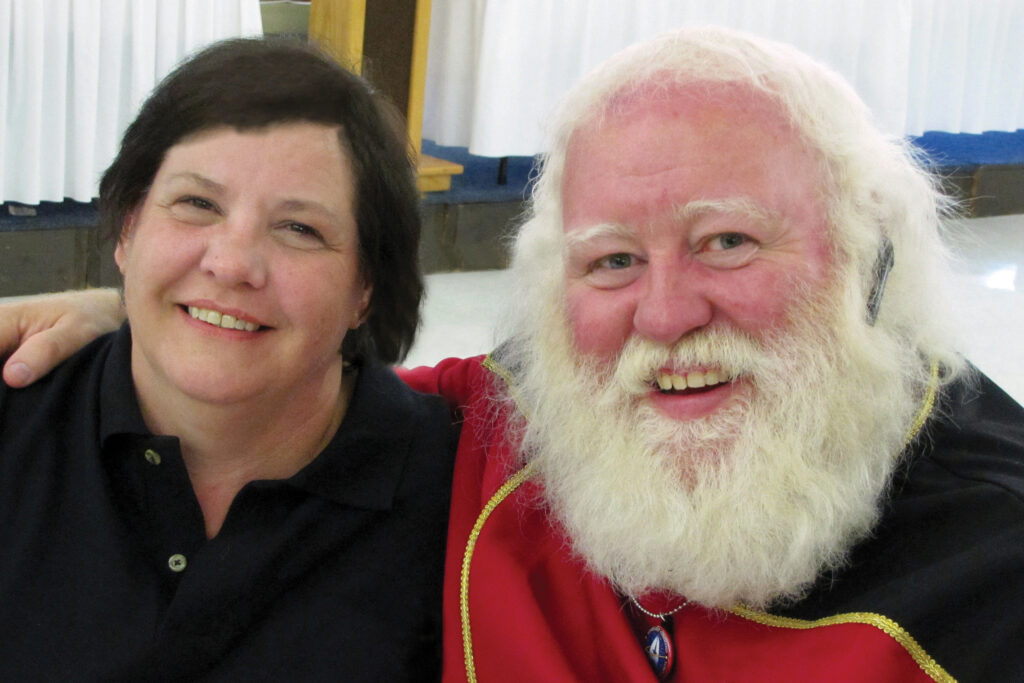 It was literally just two days after I'd recorded the "Acknowledgements" section (my final recording session)—mentioning that Sal and Linda were now living in Kentucky with their daughter Ashley and granddaughter Layla—that I read on Sal's Facebook page that Linda had passed away suddenly from brain cancer. She was only in her 60s.
Sal was devastated, of course, and my next several calls with him always included at least one pause filled with sobbing from my friend, which broke my heart each time it happened. Sal told me that Layla, who is five, cries most nights before she goes to sleep. Ashley and Layla had been living with Sal and Linda for the past few years before Linda's passing.
Sal doesn't indulge in self-pity or negativity, and so it wasn't for several weeks that I discovered, when calling to check in on the family, that Sal, Ashley, and Layla are now living on food stamps and the good will of their landlord, who is allowing them to temporarily delay paying rent while Sal waits for a small payment from a modest life insurance policy that Linda's employer had provided.
Sal himself had a series of three mini-strokes a few years ago that paralyzed his left arm and part of his left leg, so he cannot work a physical job, and it's no longer safe for him to pick up children and hold them on his lap. He can't drive either, so his career as Santa Claus, at least recently, has been limited to appearances at local costume shops and over Zoom calls that people schedule with him for their children to talk to Santa. For a little while, Sal was earning some money as a stand-up comedian (of all things!), but with Linda gone, Ashley having a demanding work schedule, and Layla needing to be taken care of, Sal can no longer do nighttime comedy performances anymore.
Linda had been the main bread-winner, and her job as a nurse, along with Ashley's waitressing, paid enough to keep the family solvent. And to add to their financial woes, Ashley is recovering from a recent medical treatment and won't be returning to work until next month.
And so money has become extremely tight for the Lizard family. Sal had to finally sell his Santamobile and let the bank reprocess Linda's car. They've sold what they can, canceled the dance lessons that Layla loved so much, and now they're hoping that, with good tips and Linda's monthly social security checks, they will have enough to stay housed, clothed, and fed.
I offered to set up a GoFundMe for Sal (and I still might), but Sal wasn't entirely comfortable asking for handouts. Santa is supposed to do the giving, not the taking. But I realized that, if I could get the audiobook completed and up on Audible for sale, the net proceeds could help Sal replace at least some—and hopefully most—of the income lost due to Linda's passing. If the book does really well, who knows? But for now, I'd just be happy with some decent sales and good word of mouth.
And so I am asking you, my readers, to please consider purchasing this audiobook. (It is also available on Kindle, although I haven't been able to link that e-version to the main book page on Amazon…hopefully soon.) But if you can't afford to right now, then perhaps you could post the following link onto your social media, tell your friends and family that it's a wonderful, heartwarming book, and let them know that their purchase could literally keep Santa and his family from becoming homeless. Whether it's before Christmas or after, the book is an uplifting listening/reading experience and well-worth the purchase.
Here's the link:
https://www.amazon.com/Being-Santa-Claus-Learned-Christmas/dp/B0BQKKS6R7/ref=tmm_aud_swatch_0?_encoding=UTF8&qid=1671571276&sr=8-1
You can also visit our website —with photos and videos of Sal, reader reviews, and a 2,000-year history of Santa Claus—at BeingSantaClaus.us.