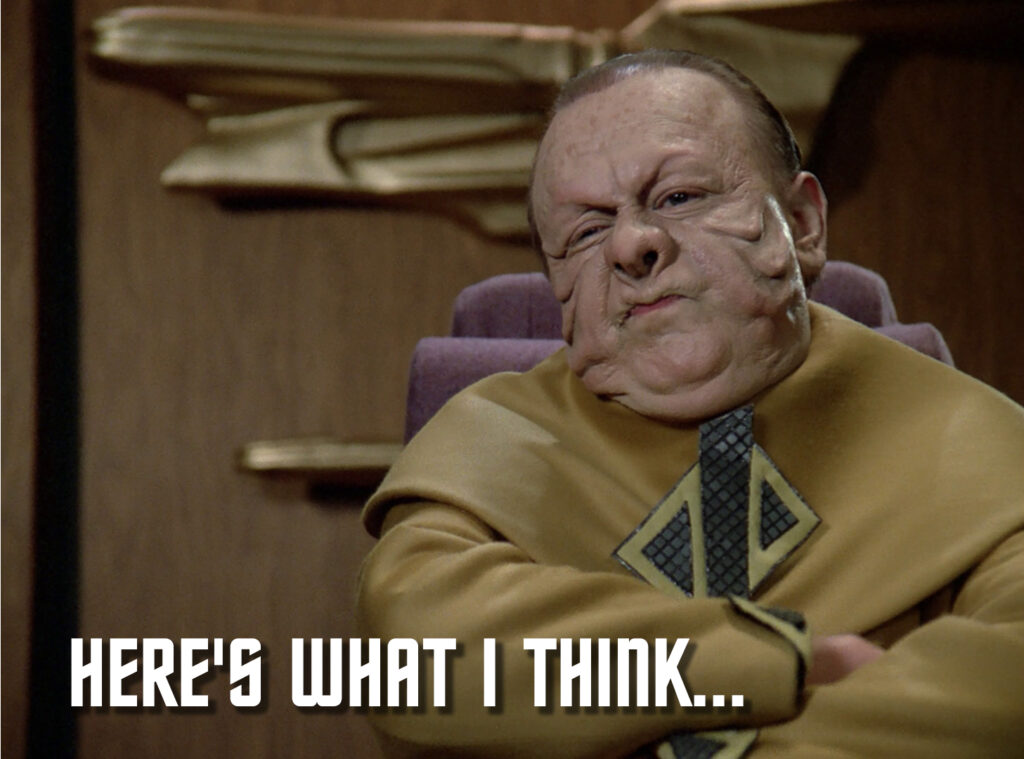 I don't usually write blogs about trolls, but I'm not entirely certain that "CHUCK IN TEXAS" knows he's a troll. It's possible that he actually believes he's being helpful in some way. So in an attempt to be "helpful" to this fellow myself—in the same way he was—I am writing this blog with the hope that somehow, some way, Chuck will read it.
Wait, who the heck is Chuck???
Last week, "Chuck in Texas" posted a separate criticizing comment on nearly every fan film on the AVALON UNIVERSE YouTube Channel. I have a screen cap of one of them…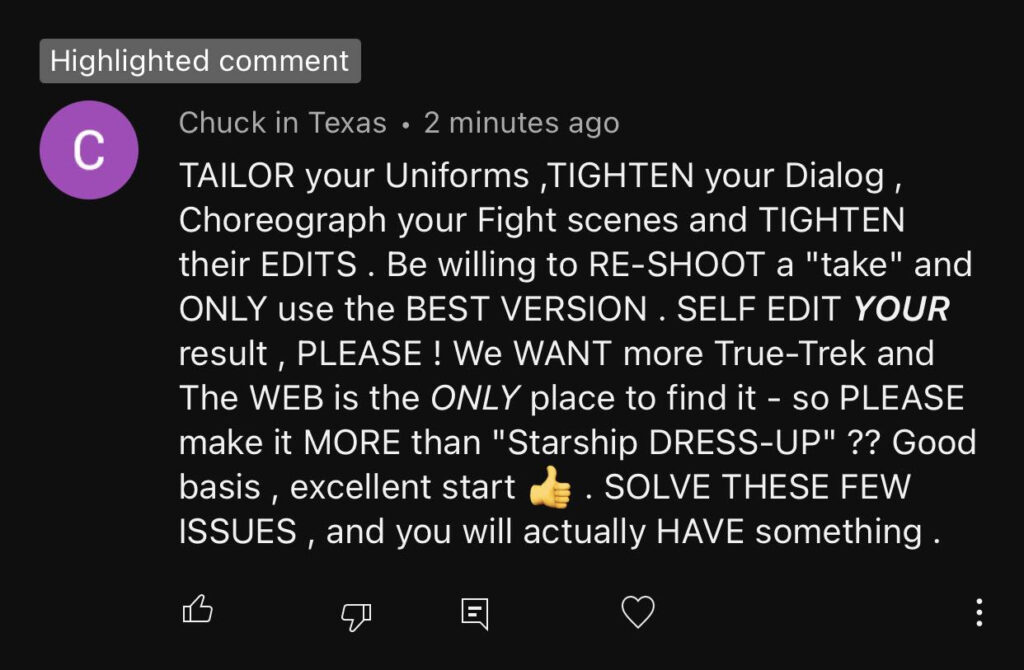 The other comments were of a similar tone, critiquing everything from the quality of the wig worn by the Vulcan nurse T'Prin to the type of lenses that JOSHUA IRWIN was using to the shoot those films. After a few of these comments, Josh responded that he felt that Chuck was being rude. Chuck ignored Josh's responses and kept right on posting.
"He was addressing me like I was a teenager who had never made a film before," Josh told me, "saying obvious things like 'Choreograph your fight scenes!!' and 'Invest in a real makeup crew!!' and telling me to shoot more than one take….like I'm not already doing that."
Eventually, after being ignored and just seeing more and more belittling posts popping up like mushrooms, Josh blocked "Chuck from Texas"—which effectively removed all of Chuck's comments from the videos. "I don't mind constructive criticism," " says Josh, "and in fact, if you look at the comments on my fan films, you'll see a lot of that. But if someone is being rude or nasty, that's just uncalled for."
Normally, I'd completely ignore a story like this because such condescending criticism is a fact of life on social media, and Josh dispatched this guy quickly and without incident. But then I thought about it a bit more and realized that this could become a "teachable moment"…possibly for Chuck in Texas if he reads this but at least for others who watch Star Trek fan films and decide to be armchair filmmakers themselves.
Am I saying that no one should ever be allowed to express negative feedback of a fan film? Of course not! The world is full of people, and people have opinions. My issue is with the sanctimonious approach to telling someone how to "fix" their fan film. In short, unless you've made a better fan film yourself, you really don't have a right to tell others how they should have made theirs. And you wanna know something funny? People who have made fan films do NOT offer unsolicited and condescending advice like that. They just don't.
People who manage to produce fan films of their own realize what it takes to complete a project, and they (typically) offer their respect to other filmmakers. The anonymous "Chuck in Texas" offered no such respect, which leads me to conjecture that he has never completed a film production of his own. And perhaps that's why he wanted to "help" with advice rather than doing any real work or having to make hard choices.
What kind of hard choices, you ask…?
Well, for most fan films, such choices usually come down to money. For example, one of the things that "Chuck in Texas" complained about was the various uniforms that ALEX REXFORD (Allenby) wore in the newest trailer for the upcoming Avalon releases…
According to Josh, "He kept going off about cheap, untailored costumes!!!" The fact is that few fan productions can afford to purchase and/or create high-quality, tailored costumes. "I looked into having a costume tailor made for Alex," Josh explained to me. "The quote I got from someone who had a screen accurate pattern was $600. It was that or pay for a plane ticket for Alex to Kingsland, GA. Couldn't do both."
That's one of those hard choices I was talking about. Now, some folks (like "Chuck in Texas") might respond, "Why does he need to buy a plane ticket for the actress? Why can't she just drive there with Josh or pay her own way?" Well, first of all, nobody should have to pay for the privilege of volunteering to help with a fan film. It's bad enough that the fan film guidelines don't allow fan productions to pay people for their services.
As for flying versus driving, it's 12+ hours by car EACH WAY from northwestern Arkansas to southeastern Georgia. And while Josh doesn't mind the long drive and can take some time off or work to make the trip, Alex doesn't have that luxury. Also, she's been doing a LOT of filming for these final episodes, including playing at least five different characters in the upcoming CRISIS ON INFINITE EXCALIBURS and shooting at two different studios in two states and also on location outdoors. Asking her to provide quality performances as so many characters AFTER also being stuck in a car for half a day isn't fair or realistic for an actress.
So costume or plane ticket? That's a choice. Now, in the case of FARRAGUT FORWARD, they have opted to put much more time, money, and resources into creating the most amazing costumes and sets…and hooray for that! They also raised two and a half times what Josh raised to fund three fan films while Farragut is only shooting one…plus they have volunteers who know how to sew. Josh knows his way around a camera but not a needle and thread, and volunteer seamstresses aren't exactly banging down his door!
And speaking of cameras, another of Chuck's helpful comments was "Back up and use more 85mm and telephoto lenses." Well, how about that! Looks like Chuck knows a thing or two about camera lenses. Of course, so does Josh, who went to film school and has spent decades working in the entertainment industry in Arkansas. "You don't really shoot a lot of tight shots with Cinemascope," Josh mentioned. "You get empty space in the frame. But even if I wanted to, my telephoto lens is broken. Not sure what the hell happened to it. It just started shooting soft one day." According to Josh, the repair of the lens would be several hundred dollars, or $1500 to replace. Eventually, maybe he'll be able to do so, but not in the middle of producing three expensive fan films with limited funding. Again, hard choices.
Another issue I had with Chuck's "advice" was his assumption that Josh is shooting only one take. "Be willing to RE-SHOOT a take and only use the BEST VERSION," Chuck says. How does Chuck know that Josh isn't shooting multiple takes and using the best one? I've seen Josh in action, and I know for a fact that he shoots multiple takes. Indeed, I even have proof on video:
Now, it's true that some fan filmmakers shoot minimal takes—and sometimes only one or two when they could really benefit from trying a few more. But there are other considerations in play. Ofttimes, a production crew only has minimal time to film in a specific location, or the studio they're shooting in is very hot or very cold, or certain cast members are available only for a limited period. In these cases, there might be time enough for only one or two takes of each shot simply in order to "make their day" and get all of the footage they need in the can before time runs out.
And sometimes a production has fan "actors" who aren't trained or experienced and simply want to appear in a fan film. Occasionally, these folks don't bother memorizing their lines or, even if they do, they don't deliver them well or they sound like they're reciting rather than speaking naturally. In those cases, multiple takes will likely produce the exact same result.
But hey, in the end, the point of these endeavors is to have fun and make a film…of whatever quality. Fans who want "tru-Trek" (as Chuck calls it) are setting the bar far too high for even the most well-funded fan film. TOS cost $190K per episode to produce back in 1966, which would top $1.5 million today! At most, a fan film can raise $50K, and most are made for far, far less than that.
In the meantime, those who choose to complain or criticize or "armchair direct/produce" like "Chuck from Texas" have it SUPER easy. After all, they don't really have to know anything…or even if they do know, they don't have to actually accomplish anything. They just sit back and dispense their "wisdom" as if if were some kind of gift rather than the pinnacle of hubris.
That's the main reason why I refuse to ever criticize or even critique any fan film, regardless of what I might think of it personally. Poking holes in fan films is like shooting fish in a barrel, and it accomplishes nothing. The film is done. It's not going to get re-made just because someone lists the specific things they think were wrong with it.
And if the goal instead is to somehow "teach" them so they can do better next time, then I must state the question: Who the heck asked you??? I mean, if a producer or director or editor posts in the description of their video, "I/We welcome any advice about how I/we can make a better fan film next time," then by all means, go to town! But if they don't, or if they just ask whether or not you liked it, then understand that your advice and wisdom is NOT being sought. And it's likely not welcome either…especially if you're an arrogant jerk about it.
I'll let Josh have the final word…
"There was an interesting comment I saw on a livestream the other night where someone said to another critic on that same stream: 'I think you're mistaking someone making a different choice than you would for doing something wrong.' It's easy to sit around and talk trash. It's quite another to actually go do something."
'Nuff said.