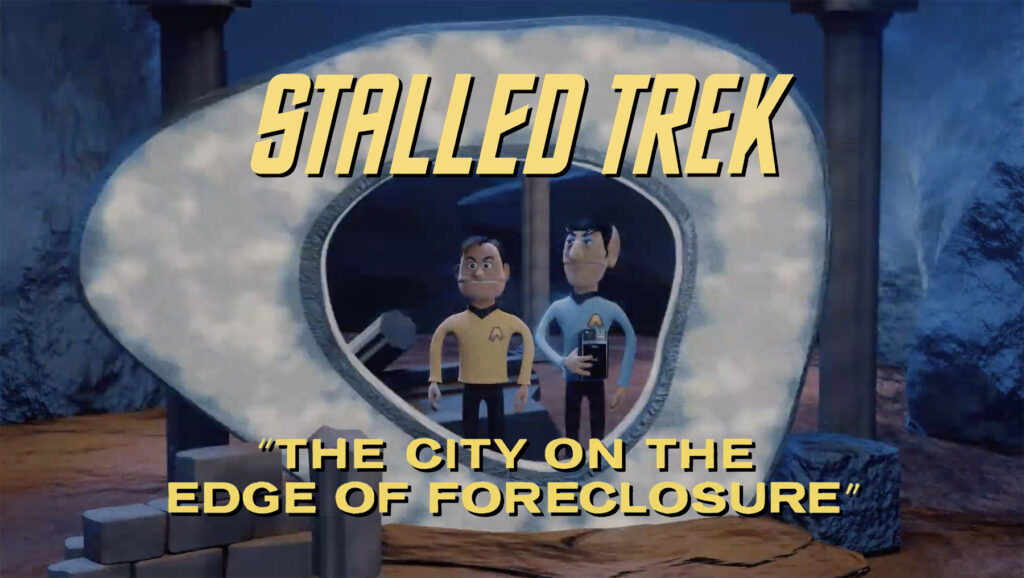 Putting the "stall" into STALLED TREK, showrunner/writer/animator/voice-actor/comedic genius MARK LARGENT finished creating his second puppet parody adaptation of a classic TOS episode, "THE CITY ON THE EDGE OF FORECLOSURE" way back in June of 2021. But with the exception of those hundred-plus donors who contributed to his Kickstarter in mid-2018 and his follow-up Indiegogo campaign in early 2021 and received DVD/Blu-ray versions of the new fan film, no other fan(s) saw it…unless they attended one of 28 film festivals where "City" was an official selection.
And indeed, that is why Mark has held out releasing the film onto YouTube for so long. Many of those film festivals required submissions to NOT be available on YouTube. And so, Mark kept "COTEF" (his abbreviation) off of the Internet for nearly two years! The restraint and self-control paid off, however, as COTEF has gone on to earn a total of FIFTEEN awards. Take a look…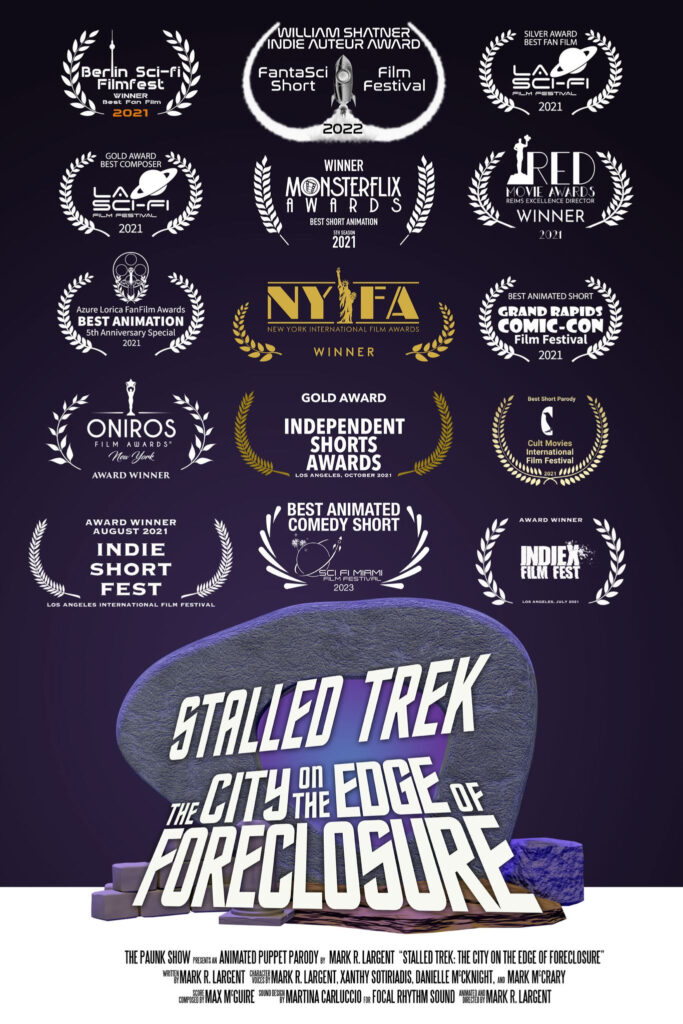 Wow, right?
Anyway, with one last hurrah as COTEF won BEST ANIMATED COMEDY SHORT at the MIAMI INTERNATIONAL SCIENCE FICTION FILM FESTIVAL, Mark finally decided to, without much fanfare, to post the hilarious puppet parody with the time-displacing rock donut onto the Internet. And you can watch it here…
Mark's first foray into the 3D animation odyssey that is Star Trek puppet parodies came back in 2012 with the release of the first Stalled Trek, an adaptation of fan favorite TOS episode "Amok Time" titled "AMUTT TIME" (read my interview with Mark about that fan film here.) The gag in the title was that Mr. Spott was a Vulcanine and was going into heat, needing to return home to his betrothed T'Pomerian. If you loved what you just saw above, you'll love what's below just as much…
But wait, that's not all!
After doing the aforementioned interview with Mark back in early 2016, we began talking about AXANAR and the CBS/Paramount lawsuit. This led to an idea for a parody of both PRELUDE TO AXANAR and the lawsuit itself. Mark and I quickly came up with a script, I supplied a few of the voices, and Mark did his usual lion's share of the 3D modeling, animating, and render to create a Stalled Trek parody not of a TOS episode but of a fan film being sued for copyright infringement! You can check that one out here…
But wait, there's even more Stalled Trek!
After raising over $4K in the 2018 Kickstarter, Mark learned that his go-to 3D application, Animation:Master, would no longer be supported for Macintosh, and Mark didn't have the funds nor desire to purchase and transition to a Windows PC. Instead, Mark switched over to the open-source (i.e. free!) Blender 3D allowing him to remain on a Mac AND, as it happened, render his animated footage about 30 times faster!
The only problem was that he now needed to learn the new software as well as to import and/or recreate all of his characters and settings into the new 3D platform…
But Mark learned quickly and worked fast, and within a couple of months, he'd created a fun new Stalled Trek short titled "ALL AHEAD FULL" as both a proof of concept as well as to show his Kickstarter donors that things were indeed still moving forward…
Oh, but wait—we're still not done yet!
Mark crowd-funded yet ANOTHER Stalled Trek inSTALLment (see what I did there?) last year with an Indiegogo for the third and final(?) TOS episode parody, "THE DUMBSDAY MACHINE." And the crowd-funder features the following video promising another hysterical outing with the crew of the U.S.S. Second Prize. Check it out…
Will this next (and last?) Stalled Trek spend another two years locked away from YouTube while Mark enters in in more film festivals? There's no way to know! But why take a chance when you can buy yourself a DVD/Blu-ray boxed set right now and guarantee you see this brilliant parody as soon as possible? And I do mean as soon as possible, as there are only 24 boxed sets still available! Mark is 3D-printing the boxes, and they look really spiffy!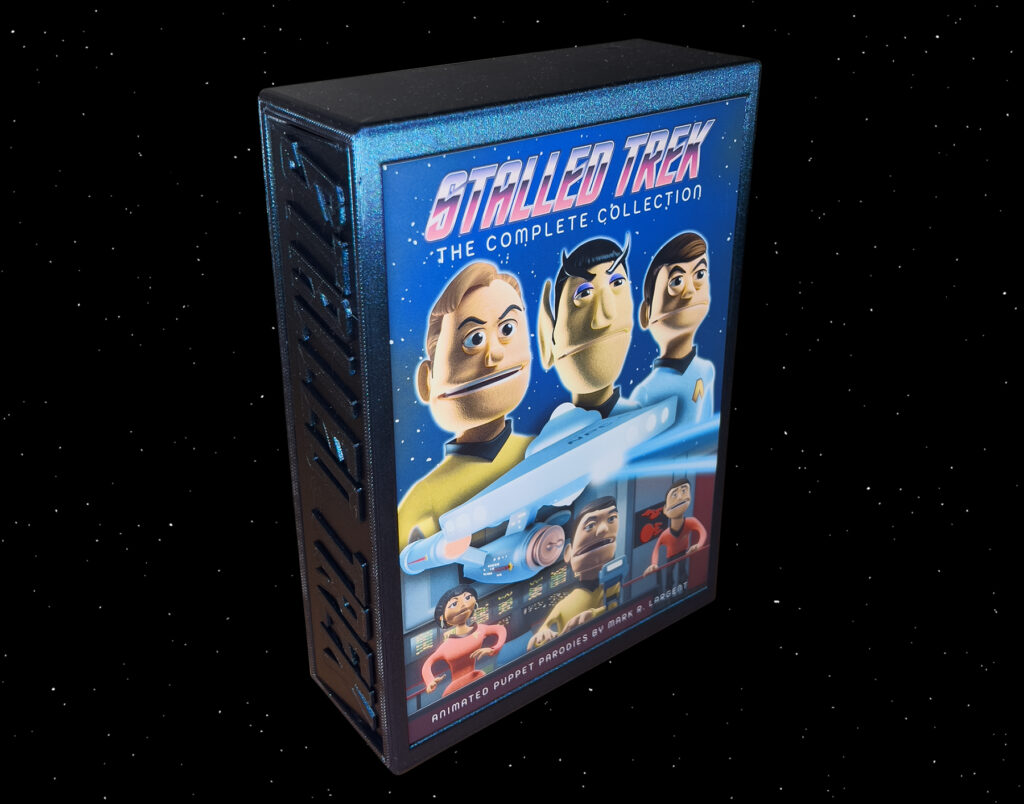 So if you'd like one, here's the link to the still-active-but-not-for-much-longer Indiegogo:
https://www.indiegogo.com/projects/stalled-trek-the-dumbsday-machine
Okay, NOW I'm finally done!