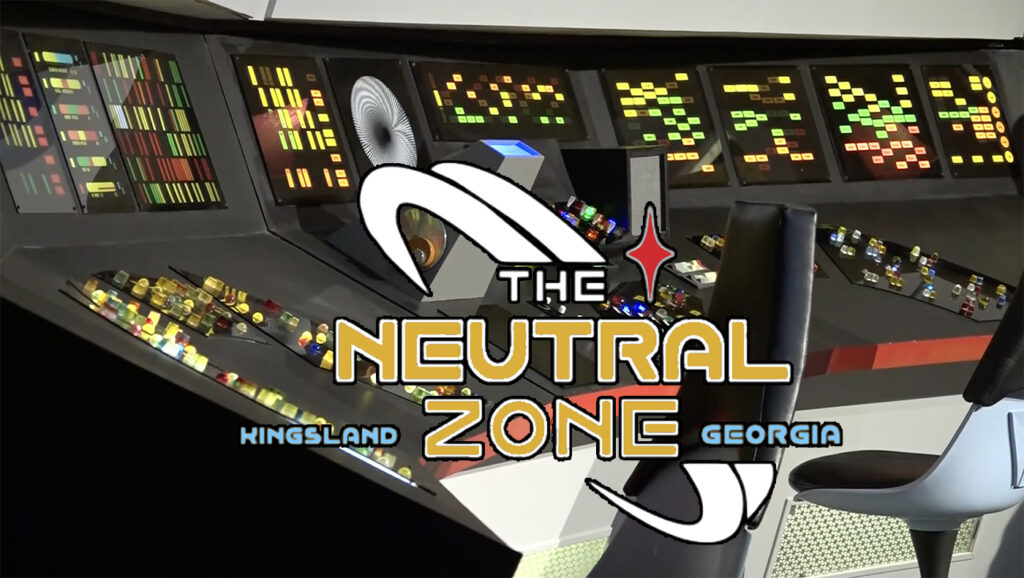 There are certain people in the fan film community whom I call the NICEST people. Not only are they warm and friendly, but they are generous, willing to help others, and enthusiastically support the filmmakers who work so hard to create these Star Trek fan films that we all love so much.
Perched at the top of the "NICE" list is RAY TESI, who purchased the TOS sets in Kingsland, GA that were used for both STARSHIP FARRAGUT and later STAR TREK CONTINUES in 2018 from previous owner VIC MIGNOGNA. This was no small thing! The purchase price was reportedly well into the five-figure range, and the monthly rent for the building housing those sets is $3,000! But since Vic wasn't able to keep paying to store unused sets for a fan series that had wrapped production, the alternative would have been seeing those incredible TOS sets tossed into the dumpster by the landlord.
Ray couldn't bear to have that happen, and so this resident of Boca Raton, FL dipped into his retirement savings to not only buy the sets but also take on the responsibility for $36,000/year in rent…for what has been half a decade so far!
Ray renamed the studio to THE NEUTRAL ZONE and opened the sets to any fan filmmaker for a very reasonable rental fee. So far, MANY fan films and series have taken Ray up on the offer, including AVALON UNIVERSE, DREADNOUGHT DOMINION, and Ray's own fanthology series TALES FROM THE NEUTRAL ZONE…along with many one-offs like TO HAVE BOLDLY GONE and LET OLD WRINKLES COME. NICHELLE NICHOLS (Uhura) even used the sets herself to film a documentary called "Breaking Barriers" about her experiences as a black actress on Star Trek.
Over the years, Ray has received financial support from fans through a Patreon campaign with hundreds of monthly contributors…with Ray making up the difference out of his pocket. As a gesture of thanks, Ray hosts Fan Appreciation Weekends during the cooler months of the year (September-May) where he opens the sets up to the general public. This has been going on almost as long as Ray has owned the sets.
Last month, Ray kicked off a 30-day Indiegogo campaign with a $36,000 goal…an eyebrow-raising number! But as of last week, Ray was able to reach a total of just short of $20,000! Today in part 1 of an interview with Ray, I'm going to ask where that money will be spent and if fans should be concerned that the crowd-funder still fell 45% short of its goal.
Then in part 2, I'm going to ask him about some rather outlandish rumors that began to circulate while the campaign was going on. Spread by people on the opposite side of the spectrum from "nice," it almost seemed like they were trying to sabotage Ray's crowd-funder and shut down Neutral Zone Studios. I know…crazy, right? I mean, who would do something like that? It'd be like firebombing Santa's workshop just before Christmas!
Okay, let's start talking to Ray…
JONATHAN – First of all, Ray, congratulations on taking in $19,617 in your Indiegogo! That's quite an impressive sum in today's uncertain economy. Do you feel that your campaign was successful?
RAY – I really do. I will tell you that, along the way, I was really nervous. It just didn't look like it was gonna happen. So you start pulling out all the stops. I had a very good person who was working with me on the marketing side, and she kept advising me on things to change, things to swap out, things to say. And it turns out that everything she asked me to do really brought in contributions—many of them late in the campaign, many of them at the end, but that's okay. So, from an overall standpoint, I'm happy with what I've got.
JONATHAN – Now, you still came up far short of your goal (by more than $16K!). Does that mean that Neutral Zone Studios is in any kind of danger of having to shut down?
RAY – No. And that's something I can say unequivocally. This crowd-funding effort was specifically to get us through the summer months. A lot of people know that we shut down because of the summer. That side of the building has not had air conditioning in it. It gets oppressively hot, well over a hundred degrees inside the studio, and it just isn't conducive for people to do anything.
JONATHAN – Yeah, I remember JOSHUA IRWIN telling me he was directing an Avalon shoot there in late April and was in there too long without taking a water break and got heat stroke. He actually had to excuse himself to run to the bathroom to throw up!
RAY – I can believe it! The southern Georgia heat really shuts us down for three and a half months. So this campaign was to get us through the summer. The goal wasn't just to help cover rent but also for some other things we need. For example, the roof leaks, and the building needs new insulation.
JONATHAN – How about buying an air conditioning system?
RAY – Funny you should say that, Jonathan! Next week, I have a local company coming out to look at things like air conditioning and plumbing. It's possible that we might be able to purchase the used air-conditioning units that were installed inside the space next to us that was being used by an egg roll factory.
JONATHAN – The egg roll factory is gone???
RAY – Yep, they moved to a larger facility in Jacksonville . But they had some very high capacity equipment (because they were dealing with food preparation) that they left behind. The local company will be evaluating that, and I'll need to speak to the landlord, too. But it still won't be cheap, even if we use their leftover equipment, because most of it is built into the walls, so those would have to be demolished and rebuilt before we could move the units. Then there's duct work, electrical, a whole bunch of other considerations and costs.
So there's work that needs to get done, and there's work will get get at some later point. That's why we set such a high goal for the Indiegogo. But overall, this is going to get us through the summer.
JONATHAN – You keep saying "get us through the summer." Do you have some kind of regular income during the non-summer months that gets you through the rest of the year?
RAY – The only income that we have coming in that's a "regular" income is Patreon, and that doesn't even cover rent for the studio. Some months are good for donations, and some months aren't so good. So it's always a battle to just make rent, and then we have other expenses for maintenance, utilities, wear and tear on the sets and the studio itself, and even replenishing the merchandise we sell.
JONATHAN – You sell merchandise? It doesn't have any Star Trek IP on it, I hope!
RAY – Absolutely not. It just says "The Neutral Zone," which isn't copyrighted or trademarked. We sell T-shirts, mugs, that sort of thing. I also have other recurring expenses that come out of my pocket, like gas driving 350 miles from where I live to the studio, renting rooms at the local motel, and buying food for volunteers who help maintain the studio and help out on fan appreciation weekends.
JONATHAN – So if you had to estimate, how much would you say you've spent in total on the studio since you bought the sets five years ago?
RAY – I don't have to estimate. I know exactly how much I've put in out of pocket: more than $250,000.
JONATHAN – A QUARTER OF A MILLION DOLLARS????? Dude, how rich were you when you when you bought these sets?
RAY – Not rich, just prudent. I worked hard my whole life over decades, saved money, invested, and built up a decent retirement savings. And I took out a loan when I first purchased the facility and paid to have it fixed up, and I'm still paying off that loan. So right now, my savings is down to the lowest it's been since my working days.
JONATHAN – So how long (or soon) until you run out of money and are living in a box on the streets of Boca?
RAY – Oh, don't get me wrong, Jonathan! I'm far from destitute. But I do need to find ways to stop the bleeding, which is why I'm relying so heavily on the kindness and generosity of fans and donors. It's one of the reasons for the Indiegogo and also why we're going to start reaching out to former Patreon donors to see if they can come back.
JONATHAN – How many Patrons have you lost, and over what period?
RAY – We're down about 200 from our high since before COVID hit, but most of them dropped off in a short period at the outset of the pandemic. And I totally get it; things are tough! But we really want to keep this studio alive and keep these sets available for people to come and see and use.
Fortunately, we have the contact information for our previous contributors, so we're planning on reaching out to them to ask if they can afford to come back—at whatever level. I don't expect everyone to flood back in, but if even a small percentage can start contributing again, it'll make a big difference for us. And of course, we'll also be looking into attracting new patrons, as well.
JONATHAN – I guess this would be a good time to provide a link to the Patreon…
https://www.patreon.com/neutralzonestudios/membership
So now I'd like to shift gears and discuss the wild accusations and outrageous rumors that were thrown at you during this recent Inidiegogo campaign….
---
Come back tomorrow, when Ray discusses becoming the target of unprovoked attacks from random fans who seemed to be hellbent on sabotaging his Indiegogo campaign and potentially even shutting down Neutral Zone Studios permanently. You don't want to miss Part 2!