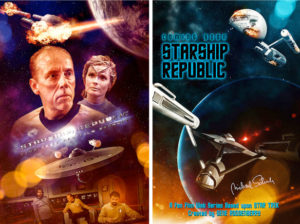 Back in March, the new fan production STARSHIP REPUBLIC tried to raise $16,000 in an Indiegogo campaign.  They came up pretty short (like only 15% of the way there).
Crowd-funding campaigns can be a funny thing.  Sometimes they catch fire, like the recent Deep Space Nine "What We Left Behind" documentary campaign that has taken in nearly $650K (with an initial goal of "only" $150K).  On the other hand, the currently-active Industry Studios campaign, which set a goal of $60K, has barely managed to crack $20K.  (Of course, Starship Republic would have loved to have reached $20K…so it's all relative.)
The late, great, legendary Yogi Berra once famously said (when fan attendance at Yankee Stadium had dwindled): "If the people don't want to come out to the ballpark, nobody's going to stop them."  Such can often be the case with fan films.  They try, they fail, they give up.  It's not a happy result, but sometimes the dog just doesn't hunt.
But there's no rule against hitting the crowd-funding "reset" button, and Starship Republic show-runner RAY TESI is doing just that!  Ray asked me to share the following message with all of you…