BIG, HUGE, ENORMOUS, GIGANTIC SPOILER ALERT!!!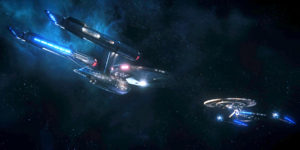 Now THIS is exciting!  I don't know whether the producers of STAR TREK: DISCOVERY
intentionally leaked this snippet of the script for the first episode of season two or if it just "sneaked" out the door somehow.  But it provides an intriguing look at the direction the creative team will be taking going into the second season.
As has been reported elsewhere, the writing team for Discovery re-assembled at the beginning of last month to begin breaking down season two.  Co-creator Alex Kurtzman, who will be directing the first episode of season two, recently explained, "Breaking story is, in some ways, the easier and faster thing; it's the ability to execute on it that's much harder. We want to take the right amount of time and don't want to rush."
But with production on the first episode set to kick off later this month, the first script needed to be completed quickly.  Jonathan Frakes, who just confirmed that he will be directing an episode later in season two, commented, "I just read the first script of the second season and the outline for the second script and it's on fire now."
Indeed!  And from this leaked scene, I think he's right.
Granted, there's no guarantee that the following snippet from the season two premiere script will make it into the actual episode exactly as initially written.  Dialog can get changed, segments added and cut, etc.  But if this leaked scene does make it into the finished episode, I think we'll all be very surprised and even enthusiastic about the new direction of the series now that the Klingon War is over.
Naturally, the most exciting thing about this leaked snippet is that fans get a glimpse into how the series will be handing the character of Captain Christopher Pike of the USS Enterprise who, like Sarek, Amanda, and Harry Mudd, has already been seen in canonical Star Trek history.  Will Captain Pike hew closely to his original version (like Sarek does), or will he be a radical departure (like Harry Mudd)?
Wonder no more!
I'm not sure if I'm even allowed to post this, so read it fast before I get an e-mail on Monday morning from someone with the initials of "C.B.S." telling me to immediately take it down.
Enjoy this sneak peek into season two…
Continue reading "LEAKED scripted scene from the season two premiere of STAR TREK: DISCOVERY!"